Young And The Restless Alum Shemar Moore Announces Baby No. 1 Is On The Way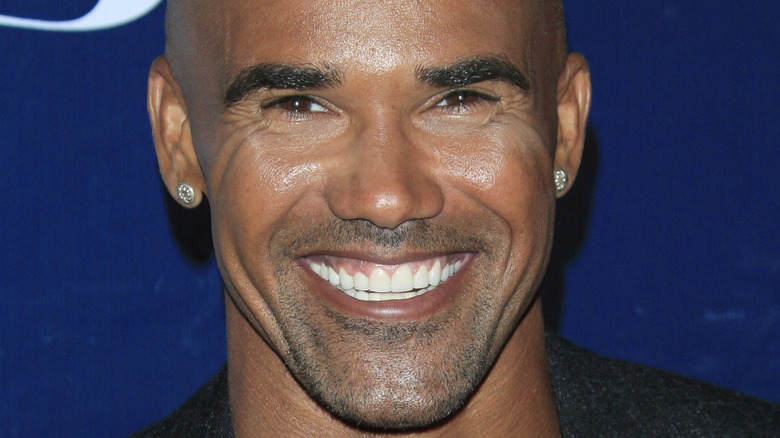 Kathy Hutchins/Shutterstock
According to Soap Central, actor Shemar Moore got his start in the entertainment industry playing photographer Malcolm Winters on "The Young and the Restless" in 1994. He left "Y&R" to play Derek Morgan on "Criminal Minds," and has gone on to star in other shows and films, including "Diary of a Mad Black Woman," "Chicago Hope," and "Birds of Prey." He is currently the star of the hit CBS show, "S.W.A.T." Beyond his loyal soap opera following, Moore has also built up quite a fan base, voicing the superhero, Cyborg, for several DC Comics animated films (via IMDb).
Moore recently appeared on the Jennifer Hudson Show show where the 52-year-old actor announced that he and his girlfriend, model Jesiree Dizon, are expecting their first child together. As CNN reported, Dizon is a mother of two children, Kaiden and Charli, from prior relationships, and the new baby will be Moore's first. He told Hudson that the baby is due on the third anniversary of his mother's death, stating, "On February eighth, I'm gonna make one of [my mother's] dreams come true. Because in real life, Shemar Moore is about to be a daddy!" Hudson congratulated him, saying that his mother will be so proud, "Smiling at you from heaven." Moore expressed his enthusiasm about his longtime dream of becoming a parent.
Now, Moore and Dizon have another major announcement for their friends, family, and fans.
Shemar Moore shares his baby reveal party with fans
Former "Young and the Restless" star and Daytime Emmy winner Shemar Moore recently posted a video on Instagram of the gender reveal party he and his girlfriend Jesiree Dizon had. He wrote, "Mama's smiling from Heaven...Miracles happen...Here comes the BEST part of my life." Moore introduced the video with excitement, sharing that the child's name would be Legend or Frankie, depending on the sex. Eventually, a helicopter flew over the celebration releasing pink smoke, and everyone cheered at learning the baby was a girl.
Fans and family replied with their congratulations as one posted, "Congrats, Shemar! You are going to be the best girl dad!" The enthusiasm continued with the reply, "Congratulations on when you welcome your beautiful baby girl into the world! You will make a great, very protective girl daddy! Potential future boyfriends BEWARE!" Acknowledging the coincidence of the baby's due date, one fan stated, "Yalls due date is the same date as your mommas passing. 😢❤️🙏🏻 Boy if that ain't your momma talking to you," while another echoed the feeling with, "Your momma said it's time. She sent your little girl. Congratulations to you both!!" 
Many female Moore fans expressed that they wished they were his girlfriend, with one joking, "can u believe he had the nerve to not get me pregnant😂 my heart is broken!" 
Best wishes to Moore and his expanding family!