Prince Harry Defends His Memoir After Receiving Backlash From Military Veterans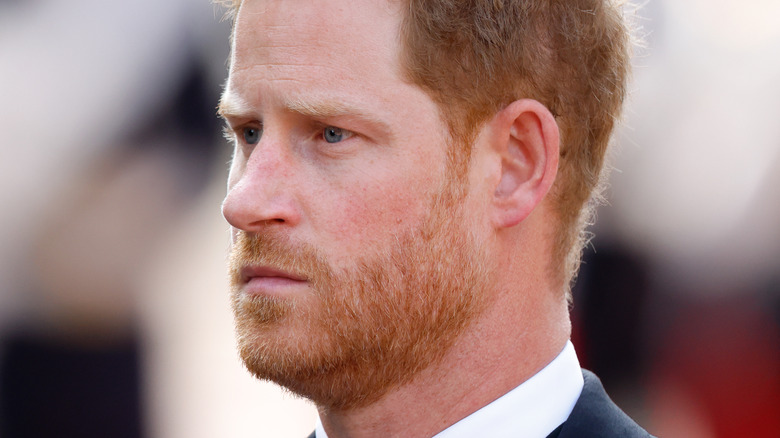 Max Mumby/indigo/Getty Images
Even if you haven't read it yet, we all know that there are plenty of startling revelations in Prince Harry's new memoir, "Spare." The royal shared a few humorous anecdotes in his book, from accounts of his drug use to a comedic story about peeing his pants before his first date with Meghan Markle (via Variety). On the other hand, there were some divulgences in "Spare" that were far from funny. So much so, in fact, that they've caused folks to look at Harry a bit differently. 
Prince Harry, Duke of Sussex, served two tours of Afghanistan in the British Army Air Corp as an Apache helicopter pilot between September 2012 and January 2013. In his memoir, he revealed that he killed 25 people during that time. He explained (via Time), "In truth, you can't hurt people if you see them as people. They were chess pieces taken off the board, bad guys eliminated before they kill good guys. They trained me to 'other' them and they trained me well."
Backlash has followed the release of these statements, and during his appearance on CBS' "The Late Show with Stephen Colbert," Harry explained just how "hurtful" the responses have been, per Hello! Magazine. Harry stands by what he shared but disapproves of the way it has been taken out of context by the press, saying, "My words are not dangerous, but the spin of my words [is] very dangerous... and that is a choice they've made" (via Twitter). 
Harry said the backlash to his memoir is 'hurtful'
While many military veterans have disapproved of how Prince Harry, Duke of Sussex, revealed new details about his time in The British Army, he explained to "The Late Show" host, Stephen Colbert, that he shared how many suspected members of the Taliban he killed in order to help his fellow military veterans. "My whole goal and my attempt with sharing that detail is to reduce the number of suicides," Harry said (via Twitter).
"Look I'm not going to lie, the last few days have been hurtful and challenging," Harry confessed. "Without doubt the most dangerous lie that they have told is that I somehow boasted about the number of people that I killed in Afghanistan. If I heard anybody else boasting about that kind of thing, I would be angry. But it's a lie, and hopefully, now that the book is out, people will be able to see the context."
Prince Harry has done a lot of work on behalf of military veterans since leaving the service, notably with The Invictus Games, which helps wounded veterans. Telling his story, he said, is part of his commitment to his fellow service members. He said, "I think the most important thing is to be honest and to be able to give space to others to be able to share their experiences without any shame."
If you or anyone you know is having suicidal thoughts, please call the National Suicide Prevention Lifeline​ by dialing 988 or by calling 1-800-273-TALK (8255)​.