What The Pioneer Woman Actually Eats In A Day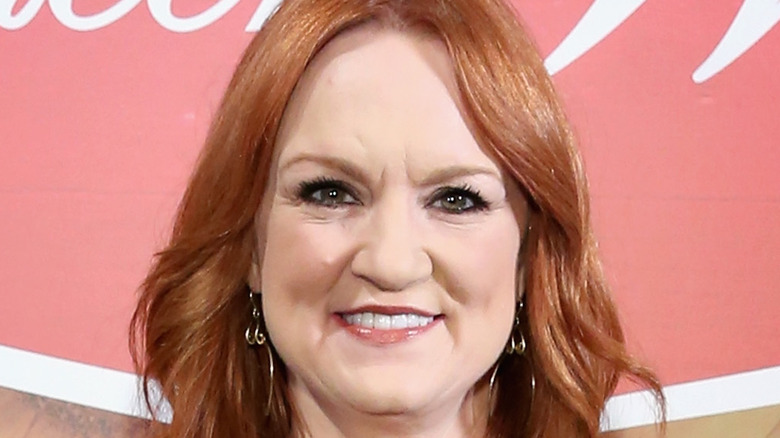 Getty Images
We may receive a commission on purchases made from links.
If you've ever watched the Food Network, chances are you've seen the face of Ree Drummond, better known as the Pioneer Woman. Married to an actual, modern-day cowboy, Drummond left the big city life in California to settle on a working cattle ranch with her husband, where they're raising a family — and building an empire. 
What started as a humble blog to keep in touch with family has ballooned into a multi-million dollar enterprise that includes a television show, a magazine, multiple cookbooks, and a shop, restaurant, and bakery called The Mercantile. There was once even a movie in the works, and Reese Witherspoon was rumored to be the star, but there hasn't been much news on that front in a while.
Given all that, who wouldn't want to learn more about the busy woman? So what does one of America's favorite, down-home chefs like to snack on when she's by herself? How does she stay in such good shape when she's constantly making cheeseburgers and ice cream? And what does she absolutely refuse to eat? Here's what the Pioneer Woman actually eats in a day.
A hearty breakfast is best for The Pioneer Woman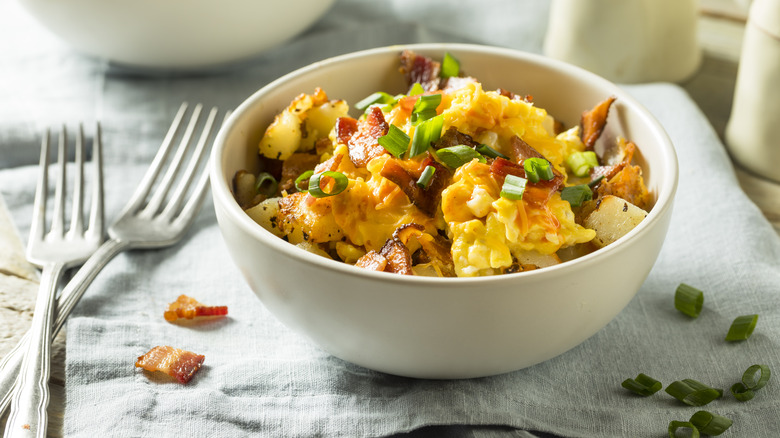 Shutterstock
When it comes to breakfast, the Pioneer Woman is not afraid to go big or go home. On her blog, Ree Drummond wrote, "One of my very favorite breakfast dishes is Migas! It's a dish I first had in Austin, Texas, and it's everything that's wonderful about scrambled eggs ... but so much more." The dish also includes onions, peppers, jalapeños, cheese, cilantro, and fried corn tortilla strips.
When she dines out for her morning meal, she likes to have the restaurant decide what she'll eat, as she did on a trip to Colorado. She said on her blog that she was served "a big pile of hash browns topped with pork green chili, a good layer of melted cheese, and two beautiful fried eggs." She noted that she was only able to eat a third of it, even though it was "delicious."
However, when she's trying to drop some weight, she'll sometimes eschew the big breakfast and instead have SlimFast, according to a 2012 blog post. Chances are she has coffee with her morning meal too, as she has expressed her devotion to the beverage in an interview with the Food Network's Dish.
The Pioneer Woman has a secret Nutella stash
Getty Images
One of the reasons Ree Drummond is so popular as the Pioneer Woman is because she's exceedingly relatable to her fans — and so are her Nutella habits. In an interview with The Daily Meal, she revealed, "I always have a jar of Nutella, and I hide it well — because if I keep it on the counter, it's gone in 12 hours." That's because her sons will devour it, she continued. 
So where does she stash it, exactly? "I have hiding spots in my own pantry. I'll put jars of Nutella inside pickling pots," she confessed.
That's not her only strategy to keep hungry kids at bay. She also stacks cans in the pantry in such a way to hide other cans behind it. "That's the thing about teenage boys, they'll eat you out of house and home," she shared. Given that the Drummond pioneer kids help out on the ranch, it's no surprise that they're so hungry. But they won't find her Nutella — unless they read that Daily Meal interview, that is.
The Pioneer Woman 'eats herself silly' for lunch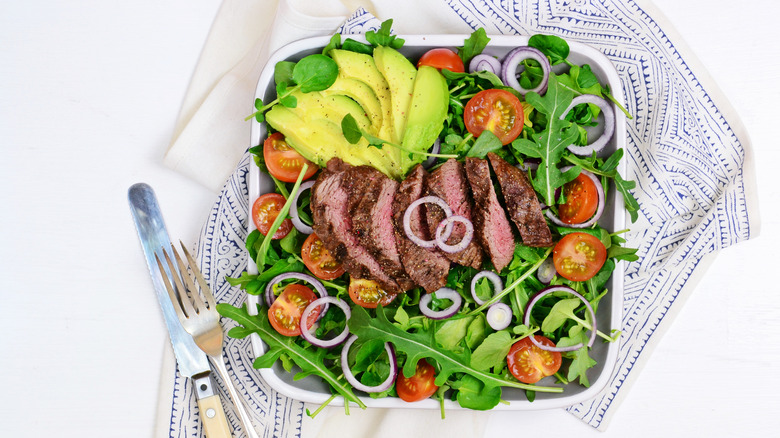 Shutterstock
The Pioneer Woman diets on occasion, like so many women — but not at lunch, according to her blog. That's when she enjoys, as she says, "eating myself silly."
So what is it that she likes to eat with such wild abandon? In another blog post, she wrote, "For lunch, it doesn't get any better than this Big Steak Salad." She then noted that the recipe was inspired by a dish she had at Dave and Buster's that she enjoyed. "This salad has a delicious, slightly sweet vinaigrette and is topped with sliced cold steak ... but what makes it irresistible is the pile of thinly fried onion strings on top, which sort of negates the whole 'salad' angle, but I have to be me," she added. 
Sometimes she goes full throttle with the meat and potatoes for lunch, because she can. In a 2012 blog post about a trip to Denver, she shared that she ordered a steak for lunch, cooked medium rare. It was served with mushrooms, French fries, and peppercorn sauce, as well as a Diet Coke. The irony of the drink was not lost on her!
The Pioneer Woman has tactics to eat healthy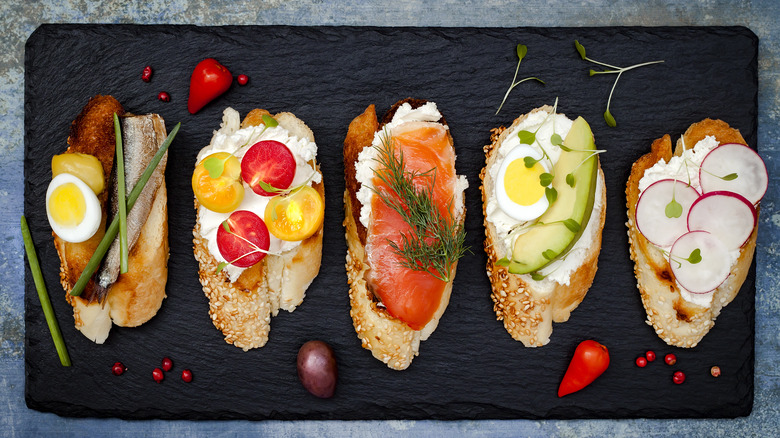 Shutterstock
Ree "Pioneer Woman" Drummond may not be model thin, but she's healthy and works to keep herself trim. So what's her secret? She told the Los Angeles Times that she has "mastered the art" of sampling whatever is put in front of her and not "inhaling" food. She also doesn't indulge in midnight snacks, according to an interview with Food Network's Dish, because she's a morning person. 
Drummond is also fond of the small plate menu when she dines out. On her blog she noted that for her first meal in Colorado she "went straight for the appetizer menu, which is always my favorite part of any menu because most of the things are smallish and you can fool yourself into believing you're not eating very much."
She even took a "flour sabbatical" to keep her calorie intake down. "I gave up flour for an experimental period of time," she said on her blog in 2017. "Now, I have nothing against flour ... It's just that I wanted my jeans to fit a little better, and seeing as how there was no way I was going to give up sugar or cheese, flour was the only other major thing on the list." Priorities? Check.
Dinner runs the gamut for The Pioneer Woman
Given her druthers, what would the Pioneer Woman have for dinner? In an interview with the Food Network's Dish, Ree Drummond said, "If it's wintertime, roasted chicken legs and broccoli cheese soup. If it's summertime, roasted chicken legs, refrigerator rolls and cool, colorful salad." She also shared it's too hot for dessert in the summer, so she and her family have fruit.
Drummond also loves going out to dinner with her family. On one impromptu night out, she ordered the chicken marsala, but the restaurant was out of the dish. She then ordered the angel hair pasta instead. 
"It sounded pretty good: artichoke hearts, diced tomatoes, feta cheese, and — this was the kicker — fresh basil," she wrote on her blog. It turned out that they had to substitute spaghetti for angel hair and dried basil for fresh, but she was still just happy to be out with her family in her community. "It was the best meal I'd had in ages," she mused.
The Pioneer woman doesn't skip dessert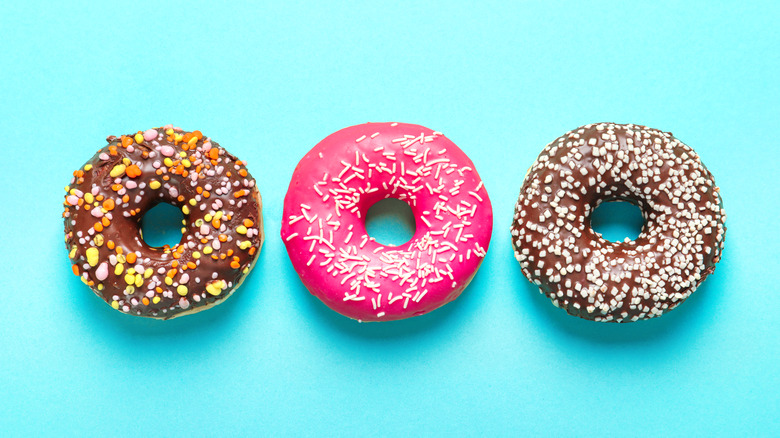 Shutterstock
Ree Drummond may be conscious of her figure, but not to the point of intense dietary restriction. "I like food and am unwilling to deny myself anything delicious at this time in my life," the Pioneer Woman stated on her blog. She's definitely living her best life, and isn't afraid to eat what she wants, when she wants to.
What's for dessert, then? In a blog post about "the pie that'll make you cry," she mentioned one of her favorite desserts: pecan pie. "There is nothing like it on earth," she wrote. "If you've never tried it — either because it's not common in your area or you've written it off as some freaky-looking nutty concoction — you must, must, mustmustmustmust try it this year."
She's clearly a fan, but it's actually not her favorite dessert of all time. In an interview with the Food Network's Dish, she revealed her ultimate guilty-pleasure foods. "Any coffee-flavored dessert is a weakness of mine. Tiramisu, coffee ice cream, coffee-toffee pie ... I'll take it all."
This is the one food The Pioneer Woman dislikes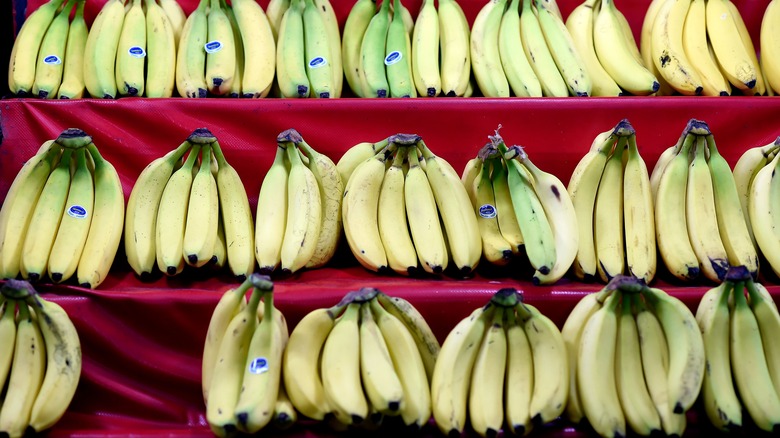 Getty Images
Every chef has at least one food that they just don't like. Guy Fieri only eats eggs under duress. Andrew Zimmern doesn't like walnuts. Even the Pioneer Woman has a food she avoids at all costs. 
"I hate, abhor, loathe, and recoil at the sight of bananas. I've disliked them my entire life, even when I was a baby," Ree Drummond emphasized on her blog. "And I happen to believe that this is some sort of genetic aversion, as both my dad and one of my brothers share it, too." The odium is clearly real. She continued, "In my ... years on this earth, I've never eaten a whole banana. I've had accidental bites here and there, half of which were promptly spit out into a napkin." 
You can't hide them in dessert, either — she'll find them. In an interview with the Food Network's Dish, she said, "Banana splits, banana cream pie, banana bread ... I want nothing to do with them. BLECH."
The Pioneer Woman is definitely not a vegetarian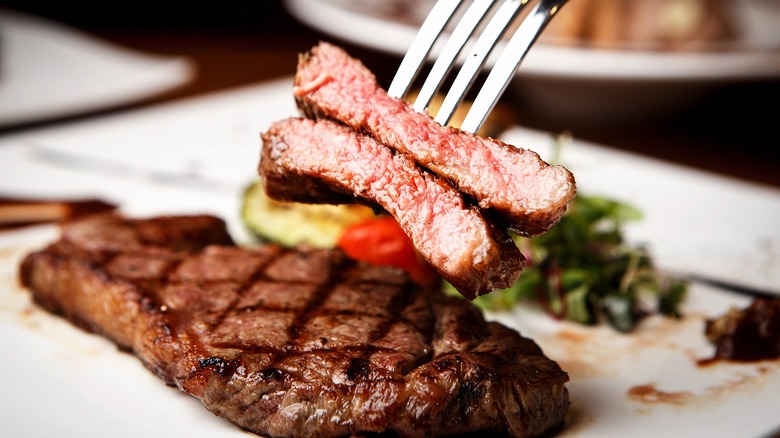 Shutterstock
It's no surprise that the Pioneer Woman is a meat aficionado — she lives on a working cattle ranch, after all. So she has some opinions concerning the carnivorous foods of the world. In an interview with USA Today, she specified how she likes her steak prepared. "Medium rare is as far as we go in Oklahoma," she said. "If you go further than medium rare, it's a misdemeanor."
Have you ever wondered if the Drummond family consumes any of the cattle they raise? According to Ree Drummond's husband, they do, sometimes. They also buy meat from the store fairly regularly, but not the cheap stuff. "I only buy choice or better steaks in the grocery store," he said in a guest post on his wife's blog, "so they are usually the equivalent of what we raise at home." 
Beef isn't the only meat that Drummond likes. Some of her favorite quick recipes contain a variety of animal proteins, including beef, chicken, shrimp, and ham. But interestingly enough, she hasn't always been an omnivore; she was a vegetarian when she was in college in California, according to her blog.
This is The Pioneer Woman's comfort food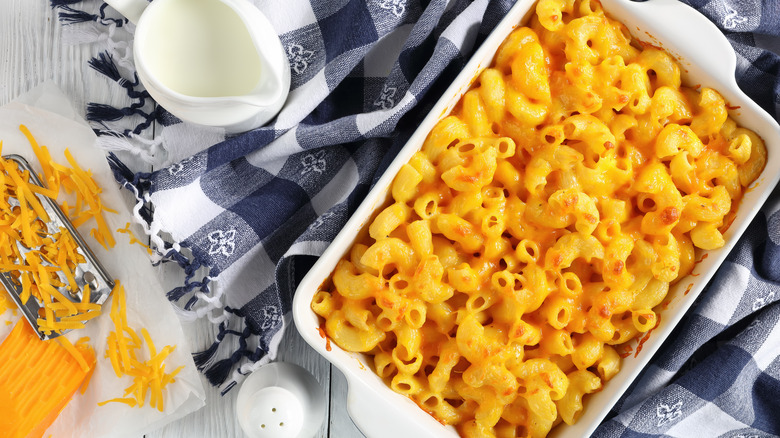 Shutterstock
For Ree Drummond, comfort food is personal, and near and dear to her heart. On an appearance of "The Dr. Oz Show," she said, "Comfort food to me is, first of all, something I remember eating as a child. So, you know, there are certain things my mother made, or my grandmother made, and to this day if I cook the same recipe, I just kind of close my eyes and I'm transported back to my childhood." 
So what does the Pioneer Woman equate with her childhood? When Dr. Oz asked what specific comfort food she craves, she answered like many of us would. "Cheese ... macaroni and cheese is a big thing." She noted the dish is also a favorite on the ranch. Who doesn't love cheese? Sign us up!
Cheese was on her mind during her pregnancies, too. On her blog, she confessed, "I've more than established that I am a quesadilla lover beyond any quesadilla lover in North America. I crave them when I'm pregnant." Pass the tortillas and salsa, please.
These are The Pioneer Woman's favorite foods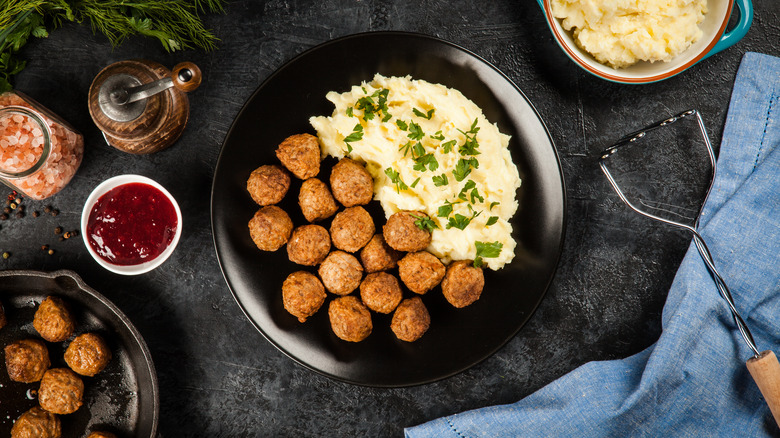 Shutterstock
Ree Drummond is a pretty prolific cook. After all, she raised a large family in a very rural area for years and has been on television cooking for what seems like forever. So what are her favorite recipes, the ones she returns to time and time again? "Comfort Meatballs," she shared on her blog. "I've loved them since I first sunk my teeth into them years ago. They never get old!" She also loves stewy dishes like meatball soup, broccoli cheese soup, mulligatawny, and classic beef stew.
Additionally, Drummond has a penchant for Italian-style dishes. "Chicken Parmigiana," she continued. "Nothing complicated or fussy about it. The kids still love it after all these years." Drummond also noshes on roasted red pepper pasta and puff pastry pizza, and, when she's craving Asian food, sesame noodles or a spicy cauliflower stir-fry hit the spot.
As for the sweeter side of her palate, Drummond loves digging into sour cream pancakes or blackberry cheesecake squares — and she makes the bold claim that her "cinnamon rolls are the best in the world." We'll just have to taste and find out!
The Pioneer Woman also loves ... sushi?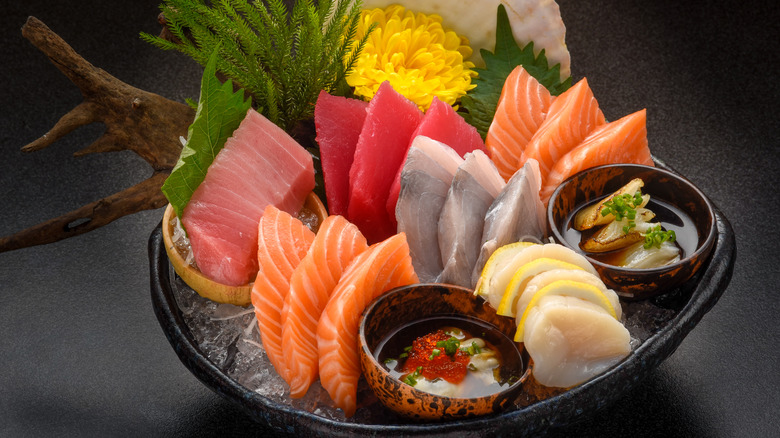 Shutterstock
Living on a cattle ranch in the middle of rural Oklahoma definitely bodes well for steak and burger lovers. But given that Ree Drummond lived in Los Angeles for years, she developed a taste for sushi. And since Pawhuska isn't exactly known for its sushi restaurants, Drummond had the sushi brought to her in the form of her friend, a sushi chef. "Cody visited the ranch last week (a birthday present from Marlboro Man, who figured it was the only thing on earth besides a pug that I would possibly want) and spent a few hours deconstructing the basics of sushi so that sad souls like me would have the skills to prepare it from time to time," she explained in a blog post. "Or every day. I love sushi so much." Girl, saaaaaame.
Drummond isn't a fan of all sushi, however, though what she dislikes might not be what you'd expect. "Spam Sushi? Gross me out the door," she continued. "Though I'll bet my dad would love it. He learned to love Spam in Vietnam." More for us!
This is the beverage that The Pioneer Woman couldn't do without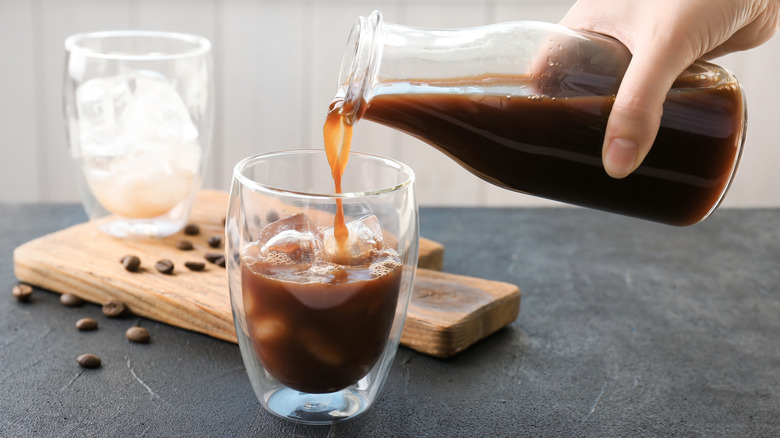 Shutterstock
When it comes to Ree Drummond's favorite drinks, there's one beverage that she treasures above all else: coffee. "Good or bad, right or wrong, I wouldn't want to live in a world without coffee," she proclaimed in a blog post entitled "Coffee is My Life. "I start each morning with iced coffee, and it's the best way to start the day." We happen to agree wholeheartedly, as coffee is, indeed, all it's cracked up to be.
Drummond's devotion to coffee doesn't just take place in the mornings on the ranch, though that definitely happens. Rather, Drummond is the reason that her store, the Mercantile, is equipped to serve only the best coffee and coffee-based drinks. "I felt that I really did this whole thing, just so that I could have a good cup of coffee everyday," she confessed in a chat with Thrillist. We don't blame her in the slightest.
This is how The Pioneer Woman shed significant pounds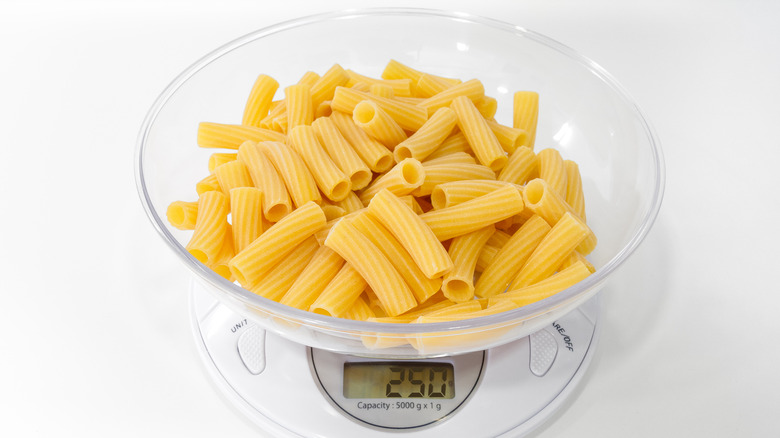 Shutterstock
During the summer of 2021, as many folks were emerging from quarantine, Ree Drummond stepped out looking markedly slimmer. Naturally, when a celebrity loses weight, fans get curious as to how, and Drummond's response was pretty great. For one, she wrote on her blog that getting thin was not her primary goal — rather, she wanted to "feel better and have more energy." Secondly, she listed the things she didn't do, which includes intermittent fasting, the Keto diet, joining a weight loss group or app, buying special foods, or hiring a trainer.
So, just how did Drummond get in shape? She went back to basics. "Counting my calories was nothing short of eye opening, and for me it was essential," she revealed. "I'd completely lost track of the calories I was consuming on a daily basis, so it was very helpful to get a handle on what I was looking at." Drummond also weighed her food on a digital scale, which resulted in smaller portions than she was used to. And, of course, she exercised. Sometimes, the easiest answer is the simplest one, even if it requires hard work.