The Old-School Powder Trick That Makes Lipstick Last Longer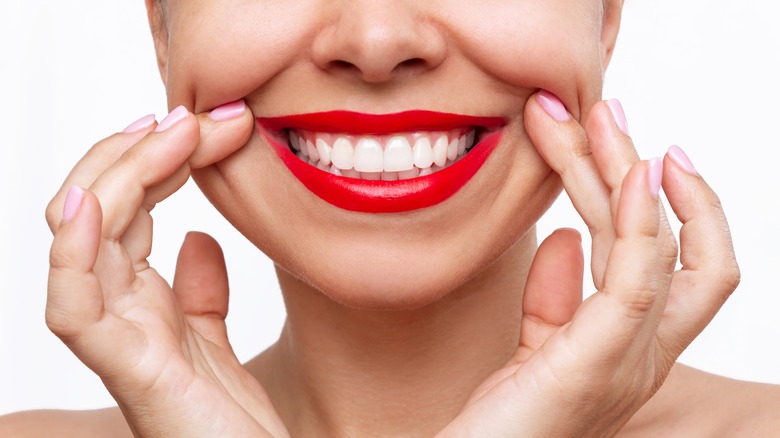 Marina Demeshko/Shutterstock
Although it seems relatively simple, achieving the perfect, lipstick-slicked pout can be deceptively complicated — considerably more so when you're trying out bolder hues like green lipstick or bright red. But as beauty experts would tell you, there are some fundamental steps to take before, during, and after applying lipstick that can give you the flawless look you're after (via Good Housekeeping). 
Makeup artist Joy Fennell shares that exfoliating and moisturizing are good first steps. Tracing your lips with liner and filling in the pigment later gives you a cleaner finish as well. There are also different shades for which you have to employ certain methods, according to Allure. Even with all the latest hacks that beauty enthusiasts are employing, there are some old-school ones that have stood the test of time for a reason.
Here's one that involves powder and it's going to make your lipstick last longer and really pop, regardless of how long it's on. 
Try this trick for a matte finish that will get you through the entire day
Two of the biggest, and most prevalent, woes of regularly wearing lipstick — especially the brighter shades — is the possibility of it staining glasses, masks, and other clothing that come into contact with your mouth, with the hue also fading as time progresses. There's a great solution for these problems and it involves using powder and tissue paper, as L'Oréal Paris explains. 
You begin by applying your chosen lipstick for the occasion, before placing a piece of single-ply tissue paper over your lips, gently holding it in place and using a soft brush to apply a decent amount of powder over the part covering your pout, as makeup expert Pallavi Symons demonstrated in a YouTube video. After removing the tissue paper, your lips will be ready for the day ahead and they will also be stain-proof. This hack is equally great for when you want a more matte finish, adds Maybelline New York. 
Further, if you're worried about your lipstick bleeding on an extra humid day, Allure notes it will help too. The powder you use could be loose or talcum, per Symons, depending on what you have to hand. The L'Oréal Paris Infallible Pro Sweep + Lock Powder is a good choice. As for lipstick, you could try the Color Sensational Creamy Matte Lipstick from Maybelline New York. 
Exfoliating your lips before applying makes lipstick last longer too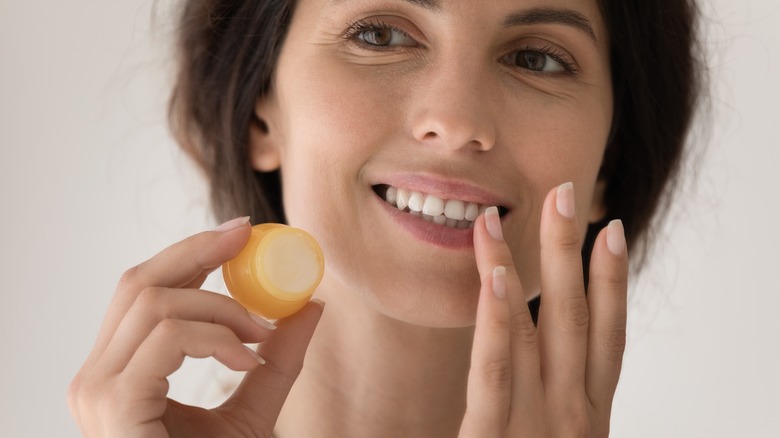 Fizkes/Shutterstock
Dry lips are more common than you think and they can interfere with how long your lipstick lasts too, as Southern Living warns. Exfoliation is always a good idea before applying the product but you don't need anything extra to do it. Find a used or soft toothbrush and gently brush away the dead skin cells on your lips (via Stylecraze). Moisturizing with lip balm afterward helps too. 
If you're not into the toothbrush method, you can try scrubs, some of which you can make at home, according to Healthline. If you're making a scrub at home, you just need to find an abrasive substance like sugar or coffee grounds, and a moisturizing ingredient like honey, olive oil, or shea butter. The two textures will work to smoothen out your lips and make your lipstick last longer. 
Using a humidifier when you're sleeping and applying SPF-infused lip balm are some other good practices to follow to keep your lips supple and healthy, per Nivea. Unavoidably, the truth about lipstick is that its application involves a few tips and tricks to get the long-lasting, perfect look you want, but just keep at it and you'll be a pro in no time.