The Easy Skincare Hack To Prevent Cakey Foundation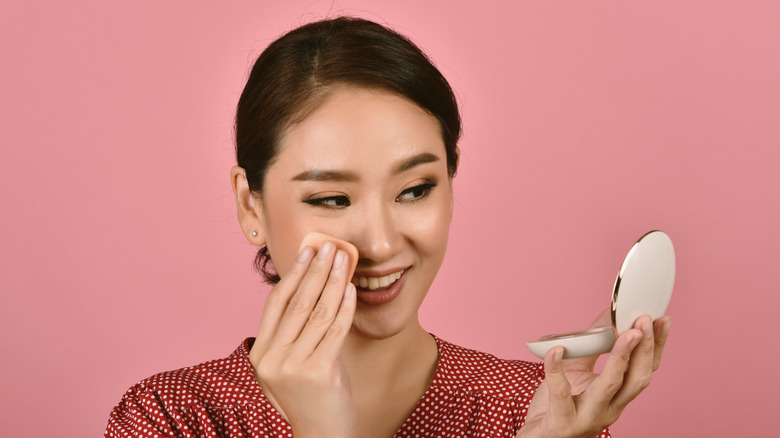 ARTFULLY PHOTOGRAPHER/Shutterstock
Once you've done all the study work to research and try out foundations until you find the perfect formula and shade for your skin, few things are more frustrating than applying that foundation and finding that for some reason, it looks cakey once it's on your face. While it's true that some formulations of foundations can be the culprit themselves, if you find you get the same cakey-looking result no matter which foundation you use, the issue could be something else.
The first step to figuring out the issue is to make sure the foundation itself is the right type for your skin. If you are using a powdery foundation or a very thick foundation with dry skin, you might try switching to a lighter, hydrating liquid foundation instead (via Byrdie). Similarly, if you are using an oily liquid foundation on already-oily skin, that could make you look shiny and cakey at the same time. 
If, however, you're sure the foundation isn't the issue, there are some other easily-fixable culprits you can tackle in order to improve the look and texture of your foundation application.      
Some possible reasons for cakey foundation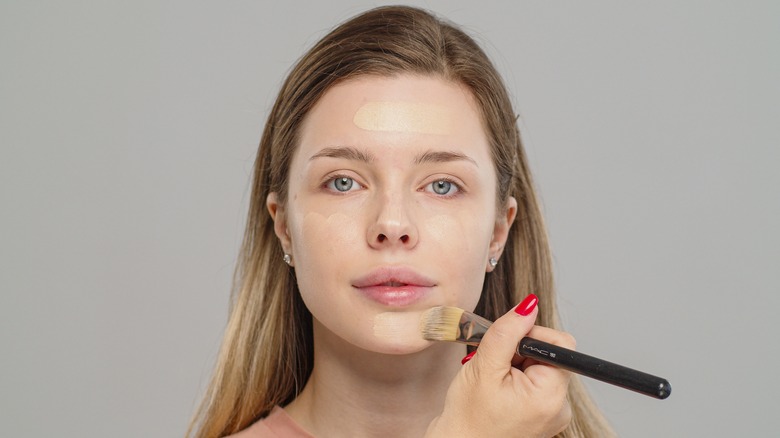 VALUA VITALY/Shutterstock
As any professional makeup artist will tell you, it is essential that before you apply foundation, you prep your skin. Failing to thoroughly cleanse, exfoliate, and moisturize can result in uneven application of makeup (via Makeup.com). The first step is to use a cleanser that isn't too harsh for your skin type. If you have sensitive skin, you may want to avoid anything that contains common allergens and irritants like fragrance and harsh sulfates. 
Next, once or twice per week, you should be exfoliating your skin. When dead skin cells build up, they can not only clog pores, but they can also create a rough, uneven texture. If you apply foundation to skin that hasn't been exfoliated in some time, it is likely to look cakey, crusty, or flakey. Now keep in mind, there are two major different types of exfoliators: chemical and physical (via The Cut). Chemical exfoliators use active ingredients to help slough away dead skin cells to reveal a brighter, smoother complexion, while physical exfoliants use gentle beads or other type of grit to softly scrub away dead skin. 
Some of the best chemical exfoliants, according to The Cut, include Drunk Elephant T.L.C. Framboos Glycolic Night Serum, The Ordinary Glycolic Acid 7% Toning Solution, and the CeraVe Salicylic Acid Cleanser. For physical exfoliants, they recommend TATCHA Rice Enzyme Powder and DERMALOGICA Daily Microfoliant. Meanwhile, Kate Somerville ExfoliKate Intensive Exfoliating Treatment contains both physical and chemical exfoliants. 
Moisturize, mousturize, moisturize!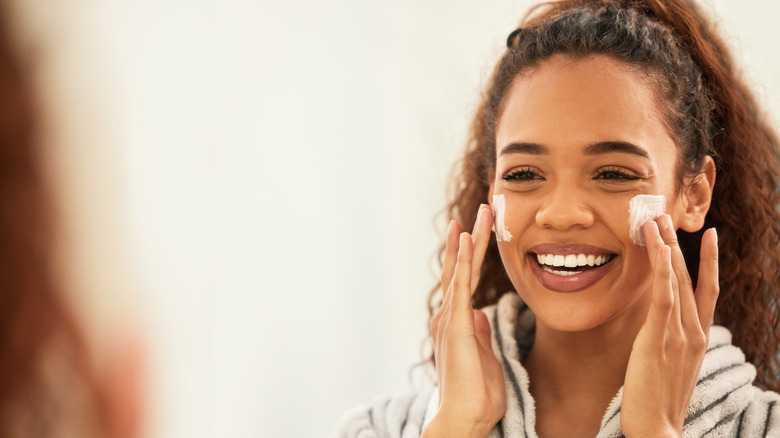 Peopleimages/Getty Images
The next essential step to prep your skin before makeup application is to moisturize. And surprisingly, there is a right and a wrong way to do this before makeup application (via Byrdie). If you find you have dry skin, or even after applying moisturizer, your makeup still doesn't go on smoothly, there's a trick. Before applying a heavier, glow-providing moisturizer, apply a light water-based moisturizer first. This will help to plump the skin and prepare it to better absorb the heavier cream moisturizer that follows. Another great trick is if you feel your foundation needs to be a little more hydrating itself, you can add a couple of drops of your moisturizer right into the foundation as you mix it on your hand or brush. 
And one last mistake you might be making? Not allowing your primer to dry fully before applying your makeup. Primer is not a necessity the way the previous steps are, but some people do prefer to use a primer to help create a smoother canvas and to help their makeup last longer. If you are one of these people, make sure you let the primer dully dry on your skin before applying your foundation. If you don't, the foundation will mix with the primer rather than sitting on top of it, and that can cause uneven application and cakeyness.
If you follow all of these steps, you should be well on your way to smoother foundation application and better wear!