Anna Konkle And Jermaine Fowler Discuss Their Chemistry In Hulu's The Drop - Exclusive Interview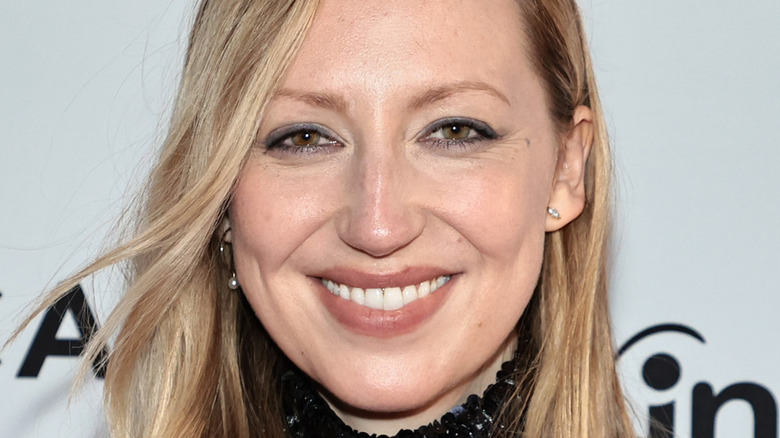 Jamie Mccarthy/Getty Images
In a time when Americans are having fewer babies, people often cite the following reasons for holding off: the cost of daycare, financial woes, and lack of downtime. In media, we've seen movies — particularly comedies — depict the challenging (and often rewarding) parts of parenthood. But one new film, "The Drop," addresses a cultural taboo that is often seen as one of the worst things parents can do: dropping a baby.
Centered around Lex (Anna Konkle, "Pen15") and Mani (Jermaine Fowler, "Coming 2 America"), the young couple is trying for a baby, but during a wedding trip surrounded by friends, Lex drops a friend's baby on its head. For the rest of the film, their characters embark on their own respective journeys as they figure out the kind of parents they wish to be — if they even choose to do so at all.
With an all-star cast including funny women like Aparna Nancherla, Jillian Bell, and Robin Thede, and comedic counterparts like Utkarsh Ambudkar, Joshua Leonard, and Elisha Henig, the film is a recipe for cringe comedy gold. As in all dark comedies, it also explores intense, darker themes, and Konkle's and Fowler's characters do just that. The two actors sat down with The List to discuss the importance of the film and the taboos that come with the movie's subject, their experience with parenthood, and how they bonded with and without the cameras rolling.
How they found chemistry as each other's co-stars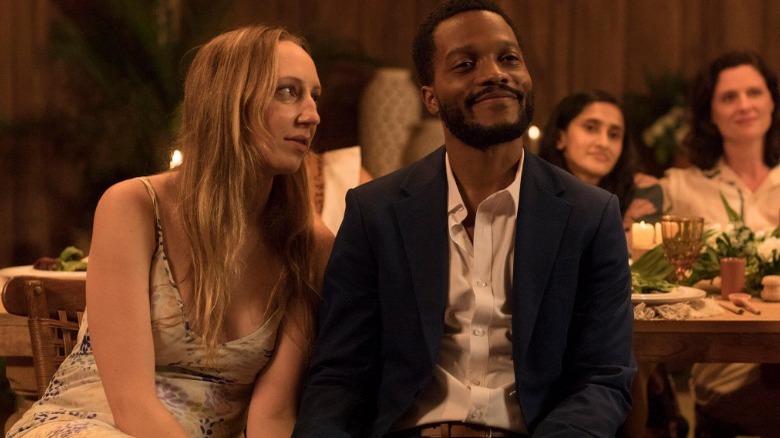 Courtesy of Hulu
Both of your characters have different arcs in the film, but throughout, you two have these tender, cringey moments that you share. What was it like working together on and off screen? Did you know each other before?

Jermaine Fowler: We didn't know each other.

Anna Konkle: We met quickly in Los Feliz, and the first time we Zoomed, I don't know if you [Fowler] remember this because you were so busy at the time, but you were doing a fitting for a music video. 
Fowler: Oh, God.
Konkle: I was like, "He is a multitasker and is busy as hell." He's been amazing since the beginning. We just vibed.
Fowler: The feeling is mutual. There was respect there. I've always been a fan of Anna, so we first met at Los Feliz at a diner or a restaurant, and we yapped about our families and how we grew up. We talked about our dads, and I'm so happy that we shared that because it endeared me to her. This movie isn't a normal movie — it's very unconventional [in] the way it was shot, the way it was prepared, the way it was executed, so I was very grateful she shared so much with me because we were going to know each other in Mexico [where "The Drop" was filmed].
The chemistry was immediate. She'd just had a baby as well.
Konkle: I was struggling and you [Fowler] were such a caretaker. He would check on me through the jungle as I was pumping milk.
Their experiences with parenthood resonated with their characters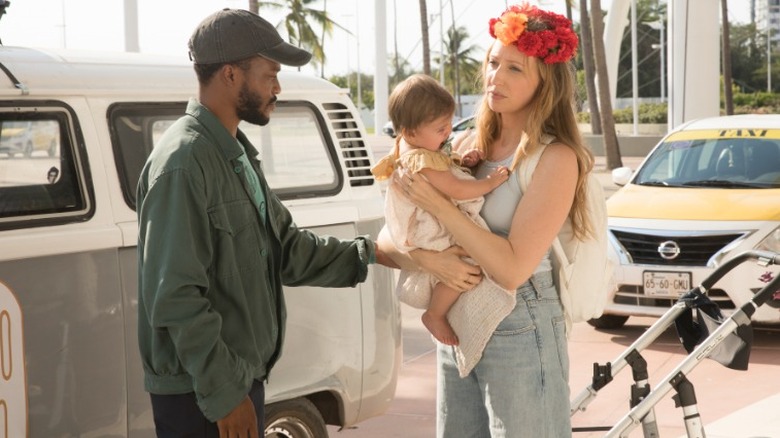 Courtesy of Hulu
The film does a great job of discussing the desire to have children but also the fear and societal pressure of parenthood. How do you feel your characters explore that push-pull struggle and the challenges that come with motherhood and fatherhood?
Konkle: Since I was little, I always wanted kids, which is so under-talked-about with how much people don't want kids and the expectation that that's a given or what we're supposed to do. Yet when I got pregnant and when having the baby and going, "I've always wanted her" — and during pregnancy wanting her so much — there were also a lot of different feelings I was grappling with. "There's something foreign that I don't know yet in my body."
It's such a layered complex [thing] — parenting in general, and having a baby inside you, and the process of getting it out and then keeping it alive. It's such a deep concept, and it deserves a lot more excavating than we're doing. It was really cool that this film and that Sarah [Adina Smith, the director] was doing that, and we got to be part of it.
Fowler: I completely agree. Lex's character [Konkle], because she's an artist, comes from a lot of chaos in the art world, and Manny, [my character], was raised with structure. It was unfair for him to want to make Lex want a family because that's how he was raised, and to want to continue that or repeat that isn't fair for somebody. But he doesn't realize that until later in the film.
When the baby is dropped, those questions start to get asked, like, "Is this the right person for me? Can I raise a family with someone who has dropped a baby?" — things like that — and of course, you can. Yes, you can, and it's one of those things where I was so interested in doing the film because I was raised in a house where the man makes the money, and the woman stays home to do hair or cook or whatever. My mom was a hairstylist and stuff.
I was so interested in wanting to show the more emotional side of a man who wants to be a father and the emotional side of being in a relationship that's spiraling, so I felt it spoke to me. It really spoke to me, and I hope people who are going through the same thing can maybe watch this film and see or feel solace in a situation they might be going through in a relationship or a future relationship — or even a past relationship. You never stop learning.
Konkle and Fowler were up for the challenge of a dark comedy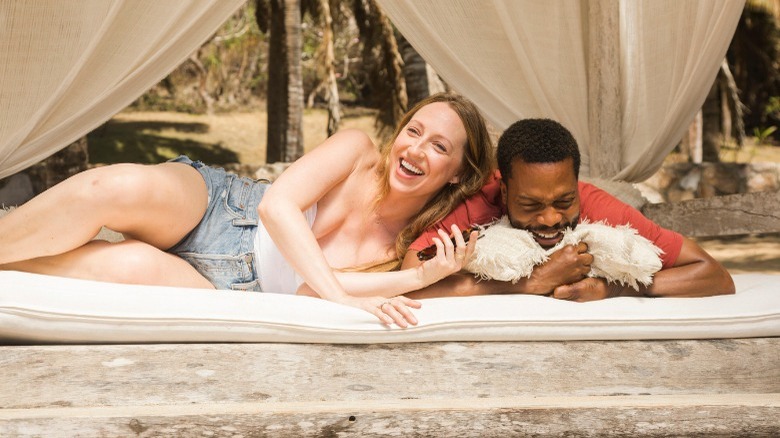 Courtesy of Hulu
Being the parents that you are and being the actors that you are, was there difficulty having to switch in and out of those moments when cameras stopped rolling? What was that experience like of looking into your own character?
Konkle: I feel like a lot of the other characters — because this is such an ensemble film — are more of the comedic heart of it. Our story ends up being a more emotional journey — which was exciting to get the script and be like, "Cool. This isn't all jokes. This is a story about a relationship," but it was definitely challenging at times. I was going through a lot personally, being a new mother, and there were a lot of challenges on set itself, but the opportunities to go deep were always exciting, and it was great to see Jermaine be such a ... You're an amazing actor. It was fun to watch you go through all that and do it together.
Fowler: It was rough, but I don't think you want to go back home with that heaviness. There are a lot of stories that "method actors won't break," and we need to separate a lot of that. You're building a character from the ground up, and you got to remember who you are as well because it'll challenge you and it'll mess with you. We made sure we would go and get some food, walk each other home, or take a seat and talk and decompress, because there was a lot going on outside the filmmaking. It was definitely imperative that we stay grounded in that way, too.
"The Drop" is now officially streaming on Hulu.
This interview has been edited for clarity.