The Nutrient-Dense Tea Kourtney Kardashian And Kendall Jenner Swear By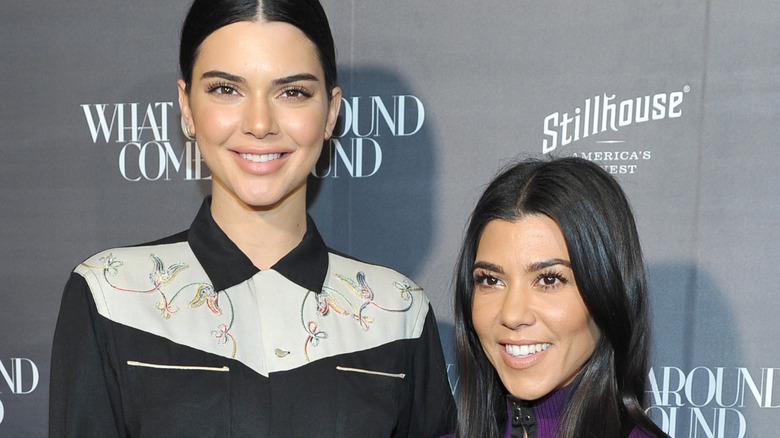 Donato Sardella/Getty Images
One look at Kendall Jenner on the runway, or at Kourtney Kardashian and Travis Barker's relationship and their children, and you know they're doing something right to build a better body. It could be the apple tea.
Poosh, Kourtney's lifestyle brand website, reveals the recipe for this favorite family drink that was passed down to her from Grace, the baby nurse to her kids. "It's also Kourt and Kendall's signature tea to make together whenever KJ pops by Kourt's house," the site reveals.
Kendall has shared that tea is one of her go-to health items, once confessing to E! News that she drinks up to 12 cups a day of detox tea during runway season. Kourtney is also a fan of tea, according to Women's Health. She ups her intake of green tea when she wants to look better. "I swear it makes my tummy flatter," she reported. The apple tea the sisters are fond of has its own special properties, too.
The flavorful – and beneficial! – ingredients in apple tea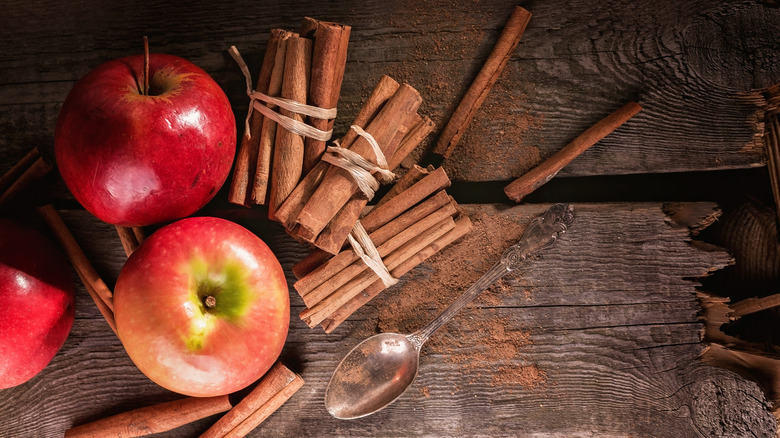 Yury Sevryuk/Getty Images
It may surprise you to know that there's no actual tea in Kourtney and Kendall's apple tea. The recipe, shared on Poosh, is actually a combination of several fruits, spices, and herbs all boiled together, then strained into steamy mugs of goodness.
Of course, apple is a featured ingredient, and Medical News Today reports that this fruit contains vitamins, minerals, and antioxidants. Cinnamon is an ingredient with unexpected health benefits. Cinnamon and cloves both add a bit of spicy warmth to the tea, plus they contain ever-helpful antioxidants. Cardamom is also a tasty spice and may have a helpful impact on liver and heart health, as well as bacteria-killing qualities, shares Medical News Today.
The fresh ginger in the tea aids in digestion and helps with bloating and gas, according to Johns Hopkins Medicine, while mint leaves are also good for your stomach, says Dragonfly Tea, and can help boost your immune system. Using one whole lemon in the recipe, you'll get a good boost of vitamin C. The fruit may even help you with weight loss, heart disease, and more, reports Healthline.
The extra-special ingredient that really boosts apple tea's power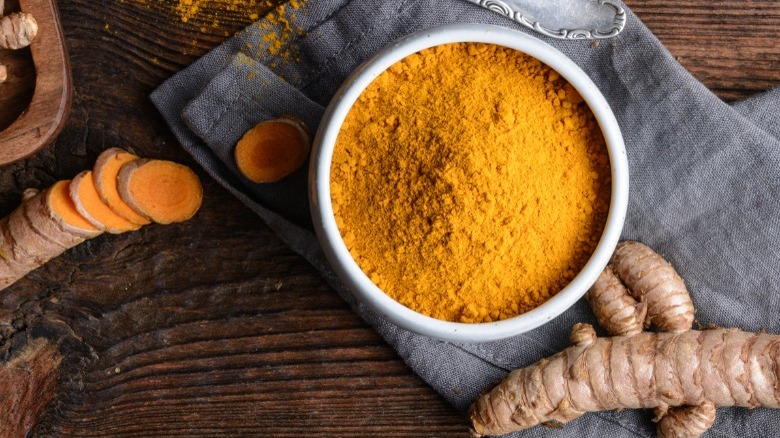 Marcus Z-pics/Getty Images
The Kardashian-Jenner apple tea recipe calls for ¼ teaspoon of turmeric. The flavor is "overwhelmingly earthy and bitter, almost musky, with a bit of peppery spice," describes Bon Appétit. With such a bold taste, it is more likely to be found in a curry than in a sippable tea. Turmeric, though, has other good qualities.
In an article by Johns Hopkins Medicine, oncology clinical dietician and nutritionist Mary-Eve Brown shares, "Turmeric is rich in phytonutrients that may protect the body by neutralizing free radicals (pollution, sunlight) and shielding cells from damage." Medical News Today reports that it also has anti-inflammatory properties, can help with liver function and digestion, and may possibly reduce the risk of cancer. It's a super spice!
And there's something missing from apple tea that is also quite important — caffeine. With no actual tea, and no ingredients containing caffeine, apple tea is the perfect drink to consume when you want to wind down before bed.