The Heartbreaking Tale Of Mike Corbin's Alzheimer's On General Hospital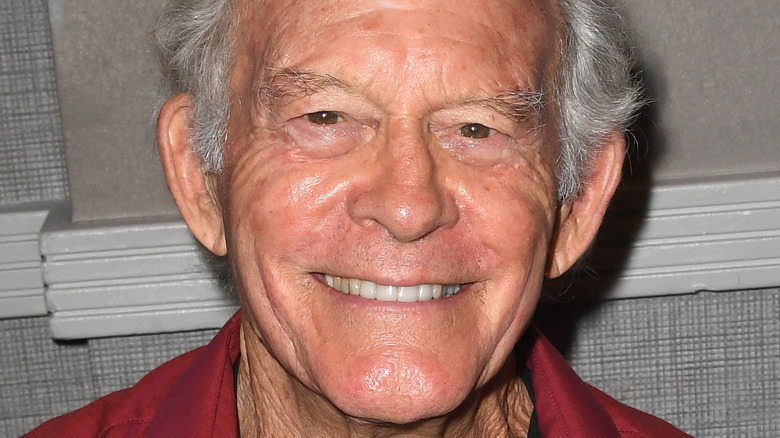 Albert L. Ortega/Getty Images
For longtime "General Hospital" viewers, it's no secret that mob boss Sonny Corinthos (Maurice Benard) didn't have a great relationship with his father, who he had been abandoned by as a child. The elder, Mike Corbin, first arrived in Port Charles in 1995, played by Ron Hale (via Soaps In Depth). Sonny held a lot of resentment toward his father and blamed him for the abuse he and his mother suffered at the hands of his stepfather, Deke. Despite these misgivings, Mike tried to build a relationship with his son, as well as his daughter, Sonny's previously unknown half-sister Courtney Matthews (Alicia Leigh Willis). Though he attempted to make a life for himself in Port Charles, eventually, Mike fell back into his gambling addiction and left town in 2010 to get treatment.
Viewers didn't see or hear about Mike until 2018, when Sonny got word that his father was in financial trouble again, per Soap Central. After visiting his dad, now played by Max Gail, Sonny noticed the other man was experiencing issues with his memory and decided to bring him back to Port Charles to live with the Corinthos family. It wasn't long afterward that Mike was evaluated by a doctor and, tragically, diagnosed with Alzheimer's.
Mike found love despite his illness
Mike's family was understandably devastated by his diagnosis. As time progressed, his condition worsened, and it became more and more difficult for Sonny and his then-wife, Carly Corinthos (Laura Wright), to care for him at home. Although Mike was enjoying reconnecting with Sonny and building a relationship with his grandchildren, the family eventually had to make the difficult decision to put him in a long-term care facility, Turning Woods (via Soap Dirt).
Luckily, Mike enjoyed his new home immensely and even fell in love with a fellow Alzheimer's patient named Yvonne Godfrey (Janet Hubert), per Soaps In Depth. Yvonne was married at the time, though she could no longer remember her husband, Marcus (Nigel Gibbs). Eventually, Marcus realized that being with Mike was bringing joy to Yvonne's remaining days, and he gave his blessing for the pair to wed. Sonny took on the role of officiating the nuptials, and though Mike didn't recognize the "priest" as his son, it was still a very touching gathering for his family and a happy day for the new couple.
Mike's story touched many hearts
When it became clear that Mike's life was coming to an end, his family members visited more often to say their goodbyes one-on-one. These final days were particularly difficult for Sonny, who was having trouble letting go of his father, with whom he had finally developed a good relationship. Eventually, Sonny was able to accept that it was Mike's time, and the elder passed away peacefully (via Celebrating the Soaps). Mike was met by the spirit of his deceased daughter, Courtney Matthews, who escorted him to the other side — a heartwarming moment for longtime "General Hospital" viewers.
Told over the course of two years, Mike's Alzheimer's storyline was moving for many "GH" fans, and the show was applauded for taking their time with the story and being true to the feelings and experiences of those who have gone through something similar in real life. One person tweeted, "The dignity and empathy you have displayed highlighting Alzheimer's is incredible. Thanks from all who have it [or] are going through this struggle." Another congratulated the actors on their hard work, writing, "Maurice and Max, you both did a phenomenal job with this storyline. Thank you for putting your heart and soul into it and taking us along on your journey of love and heartbreak."
Maurice Benard was just as distraught as the fans when it came time to say goodbye to this touching story. After watching the scenes of Mike's funeral, the actor took to Twitter to say, "I'm not afraid to admit I was crying like a baby watching it."