Why Kylie Jenner Prefers Brown Mascara On Her Lower Lashes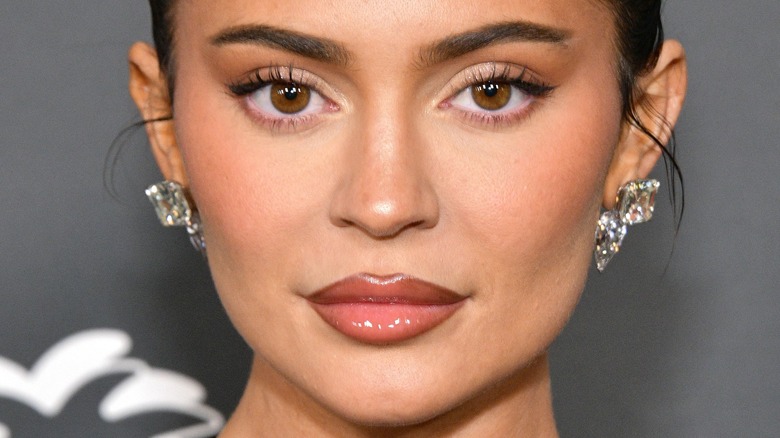 Araya Doheny/Getty Images
We may receive a commission on purchases made from links.
If there's one family who have single-handedly changed the beauty game in recent years, it has to be the Kardashians. The "Keeping Up with the Kardashians" turned "The Kardashians" stars have pretty much all dipped their toes into the makeup market at one point or another, with Kylie Jenner's Kylie Cosmetics still leading the way, while Khloé Kardashian tried her hand at KOKO Kollection by Khloé Kardashian, and Kim Kardashian had KKW Beauty.
Clearly, the K fam know what they're talking about too, because they've worked with the best of the best when it comes to makeup artists over the years, sitting in the makeup chair pretty much every day to get camera ready. In fact, Kim alone has admitted to spending around two hours getting primped and prepped every single day. "I do makeup and hair for about two hours every day! It's actually a great time for me to catch up on work emails, take some calls and see what you guys are up to on social media," she told fans in 2019 on her now defunct KKW Beauty website (via Marie Claire). But that's nothing compared to how long Jenner is in the makeup chair. She revealed in a 2021 YouTube video with makeup artist Ariel Tejada that she can sometimes be getting her makeup done for a whopping three and a half hours!
But it sounds like all that time is worth it, as Jenner has learned one epic mascara hack we're dying to try.
Kylie Jenner achieves a 'softer' lower lash look with brown mascara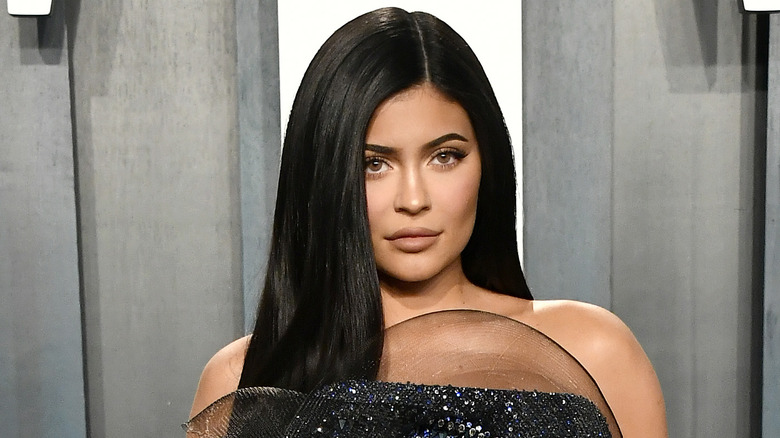 Frazer Harrison/Getty Images
Kylie Jenner has clearly learned plenty of tips and tricks during all that time spent in the makeup chair, as she's revealed one of her go-to hacks is using brown mascara on her bottom lashes. Jenner first revealed her preference on Snapchat back in 2016, posting a close-up snap of her eyes that showed her upper lashes standing out while her bottom lashes looked more natural (via InStyle). "I use brown mascara on the bottom for a softer look. Patrick taught me that," the reality star told fans, writing on the snap, "Natural lashes." It's thought Jenner was likely referring to makeup artist Patrick Ta, who we know has worked with the family for a while. In fact, Ta's products created this stunning glowy look for Kim Kardashian and this gorgeous bold lip look for Kourtney Kardashian.
And it seems like Jenner's tip from Ta has impressed at least one of her sisters so much, she couldn't wait to get in on the action. In a 2020 YouTube video that saw Jenner and Kim team-up to do their makeup together, the latter told her little sister she'd be trying out the hack. "I am going to try Kylie's trick of brown mascara on the bottom. What an interesting trick. I don't think I'll like it," Kim declared as she applied Dior's Diorshow Iconic Overcurl Mascara in 694 Brown to her lower lashes — though it seemed like she approved!
Brown mascara doesn't have to just be for the lower lashes
While it may seem like a pretty small adjustment, Kylie Jenner's brown mascara trick (courtesy of Patrick Ta) can have a pretty big effect on the eyes. In her 2019 "Beauty Secrets" video for Vogue, Jenner again shared the real reason she likes to do black mascara on the top and brown on the bottom, explaining it gives her makeup, and more specifically her eyes, a more understated look. "I use brown mascara on the bottom because I don't like too much mascara on the bottom, so this gives me more of, like, a subtle look. When I put black on, it's too much," she shared as she took us through her entire makeup routine.
But you don't only have to use brown mascara on the lower lashes! Vogue noted that more and more people are moving away from a totally made up look for every day, and going for a brown mascara on both the upper and lower lashes can create a much softer and more subtle look overall, which is perfect for those who want something more natural. So why not give it a try?