The 'Multi-Mask' Technique Perfect For Combination Skin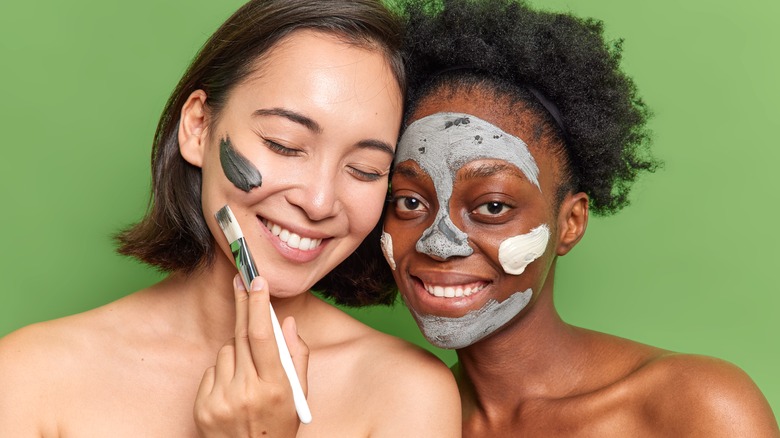 Cast Of Thousands/Shutterstock
Taking care of combination skin can be tricky, generally even more so compared to folks with a mostly dry or oily complexion. The vast majority of skincare products on the market target a specific skin type, and it's often confusing trying to figure out which would work best for your skin. Will a hydrating serum make your oily T-zone oilier? Do absorbent ingredients like clay and charcoal make your cheeks much drier?
Skin guru and celebrity aesthetician Renée Rouleau clarified to Byrdie that those with combination skin shouldn't fret about building the perfect skincare regimen. Rather, it's all about finding the right balance. "The concept of combination skin is that you're oily in some places and dry in others," Rouleau explained. "You don't necessarily want to use two different routines, but instead find one in the middle of the road."
Perhaps the secret to curating the perfect skincare regimen for combination skin is using an assortment of products that cater to your specific concerns. As such, certain people swear by a concept known as multi-masking. 
What is multi-masking?
Often, we tend to forget that masking is an integral step in any good skincare routine. But, as Ritz-Carlton Toronto spa operations manager Lana Storchak informed Elle, masks offer a wide variety of benefits, so this step in your routine should ideally be prioritized. "Masks can be used to moisturize, detoxify, increase circulation and replenish nutrients. Above all, they add an extra dimension to your skincare routine," she noted. "Plus, they're truly pampering!"
When it comes to combination skin, however, masking is slightly more complicated. If you want to kill several birds with one stone, multi-masking may be the best route to take, as it allows you to use different masks on certain areas of your skin to address multiple concerns simultaneously. The idea of applying various clays and creams may sound odd, but according to dermatologist Dr. Debra Jaliman, it's a smart technique and one that is recommended by experts. 
She told Fashionista that you can either apply different masks all at once and then rinse them off altogether, or you can do one at a time. But, you can only do it once a week and be careful because, "If you apply the wrong type of mask on the wrong area of the face, it can have a multitude of side effects." For instance, "applying a hydrating mask to an oily face can clog pores," as aesthetician Jensen Fleisher warned Healthline. If your skin reacts badly, "Rinse immediately." 
How to get the most out of multi-masking
To make multi-masking work for you, New York City-based dermatologist Dendy Engelman recommends checking your skin first. The condition of your skin changes all the time, so you have to do some thorough observation before slathering on any masks. "Instead of sticking to a rigid regimen, it's best to assess your skin in the morning and evening to see what type of mask(s) you might need most," she advised Allure. "For example, if you were wearing really thick makeup during the day, you may need a clarifying mask followed by a calming mask." 
On the other hand, if it's around that time of the month, then "you may want to look for a mask with anti-inflammatory properties." To target specific skin concerns like dryness, celebrity aesthetician Shani Darden suggests using sheet masks since they're designed to "help the serums to penetrate deeply into the skin and seal in the hydration" (via Well and Good). What's especially great about sheet masks is that they can easily be cut, so you can wear them on certain parts of your face only. 
Alternatively, if you have oily skin, Darden recommends reaching for sulfur-based clay masks since they are "incredible for treating breakouts as they absorb excess oil, draw out impurities, and help to soothe inflamed skin." To be a real multi-masking goddess, combine all of them and apply to the areas most in need of a little extra TLC accordingly.