We Finally Know Why Prince Louis Always Wears Shorts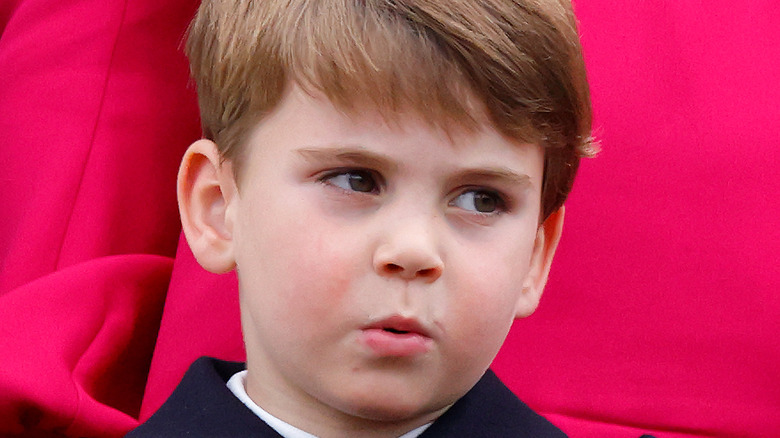 Max Mumby/indigo/Getty Images
It feels like just yesterday that William, Prince of Wales, and Prince Harry, the Duke of Sussex, were children. The brothers grew up in the public eye, transforming before the eyes of the British press while attempting to maintain a normal life. In a funny story shared by Harry in his book, "Spare," he recalled when William told him to pretend that they did not know each other while attending high school together (via "60 Minutes"). This story showed that while they are part of the most famous royal family in the world, they were just like normal teenagers in certain respects.
Now, the pair are successful adults with children of their own, and fans of the royal family can't get enough of their adorable kids. William's three children, which he shares with his wife, Kate Middleton, Princess of Wales, are especially beloved. Prince Louis, the couple's youngest child, has become a fixture in the media following the time he absolutely stole the show at Queen Elizabeth II's Platinum Jubilee. He was being a silly kid, making hilarious faces during what was supposed to be a serious event. Fans couldn't get enough of his hilarious antics. However, one question was on everyone's mind following the scene-stealing moment. Why does the young boy always wear shorts? We have the answer!
Prince Louis' sense of style comes with his culture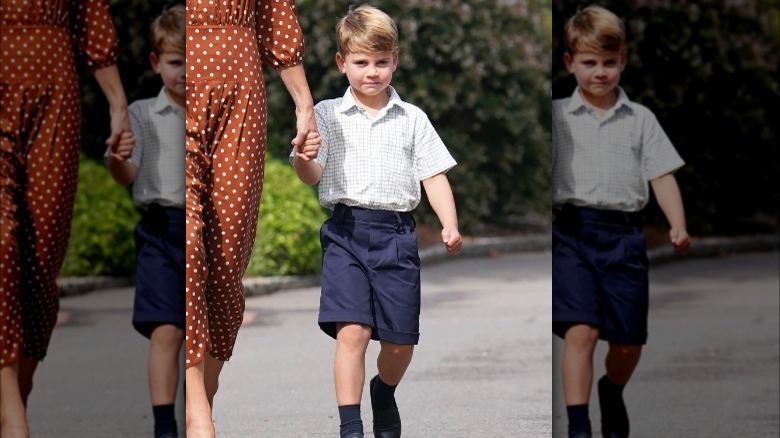 Pool/Getty Images
Prince Louis, the youngest son of William and Catherine, the Prince and Princess of Wales, has a signature style at just four years old. When the adorable family is photographed while out and about together, the little prince is always rocking a pair of shorts and high socks (via Cosmopolitan). Even when attending a royal event on Christmas Eve, Louis was sporting his trademarked outfit.
The reason Louis is always wearing shorts has a surprising answer that is drenched in English history. Ingrid Seward, editor-in-chief of Majesty magazine, told People that it is a tradition for young boys to wear shorts. "Boys wear short trousers until they are 8," she explained. "It is very English."
She continued, "It is considered very suburban for a little boy to be in long trousers when he is just a little boy." Adding, "It is shorts until you're 8 and then 'woo, you're in long trousers.' They suddenly feel very grown up." It's customary for British boys to wear shorts until they reach a certain age, it turns out. Looking back, you'll see his father and brother, Prince George, wearing shorts throughout their childhood while making appearances.
The practice dates back the 16th century England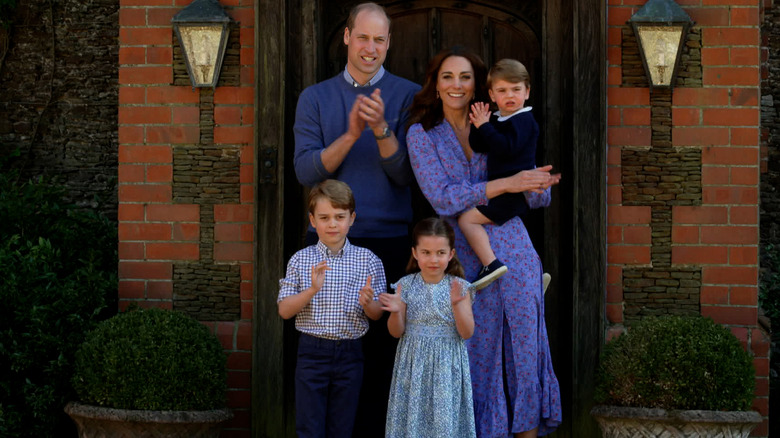 Comic Relief/Getty Images
The idea that young boys should wear shorts before the age of eight can be traced back to the 16th century (via the BBC). This strictly enforced dress code started during the times of breeching, which has a fascinating history.
A breeching ceremony was customary for centuries (per Atlas Obscura). The event began in England, and families would celebrate their sons transitioning from wearing gowns, the traditional outfit for young boys during the time period, to landing their first pair of trousers. While the ceremonial aspect of breeching has come to a close, the royal family still follows the practice to an extent. While little boys no longer wear gowns or get a party thrown for them when they're ready for pants, they still wear shorts until roughly age 8 when they are allowed to wear pants.
Why is this still part of the royal family's culture? It comes down to etiquette and tradition, Grant Harrold, an expert on the topic told the BBC. "Thankfully in the late 19th century and early 20th century, this developed into shorts. This tradition is carried on by the Royal Family to this very day."