Jennifer Lopez Has One Non-Negotiable To Maintain Her Best Skin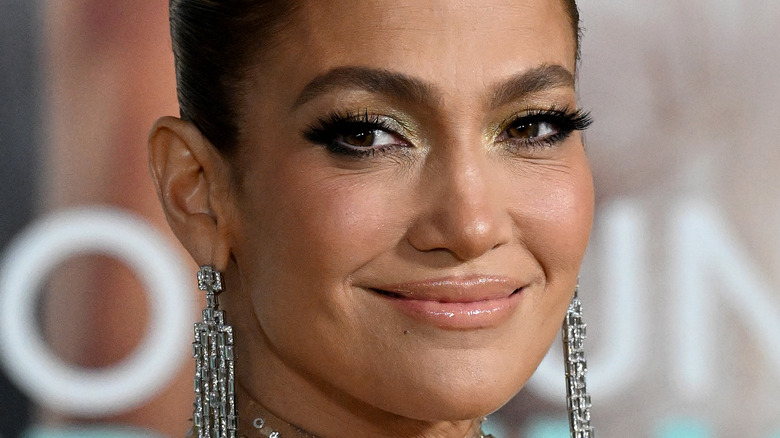 Albert L. Ortega/Getty Images
One thing you should know about Jennifer Lopez is that she's not exactly secretive. Having been in the spotlight for most of her life, Lopez is refreshingly open about her personal life, whether it's her romances with the A-list likes of Ben Affleck or her songwriting and acting careers. However, if there's something that the "Marry Me" star frustratingly won't make the public privy to, it's the secret to her youthful glow.
Despite her lengthy stint in the spotlight, you'll probably still be shocked to learn that she's decades away from her twenties. Lopez simply hasn't aged since her "Jenny from the Block" days. Ironically, even the star herself isn't sure why she seemingly has a built-in fountain of youth inside her body. "I don't think about it much," the singer and actor shrugged in a 2015 interview with E! News. "I feel super youthful."
Lopez continued, "I don't know if it's because of my kids ... [but] it's like I'm reliving my youth with them. I don't know, but I absolutely don't think about it." What the "On The Floor" hit-maker is intentional about is how she cares for her body. And perhaps the key to looking effortlessly young no matter your age is J.Lo's hack, which, funnily enough, doesn't cost a thing (pun intended).
Jennifer Lopez prioritizes getting a good night's sleep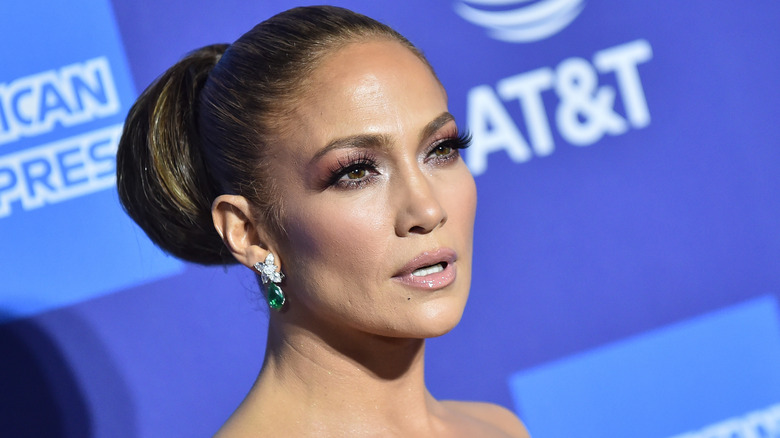 DFree/Shutterstock
Jennifer Lopez is fully aware that she has great genes, above all else. "My mom and my grandma had beautiful skin, so I was blessed with that," she acknowledged in an interview with "Today," back in 2014 (via SheFinds). "I'm fortunate in that way." But if the stunning singer has a secret to looking her best at all times, it's that she makes sure to get some proper shuteye regardless of what's going on in her life.  
"One of my biggest beauty secrets is sleep," Lopez revealed in her Vogue "Beauty Secrets" feature. "But one of my tricks for when I can't get enough sleep is [that] there's a certain amount of hours that I feel like you can sleep before your face falls asleep. And so it's either under four or over seven. That's my rule." Lopez also believes in the power of affirmations, arguing that it's vital to feeling young, too. 
As she told Harper's Bazaar, "I am youthful and timeless. I tell myself that every day, a few times a day. It sounds like clichéd bull****, but it's not: Age is all in your mind. Look at Jane Fonda." Moreover, her ex, Alex Rodriguez, also disclosed that Lopez is very strict with her health in general. "She really leans into the big fundamentals, like getting her rest, eight to 10 hours. She doesn't drink, doesn't smoke," he shared. "She lives a very clean life."
Inside Jennifer Lopez's extensive skincare routine
Aside from being naturally stunning and adhering to an impressively clean, healthy lifestyle, Jennifer Lopez has also built a skincare regimen that works for her. Surprisingly, one of the A-lister's favorite skincare products is olive oil. "It's kind of like nature's secret ingredient that we just don't use enough of, but also we don't want to smell like a salad, so you don't want to be using straight olive oil on yourself," Lopez informed Women's Health. 
This explains why her namesake beauty brand includes olive oil extract and olive-derived squalene, among others, as active ingredients. The chart-topper continued, "It's a kind of modernized version of a secret beauty ingredient. It was a favorite of everyone in my family for delivering glow." Likewise, she never skimps on good 'ol SPF either. 
"One of the big things I would encourage everybody to do from the time they're 15 years old, even younger, is wear sunscreen every day," Lopez advised Elle. She added, "That's a big skincare secret that people kind of do but don't do. They use moisturizers, but they don't put on sunscreen every day. That is something I have done from [the] time I was 22 years old." Maybe the secret to J.Lo's youthful glow isn't such a mystery after all.