Why A Mixing Palette Is The Secret To Perfectly Smooth Makeup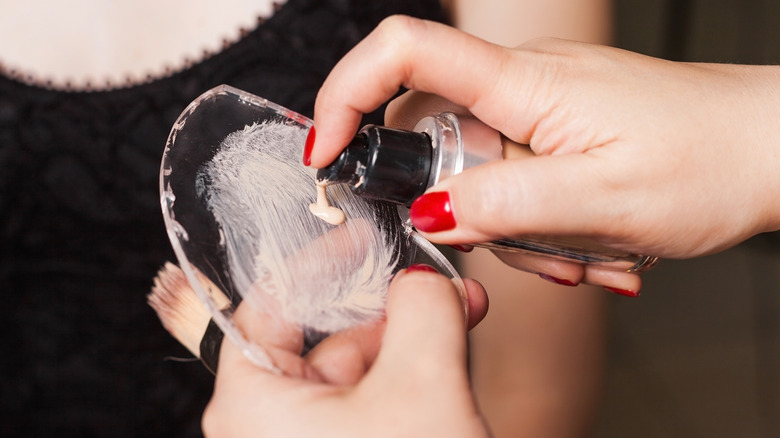 OlegMemo/ Shutterstock
Mixing palettes are usually saved for artists who paint, but they can also be used for artists who glam. It turns out a mixing palette can be the perfect place to hold your foundation
This beauty hack is one that is utilized by the Kardashian/Jenner family. Kylie Jenner posted a YouTube video walking viewers through her everyday makeup routine. In it, she squeezes her foundation on the backside of a closed makeup container. Placing two different shades on the smooth, plastic surface, Jenner mixes the foundation to get her perfect match. When she's done, she scoops up the blend with her makeup brush and buffs it into her face. In another YouTube video, Jenner can be seen doing Kourtney Kardashian's makeup and shares her mixing palette technique with her older sister as she applies a perfectly smooth layer of foundation. 
But why does a mixing palette work so well? 
Color matching is more accurate with a mixing palette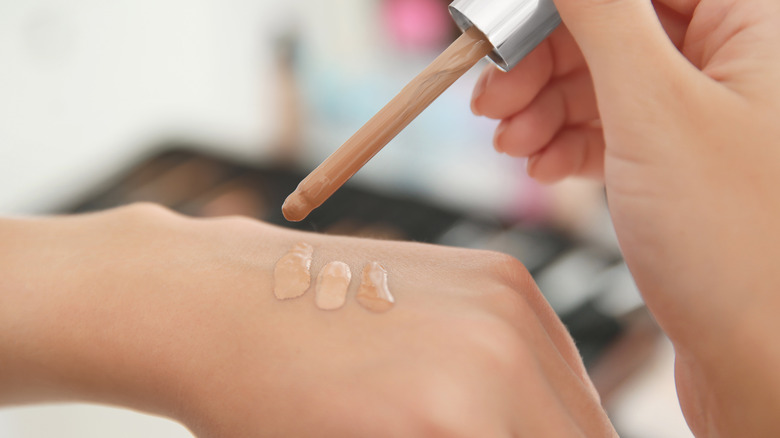 New Africa/ Shutterstock
When you go to a makeup store, often, the employees will test out the foundation using the back of your hand. In a makeup tutorial on the Nae2Curly YouTube channel, a makeup artist named Mo says that using your hand as a color reference is a major mistake. Mo explains that your hand receives way more sun than your face, so it's not a great testing ground for color. Not only that, but Mo reveals that your skin often has multiple shades to it. You'll want to look at the middle of your face and the outer rim to find the right colors, says Mo before dousing her foundations of choice on a mixing palette.
This is where the mixing palette comes in handy. Not only does a mixing palette give you room for multiple shades, but you can also compare the shades you create to your face more easily. In a YouTube video introducing the Makeup Mixing Palette by Beauty Blender, an expert with Sephora shows how you can get an even better color comparison using a clear mixing palette. You can see if your foundation matches from every angle by placing the transparent backdrop against your face. 
Finding a foundation hue that blends seamlessly into your skin tone is crucial in getting a natural look. And, as a bonus, you can avoid strange blotches of color on your hands.
Mixing palettes help you achieve full coverage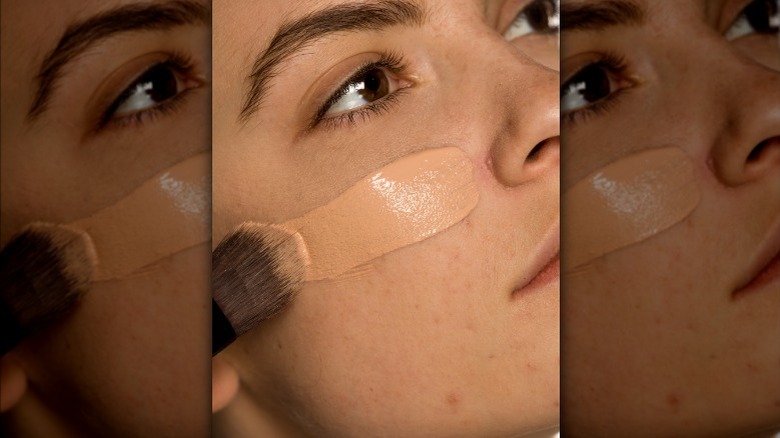 Vladimir Gjorgiev/ Shutterstock
If you struggle with uneven texture, using a mixing palette can help you get the full coverage you're looking for. In a tutorial posted by Kylie Jenner on her app (via Allure), she remarks that the mixing palette allows her to pick up every last drop of the foundation she wants to use on her face. That means the mixing palette will be your best friend if you want something heavier.
In this YouTube short by @christxiee, the makeup artist uses a mixing palette to apply her foundation. After blending various foundations, she applies the pile of foundation with a fluffy brush. But, before going in with the foundation, she places a band-aid on her bare skin. After finishing her coverage, she rips off the bandaid to reveal the comparison. The difference is shocking. The layer of foundation the palette allowed her to apply gives a flawless, smooth finish, masking any bumps and discoloration beneath it.