Rentable Luxury Bags Are Having A Moment On TikTok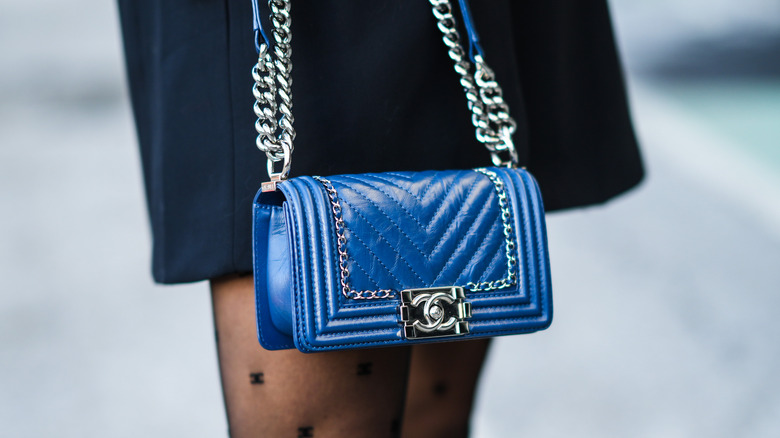 Edward Berthelot/Getty Images
Luxury brands like Gucci, Balenciaga, and Prada have long set fashion trends on runways and via their celebrity clientele. If it isn't the high fashion brand Miu Miu miniskirt trending on TikTok, then it's the Balenciaga Le Cagole bag blowing up on Kim Kardashian's Instagram (per InStyle). For a long time, such clothing items and looks have remained out of reach for most fashion enthusiasts, but the recent rise in fashion rental services is changing that.
As explained by The Guardian, fashion rental is exactly what it sounds like: instead of purchasing clothing, items are rented for a limited amount of time, either using a subscription-based format or a per-item model. Not only does this make high-dollar fashion more accessible, but it also appeals to eco-conscious consumers who want to practice more sustainable shopping habits (per Good On You).
Recently, rentable luxury bags have been particularly popular on TikTok, with bag and accessory-specific services like Vivrelle, Bag Borrow Steal, Cocoon, and Luxe Du Jour populating the app.
Everything you need to know about renting luxury bags
If you've ever coveted a designer purse but have been intimidated by the thousand-dollar price tag, then a luxury bag rental service might be the perfect choice for you. The days of identifying Gucci fakes and finding the perfect dupe are long over with this innovative fashion practice.
The most popular services that have been popping up on TikTok, like Vivrelle and Cocoon, follow a subscription-based business model. Depending on the membership plan, subscribers have access to a wide collection of bags and/or accessories that are typically rented out on a monthly basis. These memberships start at about $79 per month.
Alternatively, Cocoon offers a more flexible plan in which a flat fee is paid up-front, but then weekly bag passes are purchased as needed afterward. Similarly, Rent the Runway is a fashion rental service featuring designer purses that offers one-time rentals in addition to a subscription service.
The item selection process can be done online, with items being shipped and returned through the mail, but some services, like Vivrelle, have in-person showrooms where you can browse and swap accessories (per PopSugar).
What TikTok has to say about designer bag rental services
As mentioned, rental bag services have really taken off on TikTok, with users posting referral links and reviews for the companies they're renting from. In one such clip, TikTok user @jessmorgnn unboxes a pink Givenchy purse while giving a review of Vivrelle.
After showing off the purse, they explain that they're a little disappointed with the company's selection, finding the items they want are typically already rented out. With the demand for these luxury bag rental services growing, we wouldn't be surprised if they're still adjusting to an increase in members.
Videos of stylized looks are also popular, with renters showing off how they're wearing their newest bags. For example, user @stephanieleighnyc unboxes a Hermes crossbody bag from Bag Borrow Steal, styling it with a classic white tee and light-washed jeans.
Cocoon ambassador @rosannafalconer similarly shows off a variety of bags, pairing them with bright pink slacks and a white sweater while talking about the financial and sustainable benefits of the rental service.
Whether you're interested in experimenting with luxurious purses without the expensive cost or want a more sustainable way to elevate your fashion, these designer rental services are worth checking out.