To Ensure Your Look Is Photo-Ready, Don't Forget A Crucial Step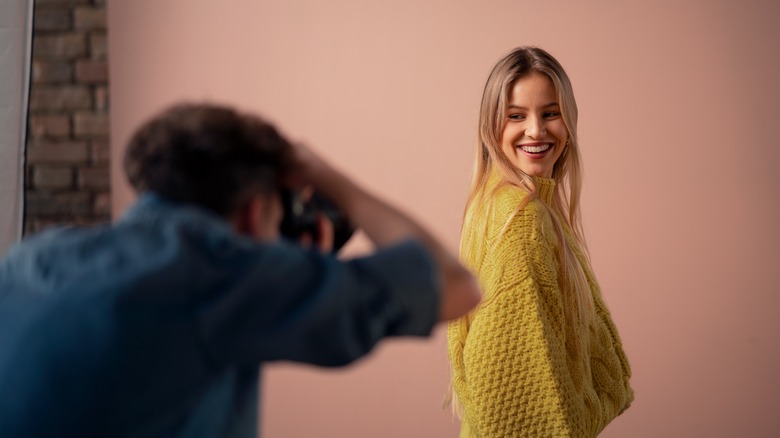 Halfpoint/Shutterstock
It's normal to struggle with your image when the camera comes out. You wonder things like, is your head tilted at an bad angle or is your outfit too sheer when confronted with the flash? Between nailing your lighting and natural smile, it can be hard to remember that being photo-ready begins before you even leave the house. Also, not everyone sees themselves as photogenic as the celebrities all over social media, plus we're not typically getting our makeup professionally done.
Everyone has experienced unfortunate forehead shine or washed out features. However, with strategic makeup moves, you don't have to turn to editing apps for a winning shot. The answer to our photo woes is as simple as leading with our natural beauty and thinking like a lighting designer. When you use compatible products and carry a blotting sheet with you, there's no documented event, party, or dinner you can't rock. 
Set your skin up for success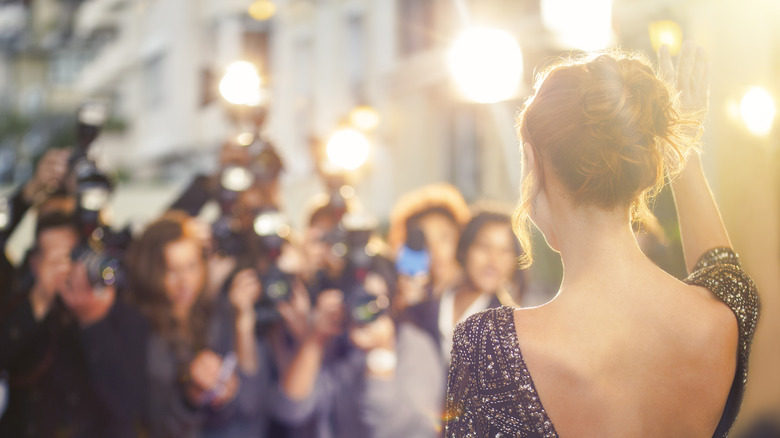 Caiaimage/tom Merton/Getty Images
Making your canvas happy and smooth should be your first step. Gently exfoliating your face with a scrub or mask, and doing the same with your lips, will ensure that these surfaces appear seamless, both in photos and real life. Then comes your moisturizer of choice. Makeup artist Apollo Barragan shared with Byrdie, "Well-prepped skin with a good moisturizer will ensure your face is set for long-lasting makeup." Next, you should opt for a primer that reduces redness and prepares the skin for foundation, like the color-corrector from L'Oréal, or you can seal in moisture with the hydrating primer from Smashbox. 
Clinique's expert makeup artist, Bo Champagne, recommends a foundation that can reduce dark spots and facilitate a natural blend rather than building up too much thickness. You can also go for a lighter finish with the Kett Fixx powder foundation. He explains, "Having some shine and dewiness on the skin is lovely in person, but can make you look greasy in a photo."
When picking a foundation, it's crucial to avoid a tonal mismatch. Celebrity makeup artist Fiona Stiles told StyleCaster, "When a foundation is too pale for your skin tone, it becomes very obvious when a flash hits the skin. Match your skin to your chest and add a thin layer to your neck if your neck is paler (as is the case for most people)." Once you've got a flattering base, you're ready for the steps that will help your makeup pop on camera.
One of your last steps is the key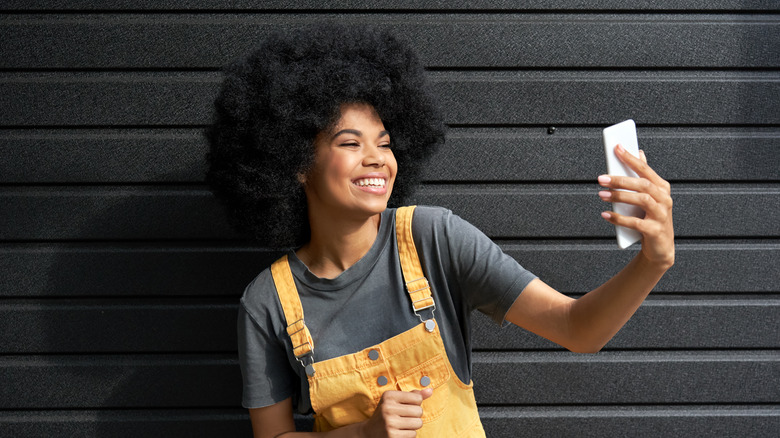 Ground Picture/Shutterstock
Contour is a step you shouldn't skip if you want your bone structure to have extra definition in washed out flash photos. The Chubby Stick contour from Clinique or True Match Lumi bronzer from L'Oréal can give you the shaping you want. Blush comes next, though it's best not to mix and match powder foundation and cream blush. Instead, opt for a powder blush to avoid a cakey look.
For lips, makeup artist Lori Taylor Davis told Ipsy that you should start with lip liner a shade darker than your lips on your around your natural line. For lipstick, Davis recommends two shades darker than your lip color, though StyleCaster's expert Fiona Stiles warns, "Dark lipstick can have a minimizing effect on lips. Steer clear of a dark matte lip color. It can look aging and unflattering. Stick with brighter colors."
But what's the true secret to success when there's a camera involved? Allure's Editor in Chief Michelle Lee told ABC News, "Highlighting is crucial as it's the number one key to looking good in a photo." She also explained the key spots where the product will make the biggest difference in your night. "Highlighting atop the cheekbones, under the brow, down the bridge of the nose, and onto the Cupid's bow creates a glow from within."
Lastly, makeup artist Lucas Dean told Byrdie that applying setting spray with a brush is most effective for finishing your camera-ready look.