Forgot Your Lipliner? TikTok's Lipstick Hack Has You Covered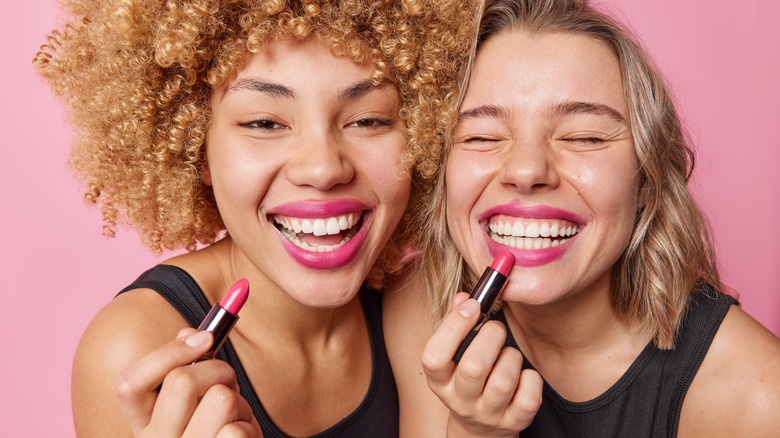 Cast Of Thousands/Shutterstock
TikTok hacks can be split into three categories: the good, the bad, and the ugly. Most hacks are genius, others dangerous, and some questionable, leaving cautious viewers to try them out while crossing their fingers and hoping for the best. And if you've tried your fair share of #BeautyHacks, a hashtag that has racked up a staggering 23 billion views, you know this all too well. 
When it comes to lipstick hacks, those are typically always a hit. There's a hack to help you select the perfect lip color and get fuller lips without overdrawing. There are the "gym lips," "brownie lips," and the mascara gloss trend. And above all, there's a hack for when you forget your lipliner — and we've got the lowdown on that one.
Whether you're on vacation, at a friend's house, or simply away from home, there's no good time to realize you forgot your lipliner. A makeup bag staple, lipliner gives your pout a structured look while preventing any lipstick from creeping outside the lip line. Thankfully, even when you don't have it on you, there's a way to get the job done with just your flat-topped lipstick.
You don't need a lipliner to achieve a perfectly defined pout
In a genius TikTok video shared by celebrity makeup artist Katie Jane Hughes, she shares how you can get defined lips in a pinch with your flat-topped bullet lipstick. She advises applying the lipstick as usual, then twisting the product up a bit until you get a straight-edged point at the tip. That's the point you use to give definition to the outline of your lips. "It's a lipliner basically built in," Hughes adds. 
Other BeautyTok creators have given the hack a thumbs up, like @ling.kt, who shared a video of herself trying it out with her 700,000 followers. She uses the same technique as Hughes: twisting her bullet up and utilizing the straight edge to apply her liner. "Easy peasy!" she declares at the end of the clip after quickly lining her lips with the tip of her lipstick. Content creator @beaussima also tried the hack, with text on the video reading, "No liner? No problem." We can confirm — no problem at all!
Why skipping lipliner isn't a terrible idea anyway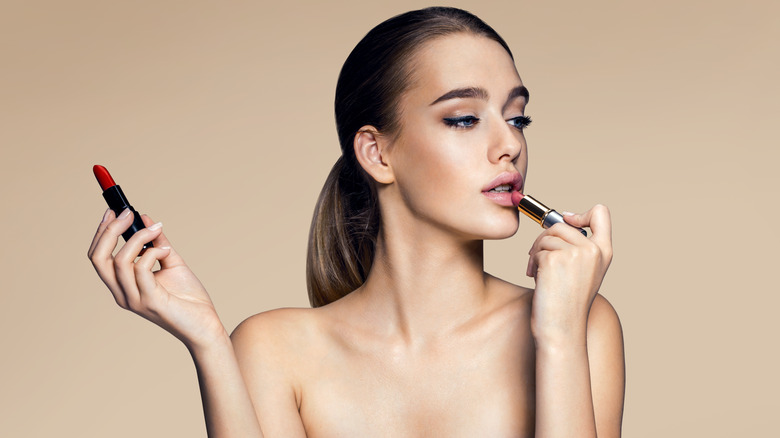 Romarioien/Getty Images
Lipliner is a fan favorite beauty product, and for good reason. It allows you to be precise with your lip shape while providing a solid base. Plus, it will prevent your lipstick from bleeding outside of your lip line, which isn't an ideal look. You'll probably want to reach for lipliner more often than not; however, skipping it entirely isn't a terrible idea. Insider makes some fantastic points about the benefits of ditching lipliner. The most convincing one? You don't have to spend time and money hunting down a liner shade that complements your lipstick (a total win).
And when it comes to liquid lipstick, you definitely don't need to use a lipliner beforehand — at least that's what professional makeup artist Terri Capon tells Bustle. Since liquid lipstick has a "malleable consistency," you can apply it to your lips without worrying about it feathering or losing its shape. Of course, which type of product you use is key, and a precise lipliner application beforehand does generally make it easier to apply your lipstick. However, the next time you forget your liner, place your trust in this lipstick hack with complete confidence that you probably don't need it anyway.