How Much Dermarolling Is Too Much For Your Skin?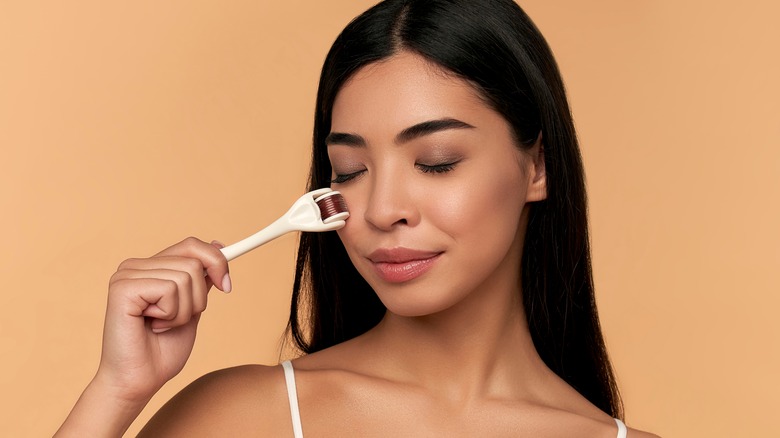 ORION PRODUCTION/Shutterstock
We may receive a commission on purchases made from links.
From dermaplaning to chemical peels, at-home skincare really took off during the COVID-19 pandemic. Especially considering the pervasiveness of "Maskne," many of us embarked on a quest to find our perfect skincare routine — a magical combination of products that would make our acne, hyperpigmentation, or fine lines disappear before the world reopened again. "Part of it is that people couldn't go to in-office treatments. If people couldn't get to an aesthetician or if they felt they didn't have the option, they were like, 'Oh, I'll just do it at home because I have the time now,'" Charlotte Palermino, the co-founder of skincare company Dieux, explained to The Cut. 
The so–called "glow-up" phenomenon dominated social media, too. "There's a big pressure to come out of this period like a new person," Lois, a PR manager from Hampshire, admitted to Refinery29. Microneedling, aka dermarolling, a technique once confined to medical spas and dermatologists' offices, went viral as an at-home cure for acne scars during the pandemic. New York City-based dermatologist Melissa K. Levin, M.D., broke the procedure down with Glamour. 
"Microneedling is the creation of small micro-channels and injuries to your skin with acupuncture-size needles," she noted. "Your body will respond to these micro-injuries naturally by stimulating and producing collagen, which can treat fine lines and wrinkles, enlarged pores, stretch marks, acne scars, and textural concerns." Dermarolling may seem like a cure-all for many common skin problems, but doing it too often can lead to painful cosmetic consequences. 
At-home dermarolling is less invasive
Dermarollers vary drastically when it comes to needle length. According to Byrdie, the needles used for demarolling range in size but suffice it to say, deeper wounds trigger a more drastic healing response, leading to markedly different results. However, medical-grade dermarollers should only be used by a trained professional. "For at-home use, .25mm is as high as I would recommend going — anything larger than that is just tearing at the skin," celebrity facialist Candace Marino warned Marie Claire. 
Further, "Be careful of excessive use of dermarolling on acne-prone or openly-wounded skin, which can spread bacteria across your entire face." Ultimately, the longer the needle, the more time your skin will require to recover. Tools like the Sdara Skincare roller on Amazon, which advertises 0.25-millimeter needles, can be used every other day depending on comfort. Meanwhile, as outlined by Healthline, a 2-millimeter needle should be limited to every six weeks and only in a dermatologist's office at that. 
Everyday Health points out that professional procedures are considerably more expensive than DIY microneedling, ranging between $100 and $700. For some, however, the effects are worth it. "I say leave the microneedling to a dermatologist who can make sure you get the best results," board-certified dermatologist Bruce Katz, MD, stated simply (via Byrdie). 
Make sure to sanitize everything before dermarolling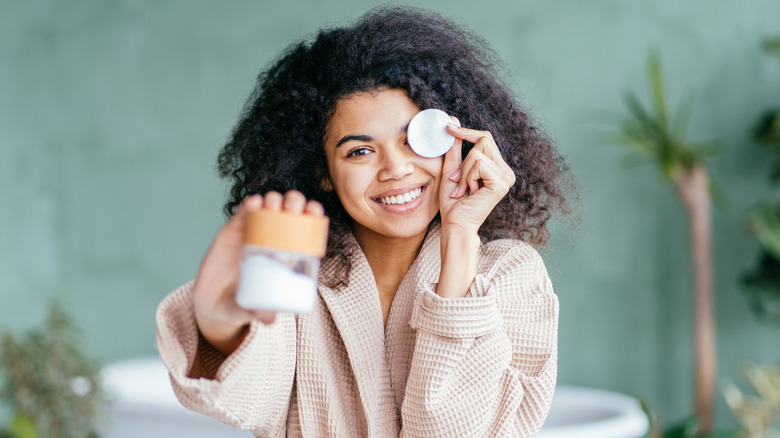 Iryna Inshyna/Shutterstock
When it comes to dermarolling, start slow. Beauty TikToker Sammy McClymonds (@sammy.mcclymonds) shared her method, noting the importance of sterilization before and after the process. With isopropyl alcohol and a cotton round, disinfect your cleansed skin and the dermaroller itself. You'll also need to wash the tool after each use. Before changing the direction of your roller, pick up the wheel. Dragging the needles, or pressing down too hard, will damage your skin, so be careful. 
Dr. Whitney Bowe (@drwhitneybowe on TikTok) cautions about the dangers of non-professionals experimenting with this skincare technique since there's an increased risk of infection and long-term scarring. However, if you do decide to try it out, make sure you're using surgical-grade needles. Take a careful look at the serums and moisturizers you're using in conjunction with dermarolling too since the main goal of it is to boost product absorption. 
As Andy Millward informed Refinery29, "Topical skincare is designed to be used on the skin's surface and may contain ingredients such as silicones, essential oils, fragrance, and preservatives that ordinarily wouldn't be a problem because our skin would filter them out. But when applied post-needling, they are traveling inside the skin. This potentially triggers an immune reaction which can lead to skin sensitivity, allergic reactions, and rashes." Specifically, as celebrity aesthetician Kerry Benjamin advised Byrdie, check out serums that include hyaluronic acid, stem cells, and peptides. While you're at it, avoid products containing vitamin C and retinol.