This Is What Kate Middleton Eats In A Day
Kate Middleton usually has her hands full with royal duties, but the Duchess of Cambridge and wife of Prince William also follows some pretty regular routines — especially while on maternity leave. Proof that this royal is just like us: Middleton, pregnant with baby number three, was photographed doing a little grocery shopping at a supermarket in Swaffham, England. 
Although Middleton shopped alongside police protection (when's the last time you went food shopping with a body guard?), it was still a seemingly normal experience. She wore a bit of makeup and kept her hair down while adding items to her cart and loading up her reusable grocery bags. It feels weird to give kudos to anyone for doing their own shopping, but let's be real — if you could afford to have someone run all of our errands for you, would you ever bother?
So, what does a duchess buy at the grocery store? Other than some leafy greens, pictures didn't tell the full story. Yet, there's a good chance Middleton's meal plan includes the things below.
Kate likes it hot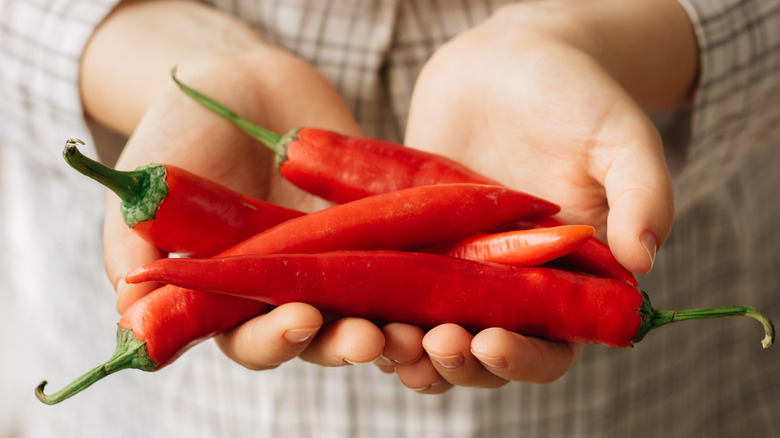 Shutterstock
When the Duke and Duchess of Cambridge attended the Taste of British Columbia Food Festival in 2016, Chef Vikram Vij served up the perfect dish. Knowing the royal couple had served lamb at their wedding provided a good basis for determining which dish would strike their fancy, Hello! magazine reported. Vij served one of his tried and true recipes: wine-marinated lamb popsicles in fenugreek cream curry. He even gave the delicious recipe a new royal name for the special occasion: "Maharajah's Lamb Popsicles." 
Although Indian food is known for being spicy, the chef prepared a mild version of the dish to be William-friendly (according to Middleton, the prince "struggles" with spicy foods). She, meanwhile, loves spicy dishes. Vij gave the couple a copy of his cookbook, aptly named Vij's Indian, to take home. Now Middleton can make two versions, spicy and mild, to satisfy both sets of tastebuds. The average family probably wouldn't replace Taco Tuesday with lamb lollipops, but maybe that's how the royals roll.
An "odd glass" of wine here or there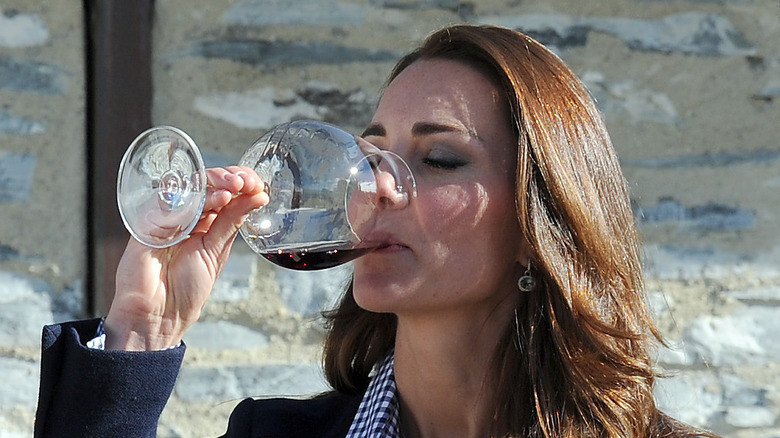 Getty Images
Although you most certainly won't see Middleton downing a glass of wine while pregnant, she's known to enjoy vino at other times. While touring a vineyard in New Zealand, the duchess told wine connoisseurs that she was "really enjoying being able to drink again after having baby George," according to Entertainment Tonight. Hannah Armstrong of Mudhouse Wines elaborated by saying, "Kate said she hadn't drunk whilst pregnant with George and although she doesn't drink much, she was really enjoying the odd glass."
Apparently, the duchess also knows a thing or two about caring for the vineyard itself. "She seemed quite knowledgeable in the pruning aspect of the vines," John Darby, owner of Amisfield Vineyard, explained. Middleton, along with her husband William, taste-tested a few different varieties of wine, including a pinot gris and a dry Riesling. Which one pairs best with her roast chicken recipe? Hmm.
"Wholesome meals and snacks"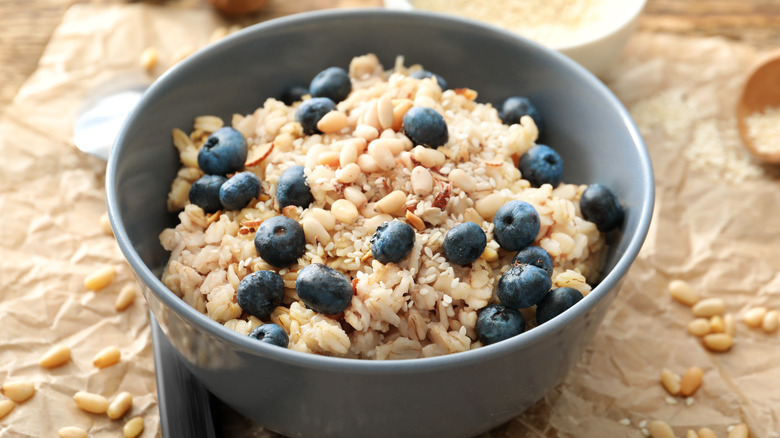 Shutterstock
Unfortunately for Middleton, she's suffered from hyperemesis gravidarum (HG) each and every pregnancy. HG is basically morning sickness on steroids! This condition has, understandably, had a massive impact on what she eats while pregnant. Middleton's friend, Jessica Hay, elaborated on the duchess' condition to New Idea Magazine (via International Business Times), saying, "She finds it very hard to eat a full meal and gets full very quickly." Middleton sticks to a healthy diet of "wholesome meals and snacks." That includes oatmeal, berries, avocados, and broccoli, to name a few. 
According to Hay, Middleton also turned to hypnotherapy to battle the severe morning sickness and regain some of her appetite. Wouldn't you do anything it took to feel better? The American College of of Obstetricians and Gynecologists says it's rare — only affecting three percent of pregnant women — but it's terrible for those who have it. Sometimes women with HG need to be hospitalized to prevent dehydration and restore necessary fluids. Going through it once must've been awful enough, but three times? Yikes.
Starbucks is a must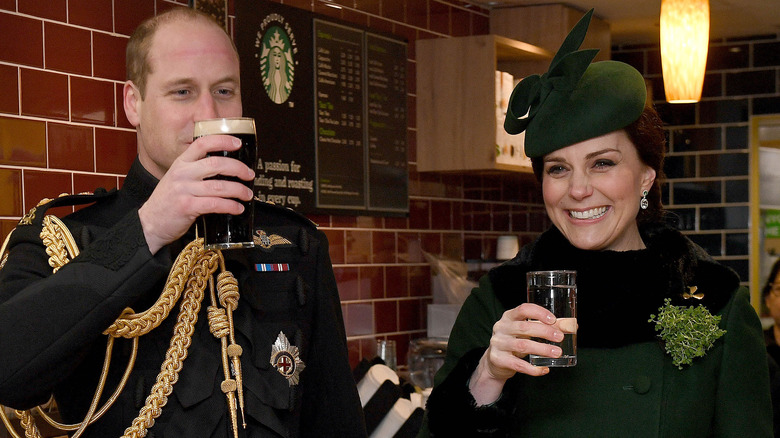 Getty Images
Middleton may be pregnant, but that certainly doesn't mean she's ready to give up her Starbucks. Can you really blame her? Although the jury is still out on how many espressos are okay when you've got a bun in the oven, decaf lattes are fair game. When pregnant with her first child, Middleton ordered just that, a worker at the popular coffee chain confirmed to Us Weekly. Another person who observed Middleton's visit said she even added a cookie to the order and "paid with a Starbucks card, which she swiped herself."
Kate Middleton certainly doesn't seem to shy away from the everyday activities of "commoners." Although she may generally favor healthy food, the proof is in the cookie: Middleton definitely appreciates the occasional bad-for-you snack. Also, having just been released from the hospital with a bout of hyperemesis gravidarum a month prior, Middleton was — and is — entitled to eat however many cookies she pleases, wouldn't you say? Go ahead, girl. Treat yo self. 
Granny's chutney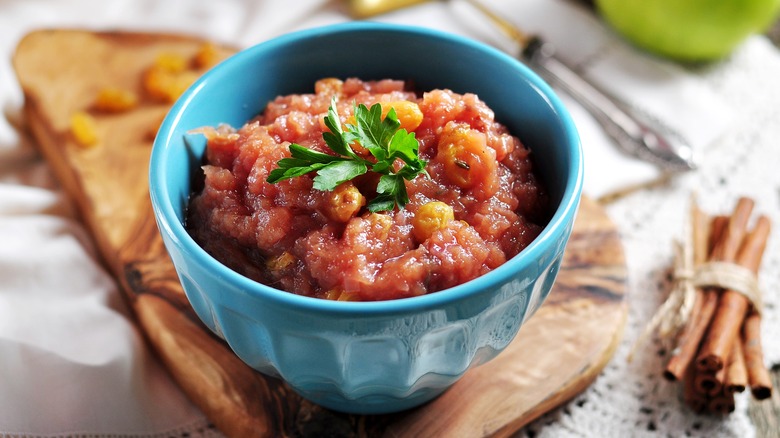 Shutterstock
While Kate Middleton probably sees her husband's family more than her own, she's found a way to bring a piece of home to Kensington Palace through passed down family recipes, including at least one from her grandmother. Middleton has even incorporated one of the those recipes as a holiday gift.
When deciding on the perfect Christmas present for her grandmother-in-law — no pressure, she's just the Queen of England — she knew just what to do. In an interview for the documentary The Queen at 90 (via Town & Country), Middleton explained, "I thought back to what I would give my own grandparents. And I thought, 'I'll make her something,' which could have gone horribly wrong. But I decided to make my granny's recipe of chutney."
Middleton may have been (rightfully) worried, but Queen Elizabeth's reaction meant she must've enjoyed the present. The following day, the monarch had the chutney out on the table — aww. Sounds like a repeat recipe, for sure.
Roast chicken and other home-cooked meals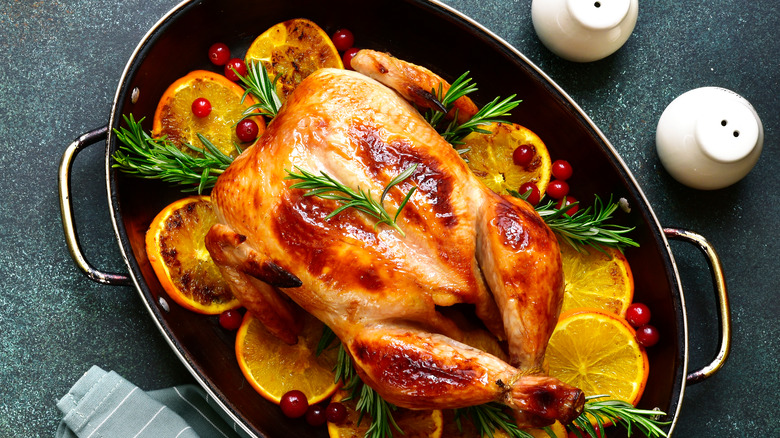 Shutterstock
Chutney isn't the only thing Kate Middleton whips up in her kitchen. A friend of William and Kate's told Vanity Fair that one of Middleton's preferred hobbies is cooking, and she especially enjoys making the prince's favorite meal: roast chicken. The couple reportedly also owns a sausage-maker — that's some real deal cooking going on there. In addition to the chutney Middleton made for the Queen, she also prepares fruit jams and preserves. Ah, royal homesteading. 
One friend told the magazine that some may call their lifestyle a little boring. Regardless, it's the right one for them. "They just enjoy being together at home," the friend explained. Another friend elaborated, saying, "Kate was on the King's Road not so long ago carrying a shopping bag with a chicken in it that she was taking home to cook for William's supper. That's their idea of the perfect night." Move over Martha Stewart, the Duchess of Cambridge is quite the homemaker.
Pseudo-vegetarian?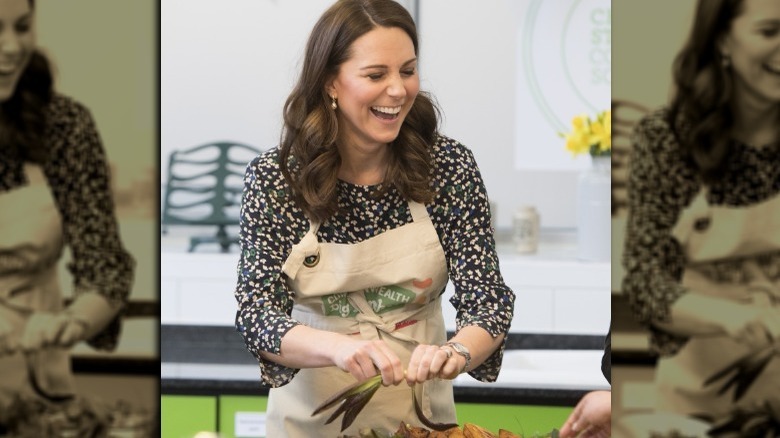 Getty Images
Though Kate and William both eat meat, it turns out that they sometimes favor vegetarianism. In 2016, when the royal couple was staying at the Taj Mahal Palace Hotel in Mumbai as part of a royal tour, they stuck to a vegetarian diet. Raghu Deora, the chef at the Taj Mahal, detailed the couple's dietary preferences to Hello! magazine, saying, "It is all vegetarian because I was told that was what they preferred." Throughout their time in Mumbai, William and Kate were able to dine privately on a menu of lentil curry and vegetable kebabs — yum!
It's not known why William or Middleton opted for a vegetarian diet while in India. Perhaps they were worried about getting "Delhi belly." Or maybe they decided on a fully immersive experience by taking on the eating habits of the country they were visiting — after all, India has one of the lowest meat consumption rates in the world. Either way, we're sure the food was amazing.
No almond milk, ever!
Getty Images
Even if Middleton were a vegetarian, she certainly wouldn't follow every plant-based trend. This was made apparent when she visited a charity-run cafe and were served an assortment of cakes and tea made by charity members. One such member, Kim Gardener, told People, "We put almond milk on the table because we had read that she had it." It was a thoughtful gesture but, as it turns out, wasn't accurate at all.
Once Middleton was made aware of the milk, she told the charity members, "Don't believe everything you read — I don't even like almond milk." Whoops. Thankfully, Middleton likely didn't think much of the mishap because she went on to compliment the variety of creatively decorated cakes, which displayed everything from a tiara-wearing princess to the Union Jack flag. Nevertheless, now you know: When you have Kate Middleton over for afternoon tea, you better push that almond milk to the back of your refrigerator.
Not opposed to popcorn — at least at basketball games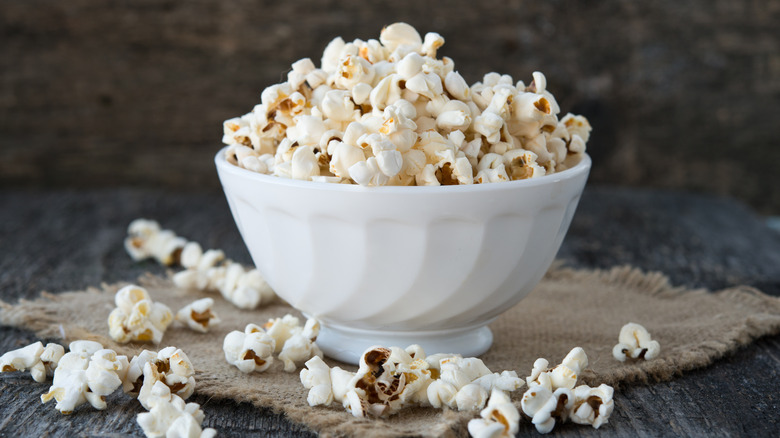 Shutterstock
Fans of the royal couple were likely excited to see Prince William and Kate Middleton attending a Nets-Cavaliers game some years ago. Just seeing them in the stands was probably a pretty unreal experience, but it was even more exciting because they blended in (as best they could) like fairly "regular" people. They even chowed down on some popcorn, as confirmed by a Twitter photo posted by Vanity Fair. One Twitter user joked back, "We can't blame them, it really is good popcorn."
Of course, the couple doesn't attend NBA games every night so the buttery snack is probably an occasional treat. Regardless, just as Middleton demonstrated by ordering the occasional Starbucks cookie, her healthy eating plan involves staying pretty balanced. Surely she appreciates a mix of proteins, vegetables, fruits, whole grains, and yes, of course, snacks like popcorn and cookies. Don't we all? Emphasis on the snacks, please.