The Relaxing Step You Shouldn't Skip After Applying A Sheet Mask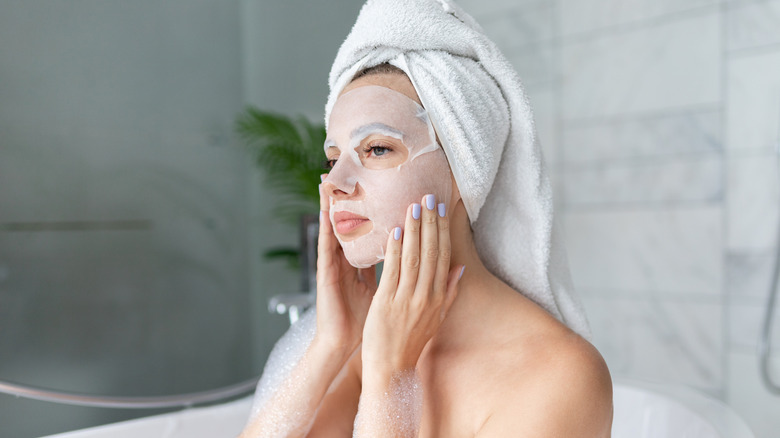 popcorner/Shutterstock
A staple in Japan and Korea, sheet masks have become popular throughout the world of skincare thanks to their ease of use and their multiple benefits. Great for dehydrated skin, after a rough night, during an at-home spa day, or after a long flight, sheet masks are the ultimate pick-me-up. They also happen to look amazing in selfies.
Aside from their relaxing and eye-catching qualities, sheet masks also deliver quick, instant benefits, hydrating and reviving tired skin (via Perricone MD). The results of wearing a sheet mask can be long-term too, targeting problem areas that the mask sets out to alleviate.
While the instantaneous rejuvenation that a sheet mask brings feels amazing, finding ways to prolong that feeling is even better. Rather than patting or rubbing in the mask once you've removed it, giving yourself a facial massage with the remaining serum on your skin and in the mask packaging allows you to get your money's worth and really put the mask to work.
The benefits of a facial massage after a sheet mask
Once the mask is off, leaving your face coated with an abundance of serum, that's the best time to get a facial massage in. The simple action comes with loads of benefits, such as increased blood flow, sinus pressure relief, and anti-aging perks (via Healthline).
There are numerous types of facial massages you can give yourself post-sheet mask, with gua sha and lymphatic drainage massages being two prevalent options. For a lymphatic drainage massage, which can be done with your hands, a gua sha, or jade roller, skincare brand Renée Rouleau recommends using a light hand.
Starting at the jawline, massage downwards to the neck in circular motions. Go back to the chin and massage out towards the jaw using the same technique. Moving to the center of the face, massage outwards to drain the excess liquid. Finish off with a massage along the cheekbones and then the forehead, in the same motion and technique as before.
A gua sha massage works slightly differently on the neck; the tool is used to move upwards rather than down. For a facial massage, pressure is placed on the center of the face using the fingers, and the tool is used in an upwards motion, demonstrated by Tina Engeo on YouTube.
The best sheet masks and tools for a facial massage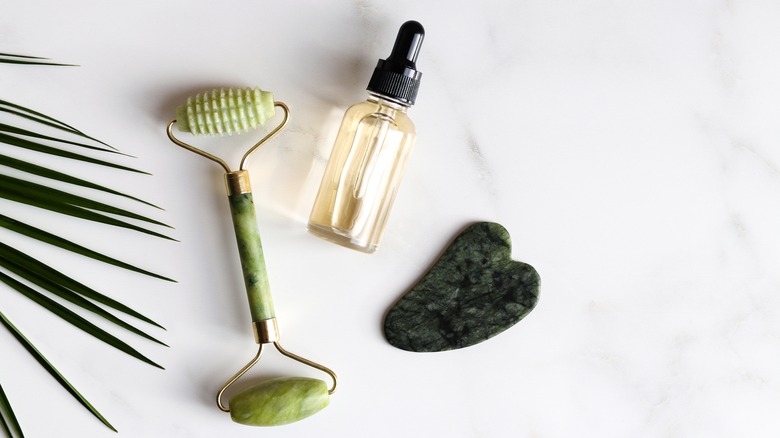 Anastasiia Pokliatska/Shutterstock
A bestseller on Soko Glam, the Leaders Amino Moisture Mask hydrates and soothes skin with a combination of 17 amino acids. Created with hyaluronic acid, mineral water, and ceramides, this mask gives intense moisture while repairing your damaged skin barrier.
Another great option, the Mediheal Tea Tree Essential Blemish Control Sheet Mask gently exfoliates the skin, helping to reduce acne, excess oil, and large pores. Formulated with willow bark, rosemary, and chamomile, the fragrance and alcohol-free mask banishes breakouts for refreshed skin.
Created with rose quartz, the Pink Moon Gua Sha Facial Tool comes with instructions to teach you how to use your gua sha. Rose quartz, a pink crystal, helps to soothe inflammation, redness, and puffiness on the skin.
The Mount Lai Jade Roller rejuvenates the skin by boosting circulation, relieving face and jaw tension, and aiding in lymphatic drainage. Used in China for millennia, jade helps to brighten the complexion and soothe the skin.