TikTok's Enviable Ice Drawers Are Stunning To Look At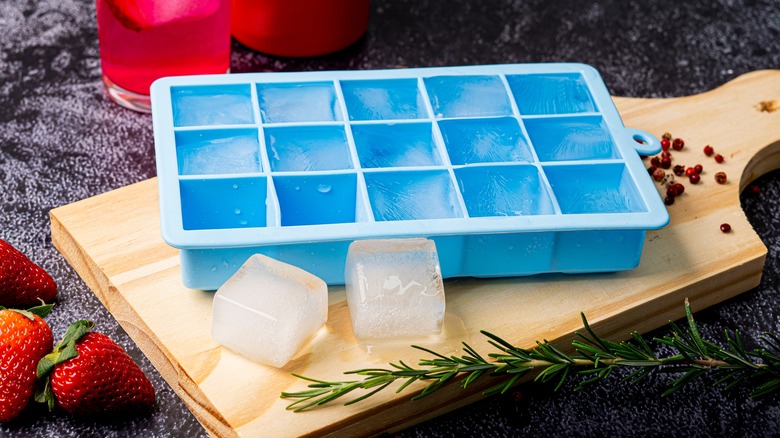 Gus Gan/Shutterstock
We may receive a commission on purchases made from links.
From the spotless corners of "CleanTok" to "BookTok's" countless recommendations, there's a TikTok subculture for everyone. According to W Magazine, viral hashtags have even become an influence in high fashion spaces, with revered designers like Prada, Miu Miu, and Dior basing designs on popular trends.
Restocking TikTok (aka Restocktok) is one of the app's most satisfying subcultures, with the hashtag amassing 15.7 billion views and counting. Whether you're watching a creator slide Capri Suns into their fridge or stack 20 extra toothbrushes in their medicine cabinet, restocking relies on sound just as much as it does sight. As noted by Vogue, the trend gained traction in the wake of shows like Netflix's "Get Organized with The Home Edit," which follows professionals Clea and Joanna as they sort through (and sometimes even color-coordinate) clutter.
Though TikTok restocker Kellie Atkinson (@kellie_atkinson) was initially inspired by The Home Edit team, she's now gained millions of her own followers. As the creator explains to The Washington Post, she's learned to cater to her fans' specific preferences. "Not only do the containers need to be completely cleaned and polished," she says, "but whatever is going in them needs to be cleaned and polished..." She'll face ridicule in the comments section if something isn't up to par. Ice drawers are a newly-viral element of TikTok's restocking community – here's what you need to know about the subcategory, whether you're freezing espresso or just plain water.
Ice comes in all different shapes and sizes
In a video with nearly 15 million likes, @kaelimaee restocks her freezer's impressive ice drawer. She fills clear storage containers with colorful fruit water, smoothie blocks, and mocha hearts — you can use these to elevate your iced coffee. Meanwhile, TikTok's @kami.larae shows off a freezer packed with bright yellow pineapple-shaped ice and a creamy assortment of seashells. Admittedly, it leaves little room for ice cream.
BuzzFeed recommends investing in trays with attachable lids to upgrade your ice collection. This way, you can avoid unfortunate spills and stack to save room. For starters, check out this four-pack on Amazon. Alternatively, splurge on a skull-shaped mold for themed Halloween party cocktails or a rose tray for chilled date night drinks. 
The bottom line? When it comes to ice, unexpected shapes and clever infusions will instantly impress your guests — add raspberries, lemon, or even a sprig of rosemary to water before freezing. Furthermore, you can always repurpose ice molds to shape things like chocolate, fudge, or jello when you're not using them to make drinks.
Ice drawers can help you stay hydrated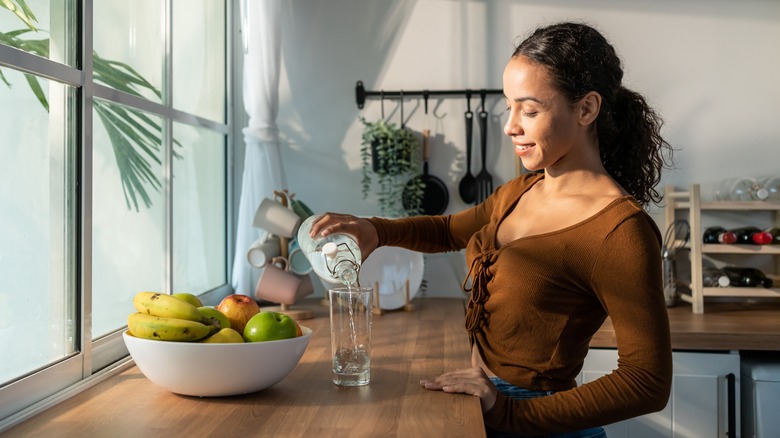 Hananeko_Studio/Shutterstock
If you're not in the habit of drinking water throughout the day, it's time to start. According to Healthline, daily water consumption can greatly improve your mood, energy, and digestion. Meanwhile, dehydration can result in fatigue, confusion, and even nausea, which is especially dangerous on hot summer days (via Mayo Clinic). When in doubt, stick to what's often called the "8x8 rule," drinking eight 8-ounce glasses of water each day.
Despite the extensive benefits of drinking water, many people find it difficult to get motivated, with Healthline listing the taste — or even lack thereof — as a major barrier. The CDC recommends adding a slice of lemon or lime to your water bottle to enhance the taste. Or, if you have a TikTok-inspired ice drawer, incorporate infused cubes into your H2O. For instance, TikTok's @theenikj dices lemon, lime, and strawberries before adding them to a circular ice cube mold, pouring water on top, and storing them in the freezer, while Kayla Argyle (@_kaylaargyle_) has freezer bins dedicated to mango, dragonfruit, and pineapple-infused ice.