This Is How Reed Diffusers Really Make Your Home Smell So Good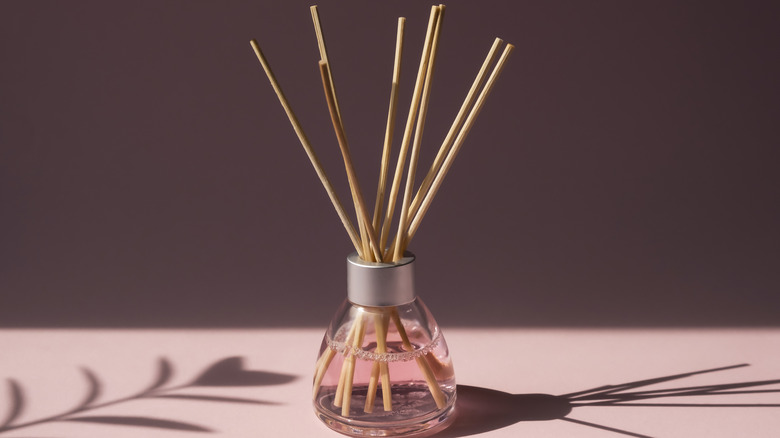 AliceCam/Shutterstock
Candles have long been the easy burst of aromatherapy we often crave. They're cozy and smell great, but folks who burn candles regularly know there's more to it than just lighting the wick. There are, come to find out, some rules for candle burning — things like a minimum burn time to prevent tunneling. So, you may wonder if you've been burning your candles wrong all along.
Candles give off a nice, warm glow, but the do's and don'ts solidify their place in the ever-present aromatherapy argument over which is better — candles or diffusers? Popular sites like Food52 regularly chime in with commentary, pitting the fragrant flames of candles against home scent options like essential oil diffusers, incense, and reed diffusers.
Luckily, these kinds of aromatherapy provide benefits like giving our mood a happy boost, according to Nova Covington, a certified aromatherapist (via Real Simple). Of course, we're all for it, but choosing the best aromatherapy source is tricky. So, how do the benefits of a reed diffuser differ from other home scent options?
Ditch the smoke and flame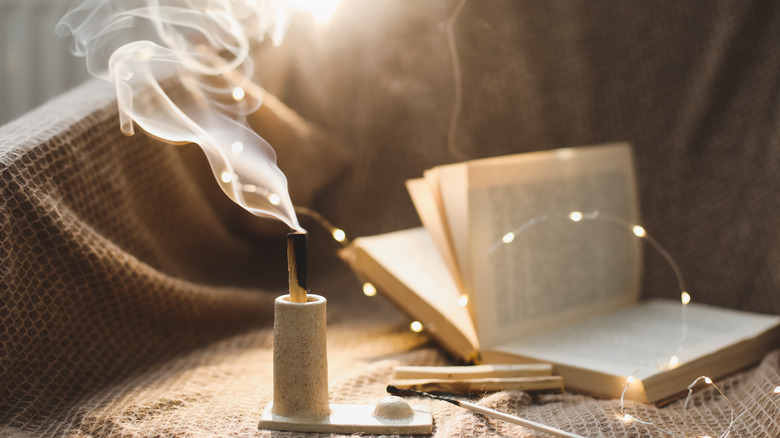 paralisart/Shutterstock
Websites doling out cozy home advice aren't the only place where you'll bump into the great home scent debate. It also plays out on Reddit, where folks debate the benefits of candles, mist-based diffusers, and scented reed diffusers. For example, in a Reddit thread discussing the pros and cons of oil diffusers that release aromatic mist into the air, one user says, "It's nice. It does the job. But I have to turn it on." They explain that, although the scent is lovely, it's often too subtle.
The idea that the scent depends on activating the diffuser — or lighting incense or candles — is where reed diffusers seem to gain an edge in loyalty. Fans of having a reed diffuser in every room in your house will happily explain that one of the benefits of using them is that they're constantly giving off a scent. There's no need to turn them on or off and no flame to keep watch over. In other words, your home, office, or dorm smells lovely as soon as you walk through the door — without much effort.
Look to the marsh for the reed diffuser's roots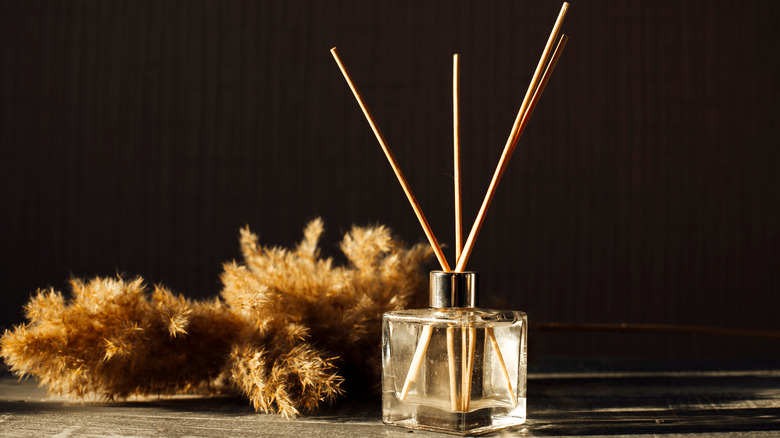 Isaeva Studio/Shutterstock
Compared to candles, mist diffusers, and smoky incense, reed diffusers are pretty low-maintenance. There are no matches, plugs, or dials to contend with. Instead, just pour the scented oil into the vessel of your choice and drop in the reeds. And although this is as easy as it sounds, it still begs the question — why reeds, specifically?
Reed diffusers are comprised of three components, according to Whole Home Scenting. There's typically a glass vessel, a scented liquid — usually essential oils in water — and thin wooden sticks or reeds. Reeds are hearty grasses that grow in wet areas like marshes and are quite porous once dried, and when submerged, they can hold plenty of liquid. But reed diffusers often use other varieties of thin wooden sticks and reeds interchangeably with equal success.
Once you insert the reeds into the container, the scented liquid gets absorbed and shimmies its way up the stick's length. As it does, the scent naturally wafts into the air. You'll find that most reed diffuser sets have a container with a narrow opening; this slows down the natural evaporation process. Plus, you can extend the life of your diffuser by swirling the liquid once a week, which keeps the essential oils near the surface. And for added oomph, flip the sticks over now and again to force the fluid to move upwards again. These small steps can ensure a fresh scent for upwards of a month without any plugs, flames, or smoke!