General Hospital's Sonny And Donna Melt Hearts With Behind-The-Scenes Moment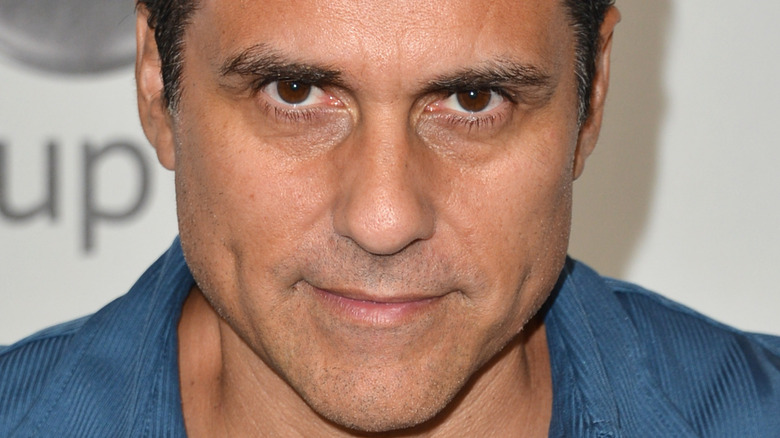 Alberto E. Rodriguez/Getty Images
As Soaps in Depth recounted, Donna Corinthos (Scarlett Brielle Spears) had a bit of a troubled birth in 2019 on "General Hospital." Her parents, Carly Spencer (Laura Wright) and Sonny Corinthos (Maurice Benard) named her Donna Courtney Corinthos in honor of Sonny's late sister, Courtney Matthews (Alicia Leigh Willis). In real life, the character was named in memory of the head of the "GH" makeup and hair department, Donna Messina, who died in 2018. While Donna's birth was not as strange and twisted as Sonny's other daughter, Avery Corinthos (Grace Scarola), it wasn't without complications.
When Sonny learned that Carly was pregnant, he was worried because Carly had had issues with pregnancies in the past. At one point, Carly was kidnapped by Ryan Chamberlain (Jon Lindstrom) and ended up falling down a hill. Luckily, Jason Morgan (Steve Burton) rescued her and brought her to the hospital. The doctors would later discover that Donna had fluid around her spine in the form of Spina Bifida, which required surgery after she was born. Thankfully, the surgery worked, and Donna didn't have any other major issues as the doctors originally thought, per Soap Opera Spy.
In August, Benard shared a post on Instagram showing a picture that Scarola drew of the two of them, and now he's sharing another heartwarming gift, this time from Spears.
Maurice Benard is surprised by a thoughtful gift
"General Hospital" star Maurice Benard posted a video on Instagram with the classic John Denver song "Sunshine on My Shoulder" playing, as co-star Scarlett Brielle Spears gave him a gift. An excited Benard opened it to reveal a children's book called "My First Baby Animals Bedtime Storybook." The cute kid told him, "That's for your granddaughter." Benard remarked, "Is that the cutest thing you've ever seen? Thank you, baby. Aw, that's so sweet," and he gave her a hug. He told the person recording that he started reading his granddaughter a book the other day, and she laughed the whole time.
In the post, Benard wrote, "I said this before, and I'll say it again, if we could all only be like children, the WORLD would not be as it is!!! @miss.scarlett.brielle gave me this beautiful gift. It wasn't my birthday. It wasn't any special occasion. It was just her being kind. SO SWEET." Co-Star Laura Wright responded with, "Ohhhhh I love this !!!!" while another co-star, Tanisha Harper, wrote, "Oh stop it. Too sweet!" Fans were heart warmed and happy that Scarlett was learning the joys of giving.
Scarlett's mother, Sharline Marie Spears, who manages the girl's account, replied, "She absolutely adores you, always looks forward to seeing you on set. I am SO appreciative that she has found her place on GH, And even more thankful you're able to play her dad
@mauricebenard."