The Safest Way To Keep Your Derma Roller Clean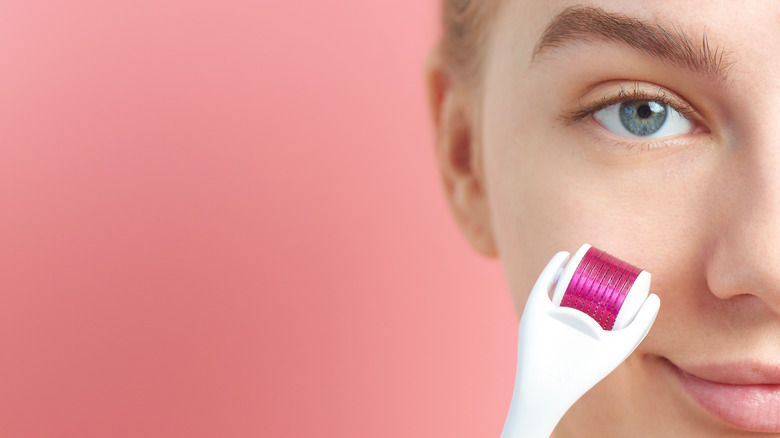 Ivan_Kislitsin/Shutterstock
We may receive a commission on purchases made from links.
Nowadays, it seems as if pretty much everything can be done at home. This is in part thanks to DIY TikTok video's that certainly gained popularity during the COVID-19 pandemic. From working to working out, there isn't much you can't do from the comfort of your own home. The same can be said for facial treatments, such as derma rolling. 
According to an article on Medical News Today, derma rolling, also known as micro-needling, used to only be performed by trained dermatologists. Derma rollers are skincare devices that have many benefits, such as replenishing the skin, assisting in acne scarring, and reducing signs of aging. Now, derma rollers can be purchased in convenient locations such as Amazon. They are considered relatively inexpensive skincare tools, but you can also purchase more expensive ones if you are looking for some of the best derma rollers around, via Byrdie.
However, it is important that people know how to properly use a derma roller, as there are always risks that come with applying a ton of tiny needles onto the surface of your skin. An important part of the proper use of a derma roller is knowing and understanding how to keep it clean. There are many reasons why keeping your derma roller clean is important, such as preventing bacteria from entering the skin and keeping its shelf-life up and running for as long as possible. Here are ways to ensure your derma roller stays clean.
What exactly is derma rolling?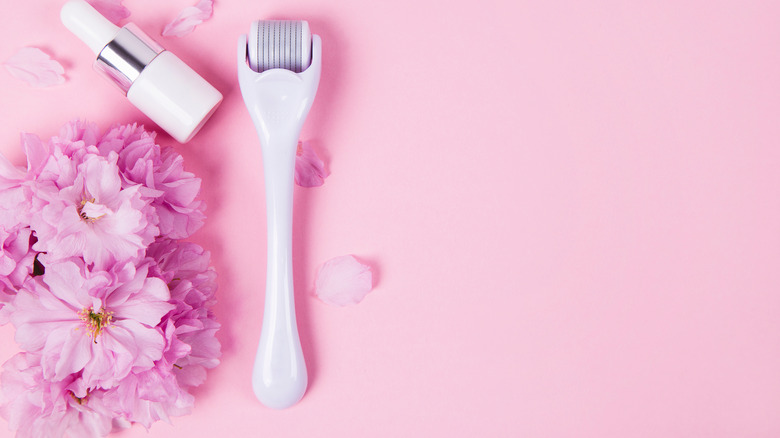 Julia Bond/Shutterstock
The process of derma rolling involves rolling a small wheel that has hundreds of tiny needles over the face to gently prick the skin. It seems simple, but it can be complicated if you don't know how to use it. 
Per Byrdie, to begin derma rolling your face, you should prep your skin with an exfoliant, pick a serum suitable for your skin type, and roll the derma roller gently over your face in horizontal, diagonal, and vertical motions. The amount of time and pressure you apply to your face is completely up to you. Once you're done, add another serum, and always remember to clean it after every use.
There are a lot of benefits to learning how to use a derma roller, such as creating a tighter and plumper facial complexion, via Byrdie. If used with a serum, your skin will have a much easier time absorbing the serum. Oh, when using a serum with the roller, you can expect boosted collagen in your face and a reduction of fine lines and wrinkles.
It can be scary to think about what really happens to your skin when you are derma rolling. The most common side effect of it is red skin, which will usually clear up in about 24 hours.
In order to prevent any further infection on the face from the derma roller, we must always keep it clean in the safest ways possible.
The importance of keeping your derma roller clean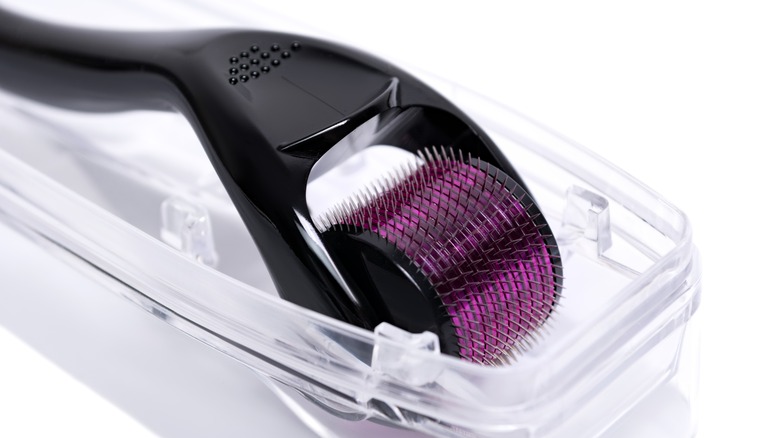 Ludmila Ivashchenko/Shutterstock
Keeping your derma roller clean is super important. Before you begin micro-needling at home, it is important to remember that you are, quite literally, at home. There is no professional around to properly sanitize your tools. That responsibility is now yours, and it is indeed a big one. If you fail to properly cleanse your micro-needling tools, you pose the opportunity for harmful bacteria to enter your skin, causing infection. 
There are many different benefits to cleaning your derma roller regularly, like preventing infection, helping the roller last longer, keeping your skin looking healthy, and getting the most out of your skincare products, per Cleaning Tips and Tricks.
Per Byrdie, remember to cleanse your roller with rubbing alcohol and store it in its plastic case. Be sure to replace your derma roller once a month, if you're using it several times a week, or after about 10 to 15 uses.
Per Medical News Today, you should spray your derma roller with an alcohol solution and then wash it with warm water before using it. This will sterilize the needles. Repeat those same steps after the procedure is finished, and then put it back in the case to prevent any outside bacteria from entering the tool.
Still nervous to give it a try? Poosh has a tutorial on YouTube on how to use a derma roller at home, via YouTube.