AI Has Officially Entered The Skincare Space With The Discovery Of A New Anti-Aging Ingredient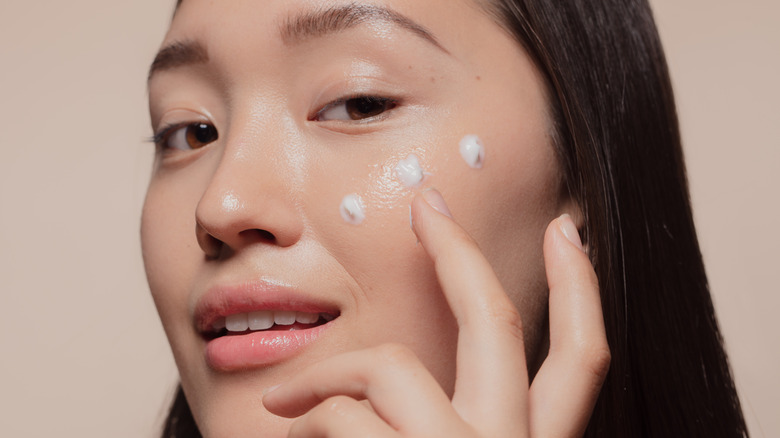 Jacob Lund/Shutterstock
When it comes to skincare, countless new exciting products and brands are constantly coming out. Trendy skincare ingredients make the rounds, and brands find innovative new ways to formulate them into products.
However, at the end of the day, the skincare space only consists of a set number of ingredients that we're pretty much all familiar with that are magically mixed into products we come to love. The skincare space may constantly be evolving, but new unheard-of ingredients are something that rarely happens. There are only so many natural resources and scientifically generated ingredients that can benefit our skin, so it's not exactly something you can discover or create out of thin air. 
Except, maybe it is. In 2023, we are witnessing more and more use of artificial intelligence (AI) across industries, and, while some may remain skeptical about this brand-new science, it is officially the skincare community's turn to reap the benefits of what it could provide. 
Revela is an innovative new skincare brand founded by doctors, and its latest product introduces a brand new skincare ingredient to the world, which was discovered by AI, no less, per Coveteur. But the question on everyone's mind is: What really is Fibroquin?
How Revela used AI to discover Fibroquin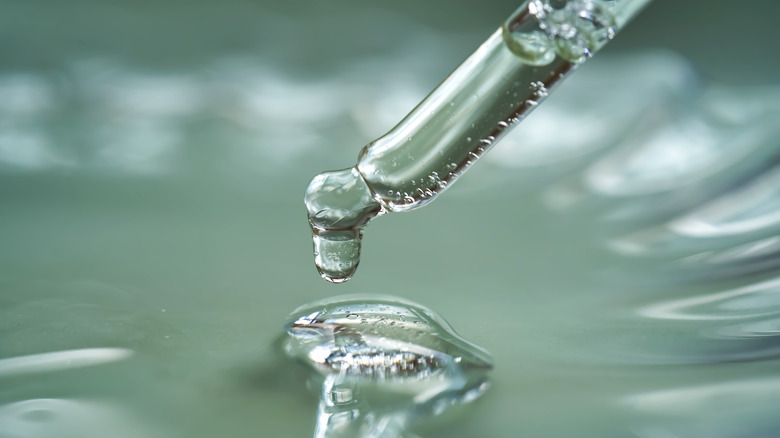 Mariya Borisova/Getty Images
It's rare to hear that a brand-new anti-aging skincare ingredient has been discovered. We're all used to new products that rely on tried-and-true actives like hyaluronic acid, collagen, or retinol. But what if an entirely newly discovered ingredient could be the one that promises to show you maximum results? Recently, Revela released the Fibroquin Essence, a pricey product backed by a brand new ingredient: Fibroquin, per PopSugar.
Revela co-founders Dr. David Zhang and Dr. Evan Zhao were on a mission to discover a brand-new skincare ingredient that promised to provide bouncier skin. "We knew that fibroblasts are deeply involved in collagen production, and that collagen is directly related to plumper, bouncier skin," Dr. Zhang told PopSugar about how the search for this ingredient began. "So, fibroblasts were the main focus of our research." 
The doctors needed to test their possible new ingredient through as many trials as possible, and that's when they sought the help of AI. Instead of having to manually test, the doctors used AI to get through millions of variations of the ingredient, and, within eight months, they were able to present Fibroquin. 
But the question remains: What exactly is Fibroquin, and does it deliver on the promise of bouncier skin?
How does Fibroquin work?
Fibroblasts were the foundation of discovery for Fibroquin. Board-certified dermatologist Anar Mikailov explained to PopSugar how fibroblasts in our skin cells essentially create collagen and elastin, and, without them, we experience less bouncy and elastic skin. 
After thorough testing using AI, Dr. David Zhang and Dr. Evan Zhao discovered that Fibroquin had the ability to boost fibroblasts and increase production of collagen and elastin, per PopSugar. The product promises to lift and tone your skin within eight weeks, a claim proven by 93% of the participants in their clinical trial, per Revela.
Chemist Confessions co-founders Victoria Fu and Gloria Lu joined forces with Revela to formulate the Fibroquin Essence. Speaking to Katie Couric Media, Lu explained the pros of the product. "We purposely formulated the product to be a gentle, layer-able essence that anyone can slot into their routine as a first step after cleansing in the morning and at night," she said. "We tested to make sure that it doesn't cause any additional irritation when you pair it with other anti-aging actives." 
Coveteur beauty editor Leya Kaufman tried it herself and backed the claims after eight weeks. "Today, I'm sitting here with noticeably lighter crow's feet and dewy skin," she said.
Although it costs $138, we're definitely tempted to give Fibroquin a try.