Samantha Markle Claims Meghan Keeps Distant From Her Family For One Reason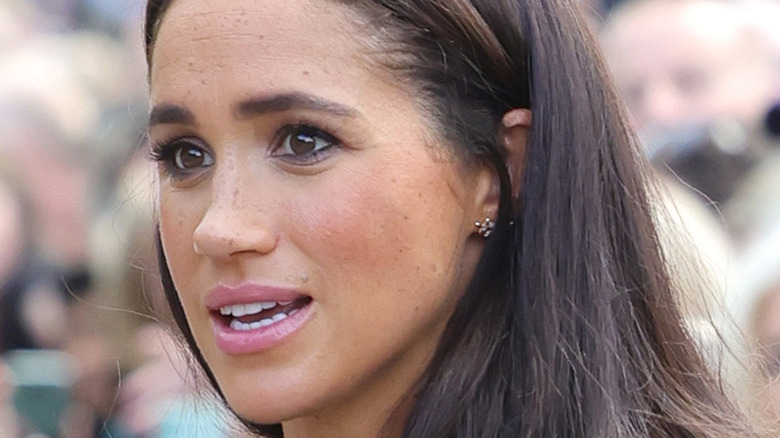 Chris Jackson/Getty Images
Over the years, the Duchess of Sussex's estranged half-sister, Samantha Markle, has made some disturbing allegations against Meghan Markle. It's clear that Samantha has a lot to say about her half-sister and her role in the royal family. 
That said, among the many surprising revelations from Netflix's "Harry & Meghan" docuseries, Meghan shared confusion over Samantha's statements against her, explaining that they were never close. According to CNN, Meghan's mother separated from the father she shares with Samantha when Meghan was only 2. 
Meghan explained her relationship with Samantha. "I don't know your middle name. I don't know your birthday. You're telling these people that you raised me, and you've coined me 'Princess Pushy,'" she said in "Harry & Meghan." "I hadn't had a fallout with her. We didn't have a closeness to be able to have that." Samantha has publicly said otherwise, insisting that she did have a close relationship with Meghan.
Amid the drama unfolding in the wake of the release of Prince Harry's memoir, "Spare," and the anticipation for King Charles III's coronation, it seems that Samantha has more to say about her famous half-sister. She made an appearance on "Tucker Carlson Today" and insisted that Meghan isn't what she claims to be (via Twitter). In fact, Samantha asserts that even the royal family doesn't know the truth about Meghan — and that this is exactly why she keeps her side of the family at an arm's length.
Samantha Markle's accusations
On "Tucker Carlson Today," Samantha Markle had plenty to say about Meghan Markle and why her family doesn't know their royal in-laws, per Twitter. "We were kind of puzzled when both sides of the family were kept away from the royal wedding, Samantha began. "And we started wondering, 'What's up with this?' And we started to realize, when you have a wedding and people start drinking champagne at the reception, they start talking. So what could the motive be for keeping both sides of the family away? The stories would come out."
Samantha believes the royal family has been fed lies about Meghan and that even Prince Harry wasn't told the whole truth. She gave an example, saying that Meghan told the royals that she had worked at the embassy but that it was actually a study program that her dad paid for. 
"So all of these lies started coming out, but we didn't know she had told the royal family so many porcupines. So it makes sense. 'Oh my god I've got to keep everybody away because, if they start talking, the lies come out,'" Samantha explained. "But, there were so many of them. Be proud of who you are. You don't have to dress like Diana. I feel like she missed the boat. Why lie and try to be something you're not?" 
While folks can't agree on which Markle sister they believe, it's certain that this fight is far from over.