The Affordable Product Storm Reid Uses For Shiny Hair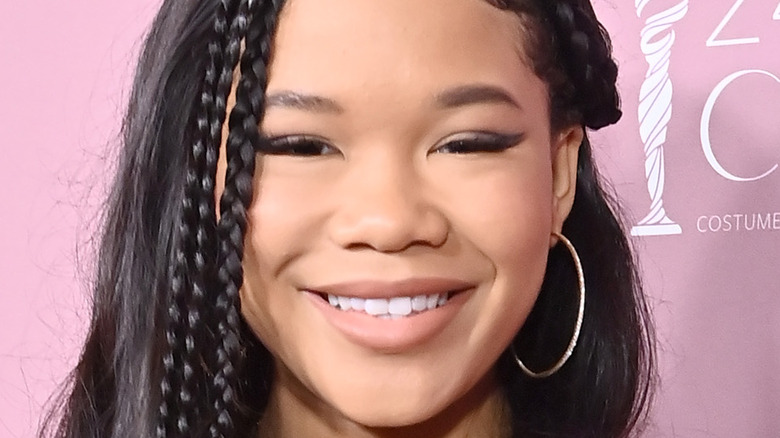 Stefanie Keenan/Getty Images
We may receive a commission on purchases made from links.
Who wouldn't want to learn how Storm Reid perfects her beauty routine? We know most of us are obsessed with this "Euphoria" star and bonafide it-girl's ever-changing look. That said, we usually have doubts when it comes to how affordable and attainable a movie star's list of go-to products is likely to be for those of us who don't reside in Hollywood. Thankfully, though, Reid is proving that you don't need to break the bank to look like a superstar.
Per Nylon, Reid has tried her fair share of hairstyles on for size since she's been in the spotlight –– from a single braid that was 16 feet long to a pixie cut and even platinum blonde locks. Of course, this star can pull off anything and everything, and she's not afraid to prove it. These days, she's back to her natural hair color, and she spoke to Harper's Bazaar to walk us through how she styles it (via YouTube).
Reid discusses a few simple tools she swears by to keep her hair "nice and healthy and clean," including a bonnet for keeping her hair protected while sleeping and a wide tooth comb for detangling before styling. There's one product, in particular, that gives Reid's hair its smoothness and shine, and believe it or not, it's under $15.
Storm Reid's OG hair product
In a 'how to' video for Harper's Bazaar, Storm Reid shared the "OG" hair product she's relied on ever since she was a kid (via YouTube). After prepping her hair, she grabs her ORS Olive Oil Nourishing Sheen Spray and says, "I don't know if y'all grew up with this in y'alls households, but my mama definitely has put this on my hair for a really long time. A little goes a long way, so I don't want too much shine. You don't want to walk out and people are like, 'Oh, she just sprayed a whole bunch of olive oil on her hair.'"
As for how to use her go-to product, Reid explains, "I just kind of go under, and it smells really good too, and finger comb that through. And I'll do the same thing, in that same area on the top [of my hair]. And, then we're going to do this to the other side as well." She then runs a brush through her hair to distribute the oil. If you have extensions, Reid recommends making sure that you brush the product into the places where "your leave-out meets your extension hair" which ensures that everything is properly blended. We never would have guessed that one of Hollywood's it-girls' favorite hair products is something that you can order on Amazon for $11, but we are definitely ready to give this one a try.