What Does A Nail Steamer Do To Your Nails?
If you regularly coat your nails in gel polish, you're definitely familiar with the arduous task of getting the polish off. Typically, you can soak your nails in acetone using cotton balls and foil, then scrape off the softened polish, says SELF Magazine. However, acetone is an extremely harsh chemical, and soaking your nails in it can lead to damage. If you're lazy or just love to pick at your nails, peeling off your polish can also harm your nails, says Real Simple. Luckily, there's an alternative to these methods — nail steaming.
Nail steamers are small devices used to remove gel nail polish without the fuss and damage of other methods. After heating up acetone until it steams, the machine sprays the evaporated chemical over the nails. This mist then deconstructs stubborn nail lacquer substances like gel. After about 20 minutes of use, this process is supposed to leave your nails gel-free and back to their natural self, says Refinery 29. But how do you use it and does it really work?
How do you use a nail steamer?
Using the steamer is pretty simple, but there are specific steps you have to follow in order to successfully remove your gel polish. In a YouTube video by beauty influencer @TinaYong, she tests out her nail steamer walking through each step of the process on camera. Yong begins the process by pouring 100% acetone into a small bowl in the center of the steamer. After about two minutes of having the steamer on, the machine turns green, signaling it is ready to be used.
Yong then puts her fingers into designated holes, leaving them there for 5-10 minutes. After each session, she scrapes the softened, lifted gel off of her nail. Then, Yong repeats the process as many times as it takes to remove the last bits of gel. She mentioned that she had applied a relatively thick gel layering onto her nails. If you're in the same boat, you can follow her lead and file down your gel as the machine warms up the acetone. Although, if you have just one or two layers of polish, this may not be necessary.
Do nail steamers really work?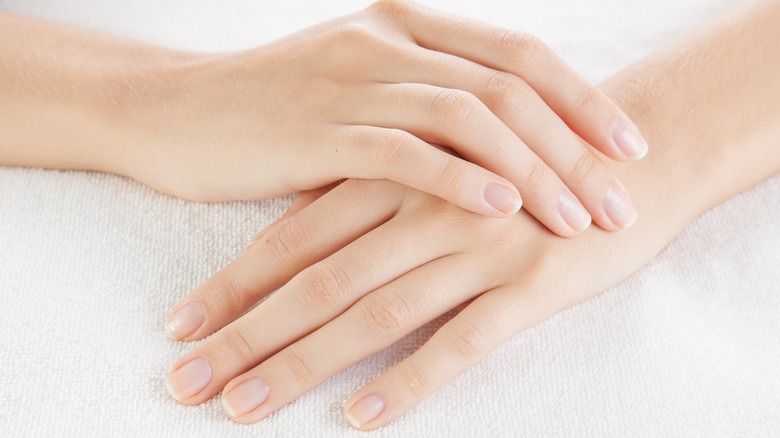 Yuriyzhuravov/ Getty Images
The idea of inserting your hands into a plastic container and removing them gel-free sounds like magic. But not all reviews show that this is exactly how it works. In a review by Refinery 29, the writer reports that the steamer was not 100% effective. According to the gel-polish user, their base coat wouldn't entirely lift. Although, over the course of a few days, it did eventually wear down to nothing. A bonus she mentions is that using the nail steamer as opposed to an acetone soak prevented her fingers from becoming dehydrated and irritated.
In an interview with Allure, manicurist Katie Corzola adds that some nail steaming kits come with acetone that is vitamin-infused. Corzola notes that the process leaves your nails far more hydrated than the traditional removal process. With the average manicurist charging $10-15 for removal alone, getting a nail steamer might just save your hands and your bank account too.