Ceresin Just Might Be The Ingredient To Rescue Your Lips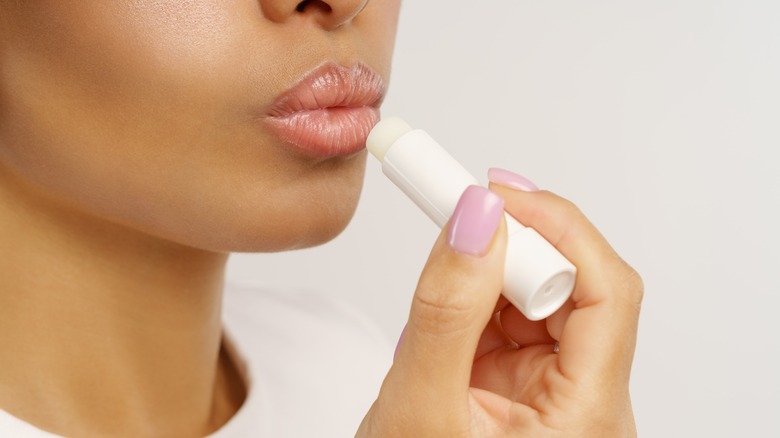 DimaBerlin/Shutterstock
We may receive a commission on purchases made from links.
The cold, dry conditions of winter may seem like the biggest culprit of chapped lips, but they're actually a year-round challenge. The harsh summer sun can also wreak havoc on your lips, as can the stress-induced lip licking that happens when you have a lot going on in your life to make you feel tense or anxious, according to Healthline.
Any of these scenarios can cause chapped lips that might run the gamut from a bit dehydrated to painfully cracked. It's especially challenging because, unlike the rest of your body, the skin on your lips has no oil glands, leaving them especially vulnerable to drying out, according to the Cleveland Clinic. When this happens, it can be difficult to find the best solution, as some lip products contain potentially irritating ingredients like camphor or eucalyptus.
So, if you find yourself wondering how to get rid of dry lips, the first step is to spend time reading ingredient lists. Among the many salves, ointments, and lip balms, there's one ingredient vying to be your dry lip savior: ceresin.
Wait, what the heck is ceresin?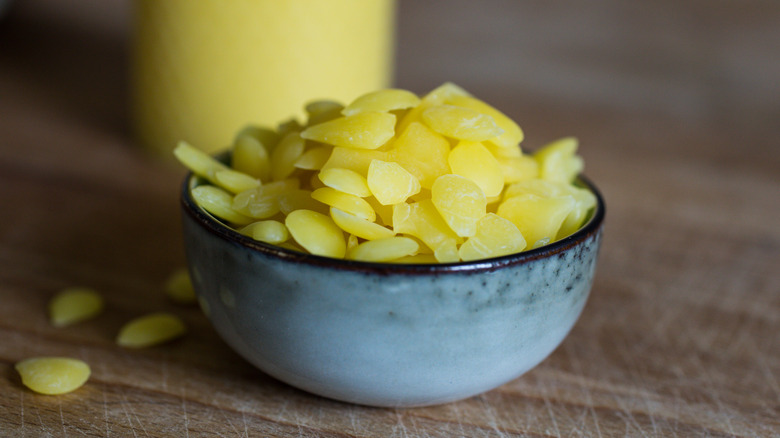 pinot-noir/Shutterstock
Ceresin is a mineral wax made from ozocerite, a fancy word for a sandstone-derived member of the mineral wax family. Its waxy properties are similar to beeswax, so it helps create thick, smooth skincare products. But unless you're a science buff, you probably haven't spent much time dabbling in the nuances of Mother Nature's mineral offerings.
Ceresin's cosmetology resume is worth your time because of its waxy consistency, which makes it great for barrier protection. It works by "creating an occlusive film to keep ingredients in the skin and lock out harmful pollutants," according to Dr. Howard Sobel, a board-certified cosmetic dermatologic surgeon. Sobel stresses the importance of creating a protective barrier (aka that "occlusive film" he mentioned) for chapped lips in an interview with Byrdie.
Products that create a protective barrier for your lips help keep their limited oils and moisture in place. Ceresin does precisely that, but with the added benefit of adding a thick, smooth texture to any skincare product that contains it. Sobel points out that while ceresin's helpful stickiness makes it the perfect addition to lip care products, it also has a place in other beauty products including "thicker, reparative skin creams and medical ointments," as well as makeup and haircare.
It's the on-the-go relief chapped lips beg for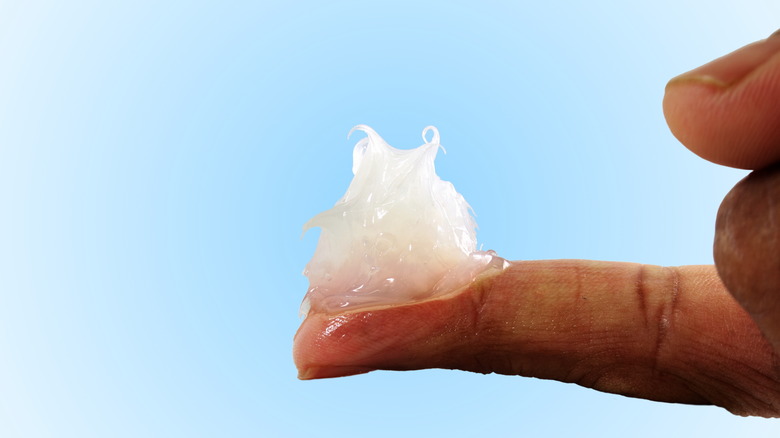 Gv Image-1/Shutterstock
If you're suffering from chapped, cracked lips, ceresin-based lip balms might be the never-leaves-your-side accessory you need most.
The American Academy of Dermatology (AAD) recommends the frequent application of lip ointment — several times a day and before bed is the guidance. This should come naturally since as soon as your chapped lips feel dry again, you'll automatically be looking for relief. Knowing what's really in lip balm when it comes to ingredients is vital to get the maximum benefits, the AAD suggests that those seeking relief from chapped lips prioritize an emollient without flavors or scents.
Luckily, applying the collective wisdom of using lip care products that are fragrance-free while providing that crucial protective barrier is easy. One such gem is Aquaphor, which is easily found in drugstores and has been a favorite of beauty enthusiasts for years. Moreover, the brand's array of tubs, tubes, and sticks include plenty of options for under $10 on Amazon, making it easy to stash a lip-rescue boost of ceresin everywhere, from the nightstand to handbags and car consoles.