Revisiting Emily And Gideon's Romance On Days Of Our Lives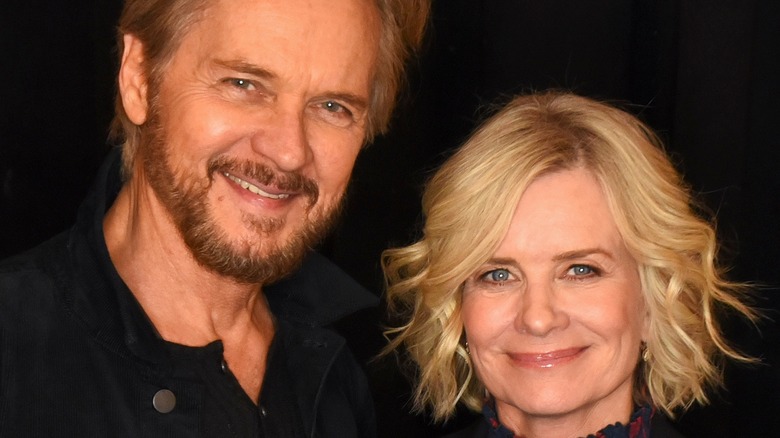 Michael Mattes/Shutterstock
When it comes to soap opera super couples, "Days of Our Lives" has no shortage. The sudser is known for creating epic romantic storylines revolving around fan-favorite couples such as John Black and Marlena Evans, Ben Weston and Ciara Brady, Will Horton and Sonny Kiriakis, Chad DiMera and Abigail Deveraux, Bo and Hope Brady, and many more (via Cheat Sheet). These characters and their stories have been the backbone of the show for decades. Despite the soap being a bit wild and wacky at times with storylines such as demonic possession, people being buried alive, serial killers, and characters returning from the dead, per Body and Soul. However, romance is often at the forefront of the show.
One couple that fans have loved watching over the decades has been Steve Johnson and Kayla Brady. According to Soaps, the duo has been through so many ups and downs in their relationship, but they always seem to find their way back into each other's arms. For decades, Steve and Kayla have been a Salem powerhouse couple, who have been part of some of the most memorable scenes in the show's long history.
Longtime fans may even remember when Steve and Kayla played out the love story of another set of star-crossed lovers, Emily and Gideon.
Who were Emily and Gideon?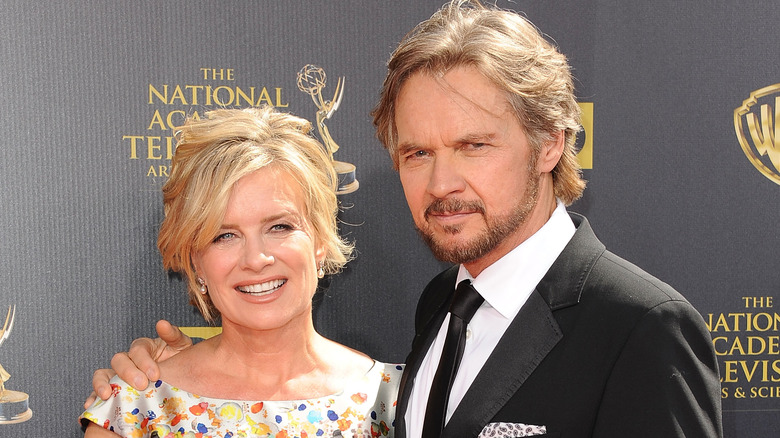 Angela Weiss/Getty Images
According to TV Fanatic, one of Steve and Kayla's most memorable storylines on "Days of Our Lives" was that involving the characters of Emily and Gideon. The storyline started when Steve helped Nick Corelli out of a jam. Afterward, he thanked Steve and Kayla by giving them an old mansion, which they moved into. This kickstarted a romantic adventure for the couple as they found the diary of a young Confederate woman named Emily Matthews. While reading the Civil War diary, Emily detailed her love for Union soldier Gideon Wyatt. As Steve read the diary, the scenes of Emily and Gideon's lives together were played out in flashbacks which had actors Stephen Nichols and Mary Beth Evans pulling double duty as they brought the love story to life on the small screen.
Steve and Kayla became very invested in the lives of Emily and Gideon as they continued to read the diary, and even saw parallels in their own lives. At one point in the story, Emily believed that Gideon had been killed in the war. However, he later returned to her alive, just as Steve had done for Kayla, per Soap Hub. Eventually, it was revealed that Emily and Gideon got to have a happy ending as they ended up together and even moved into the very same mansion that Kayla and Steve lived in at that time.
The storyline stuck with fans, as well as Nichols and Evans.
Emily and Gideon's story was a favorite for Evans and Nichols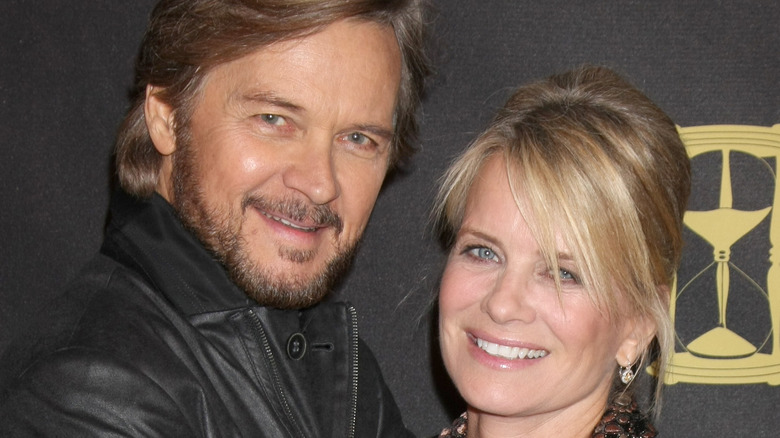 Kathy Hutchins/Shutterstock
In 2018, Stephen Nichols and Mary Beth Evans opened up about their favorite "Days of Our Lives" moments. Both actors agreed that they adored filming the Emily and Gideon scenes, per Soap Opera Digest. The duo also confessed that they also loved filming the Civil War-era storyline in Charleston, South Carolina. "That was my favorite storyline," Evans told Soap Hub of her time portraying Emily on the soap opera. "It gave us a vehicle to have them be in love again, have them fall in love again," Evans added of Steve and Kayla's relationship at the time. "That's what it's all about. It's why they break us up -– so they can put us back together."
Years after Emily and Gideon's epic romance played out, "Days of Our Lives" aired a similar storyline involving Colleen Brady and Santa DiMera. This time around, Alison Sweeney and James Scott took a break from portraying Sami Brady and EJ DiMera in order to step into Colleen and Santo's shoes and bring yet another past romance into the present, per Soap Central.
Fans will forever remember Emily and Gideon's storyline as one of the best moments in Steve and Kayla's journey together, as well as the chance to meet wonderful new characters.