The Crucial Step You Shouldn't Skip When Trying On A Bra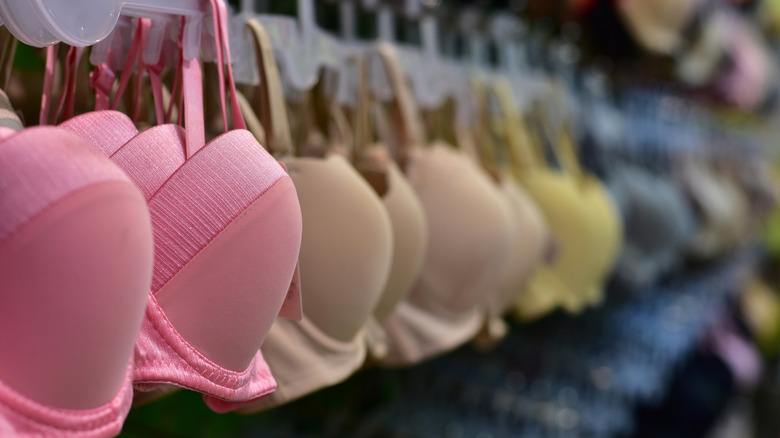 korkai/Shutterstock
While shopping for certain things can be fun, there's one clothing item that many people dread shopping for: bras. Because they are a staple that many individuals wear every single day, bras tend to wear out faster than other clothing items. There are few things more frustrating than having finally found the perfect bra, only to find that several months later, the straps are slipping down, the band has stretched out, or the underwire is poking and out of place, all of which are signs you need a new bra (via Real Simple). 
It would be one thing if you could just go buy the same bra again, but available styles often change and shift, and our sizes also change throughout our lives, making bra fittings necessary to ensure we are wearing the right size and style to properly support our bodies. Once we've figured out our proper size, we have to start trying on different styles to see what feels and looks best. 
But there's one step of the trying-on process many often skip, and it can lead to disappointment and frustration once we get the new bra home and try to wear it. 
The essential step to finding the right bra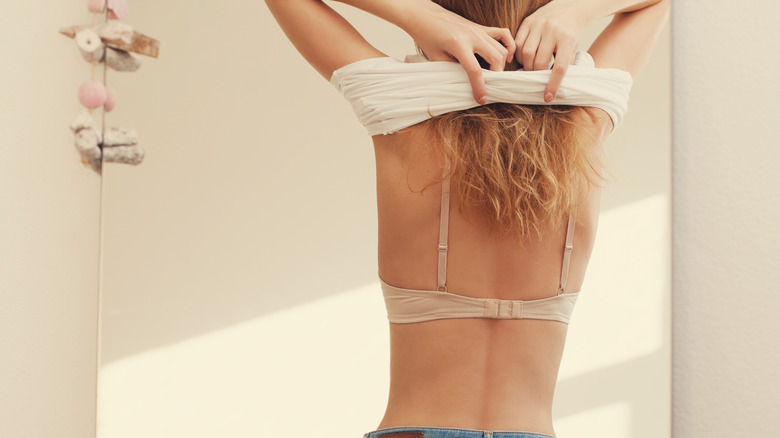 Misuma/Getty Images
Once you feel you've found a bra that is the right size, feels comfortable, and looks flattering, you might be ready get the heck out of that dressing room and make the purchase. But there's something you should do first. One of the biggest mistakes people make when shopping for a bra is failing to try it on with clothes. Since you will be wearing a bra underneath multiple fabrics and styles, you need to make sure the bra looks right underneath your clothes, not just by itself.
Bra fit specialist Kay-Lin Richardson spoke to Cosmopolitan about this subject, and suggested that every person shopping for a bra should bring a T-shirt into the dressing room with them. "They might think a bra looks great, but then they put a T-shirt on over the top and realize it actually isn't giving them the shape they want. Or they might feel so-so about a bra and then put the T-shirt on and realize it's perfect," she said. 
Why a T-shirt? The thin material will show if any lines, bulges, seams, or other things might be visible that you had not anticipated. 
And if you're buying a bra for a specific outfit?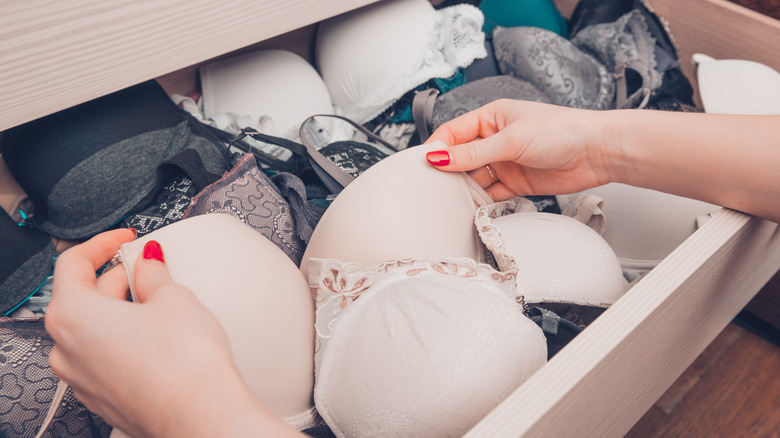 Dannikonov/Getty Images
While a T-shirt is a great indicator of how an everyday bra will look with your clothes, if you are in need of a bra for a special occasion or particular type of outfit, it's important you bring either the exact dress, top or other garment (or one with an identical cut/fabric) into the dressing room with you. For instance, if you are planning to wear a backless gown for a wedding or a plunging neckline top for a party, you are likely to need a more specialized bra to give the support and silhouette you are going for. 
It's also important to know that cup size might change significantly for certain types of specialized bras like ones that are strapless, low-backed, push-up, or stick-on (via Cosmopolitan). So if you are a 34 D in your everyday bra, you shouldn't assume you will be the same size in a specialized style. Grab a few sizes up and a few sizes down before you head into the dressing room to see what looks best with your outfit.