General Hospital Star Maura West Weighs In On A Possible New (And Surprising) Pairing For Ava
Alberto E. Rodriguez/Getty Images
Ava Jerome (Maura West) has been the bad girl of "General Hospital" since 2013 (via Soap Central). She's had flings with murderers and even killed someone herself. But the former mobster has been making a serious effort to change her ways lately. What Ava initially thought was an affair with Dr. Kevin Collins (Jon Lindstrom) turned out to be with his evil twin, Ryan Chamberlain (also Jon Lindstrom), which cost Ava her daughter's life. Suffice it to say, despite Ava's failed and flawed love life endlessly tormenting her, the reformed villain continues to hold out hope for true love someday. 
Ava herself played a key role in the Jerome crime family, which repeatedly battled with mob boss Sonny Corinthos (Maurice Benard) over the years, but she's since left her life of crime behind. In her quest for love, Ava hooked up with Nikolas Cassadine (Marcus Coloma). While he did help her cover up what they thought was the death of his son's girlfriend, Esme Prince (Avery Kristen Pohl), their relationship was flawed and ultimately it failed because of his cheating ways, per Soap Dirt. 
In the most strange and twisted way, Avery Corinthos's birth resulted from Ava sleeping with Sonny in the Quartermaine crypt. While the two had previously been at odds for years, they thankfully tend to agree on what's best for their daughter. Now that Ava and Nikolas are no longer an item, though, West has some thoughts on who should be her character's next love interest. 
The actor feels Ava and Sonny could be a good match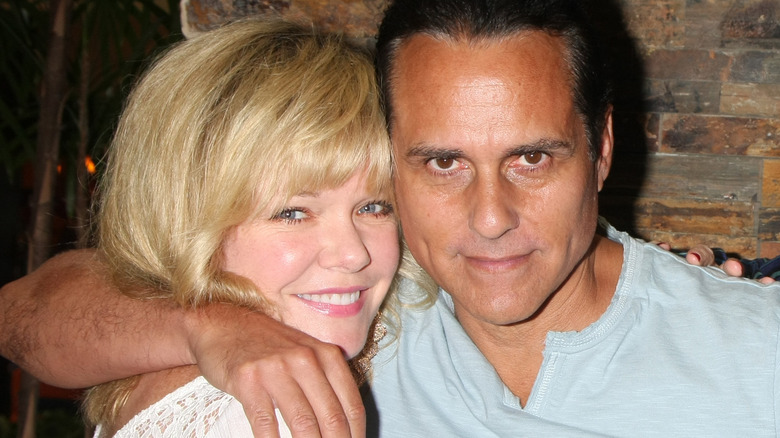 Kathy Hutchins/Shutterstock
Following an accident that caused Sonny Corinthos to suffer amnesia and end up in a remote town, he fell in love with Nina Reeves (Cynthia Watros), per Showbiz Cheat Sheet. After returning to Port Charles, Sonny got divorced but he kept Nina in the dark about his ongoing mob activities. Soap Hub recently reported on a fan event that Maura West, who plays Sonny's ex, Ava Jerome, took part in. A question arose regarding a scene where Sonny confided in Ava about what he'd done to his employee, Dex Heller (Evan Hofer). 
A serial killer had been stalking the city, and Sonny mistakenly thought it was Dex, so he had the poor man tortured (via Soaps.com). Sonny hadn't told Nina, so West theorized that Sonny and Ava share a level of intimacy where they can be honest with each other about their misdeeds. Ava previously had an affair with Sonny's boy Morgan Corinthos (Bryan Craig) and inadvertently caused his death. Understandably, it's taken years for them to get past it. 
But West feels that, while the writers haven't said anything, Ava and Sonny could hook up at some point down the road. "In my mind, it's going to happen," she stated firmly, remarking that Ava and Sonny can really be themselves together. The soap star added, "They're not going to judge each other. That's what Maurice [Benard] was telling me. ... I love that about them. We'll see."