This Is What Giuliana Rancic Eats In A Day
Giuliana Rancic is one of those rare people who appears to have it all: a happy marriage, a precious son, a glamorous career. Since battling and beating breast cancer in 2011, her appetite for life only appears more insatiable — in some ways, quite literally. To put it plainly, this woman can eat. The Italian-born E! anchor insists carb-laden foods are her fave, telling PopSugar of bread and pasta, "I could have it for the rest of my life every night." 
If you can't believe someone with Rancic's slender figure could possibly exist in the carb heaven she describes, prepare to be amazed. Blame it on a high metabolism or excellent Italian genes, but either way, Rancic gets away with scarfing down everything from her beloved bread and pasta to pizza and pancakes. 
So, maybe she is a unicorn (a really hungry one). You be the judge — here's a closer look at the petite powerhouse's food staples.  
Lots o' pasta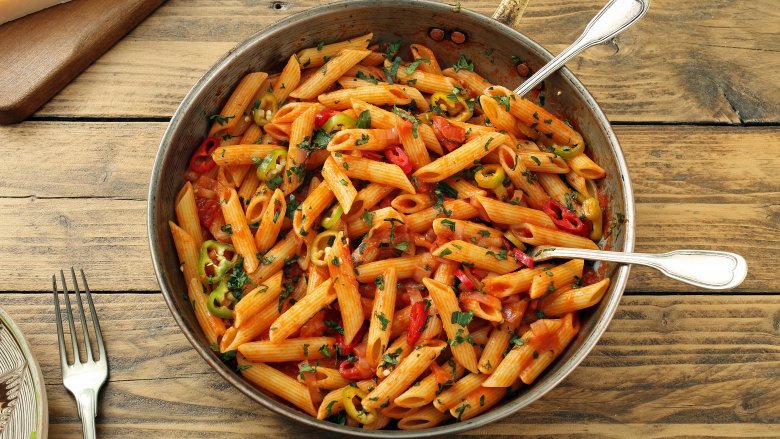 Shutterstock
Giuliana Rancic gets her deep and abiding love for pasta honestly. Born in Italy, the E! anchor didn't come to the states until she was a young girl. Even when she did, her family still famously embraced the Italian way of life (and eating habits). To this day, Rancic and her husband can't get enough of pasta, to the point that they created RPM Italian — a restaurant serving authentic classics, including Rancic's favorite fare.
When asked by Food & Wine about the must-try dishes at RPM, Rancic responded, "My mom's bucatini al Pomodoro. It's definitely one of the most popular dishes." Rancic's mother, affectionately known as "Mama DePandi," is a constant presence in her daughter's life. The same could be said about her signature dish, which makes frequent cameos on Rancic's Instagram feed.
If you're dying to try Rancic's beloved pasta but don't reside near the family's restaurants in Chicago and D.C., don't fret. In 2014, Rancic generously shared the recipe for Mama DePandi's bucatini Pomodoro with Michigan Avenue magazine. Buon appetito!
Steak? Yes, please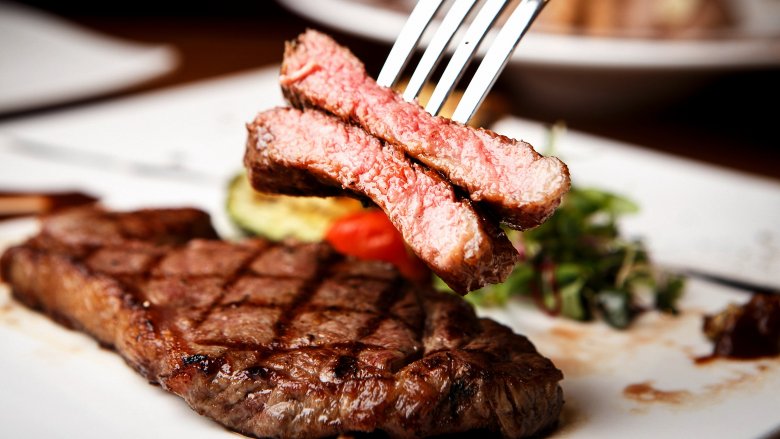 Shutterstock
The restaurant industry can be notoriously high-stress, but it has its perks, too. Namely, there's always a table with your name on it. Clever as they are, Giuliana Rancic and her husband have managed to satisfy their most persistent cravings by opening restaurants specializing in their favorite foods. First came RPM Italian in D.C. and Chicago. Then, also in the Windy City, came RPM Steak. While it's a pretty good problem to have, the steakhouse creates routine conflict for Rancic and her husband. 
"It's always hard deciding which one," Rancic told Open Table. "It was always easy when it was just RPM Italian, but now we spend 10 or 20 minutes debating every time we're in Chicago. We're like, steak? Italian? We go back and forth all the time." 
The food must be tasty to elicit such devotion from foodies like Rancic and her husband. Indeed, "The Duke" — a 10 oz. ribeye filet Rancic often recommends on Instagram — is ranked one of the top five steaks in America by the Food Network. 
Bring on the bread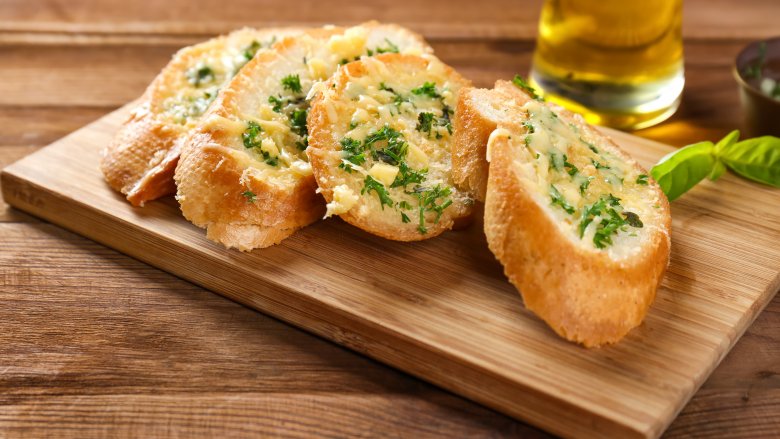 Shutterstock
Giuliana Rancic's obsession with starchy Italian goodness doesn't stop at pasta. Mealtime is an event, and it requires certain accouterments. "Mangia ['eat' in Italian] was one of the first words I learned as a kid. Coming from an Italian family, eating's such a big part of who we are," she told Delish. 
While pasta is often at the heart of family mealtime in the Rancic household, it isn't the sole attraction. In an interview with Food & Wine, Rancic explained, "Even on a boring Tuesday night, it's an event. I take the time to set the table, light a candle and put out a bread basket."
Rolls don't have a monopoly on Rancic's taste buds where bread is concerned, though. On a 2016 trip to Italy, the E! anchor could hardly wait to get her hands on a beloved childhood treat. "Landed in Rome and went straight to get my favorite pastry since I was a little girl," Rancic captioned a photo of a custard-filled cornetto or, as the locals call it, a cornetto con la crema. Hey, when in Rome, right?
Healthy snacks on hand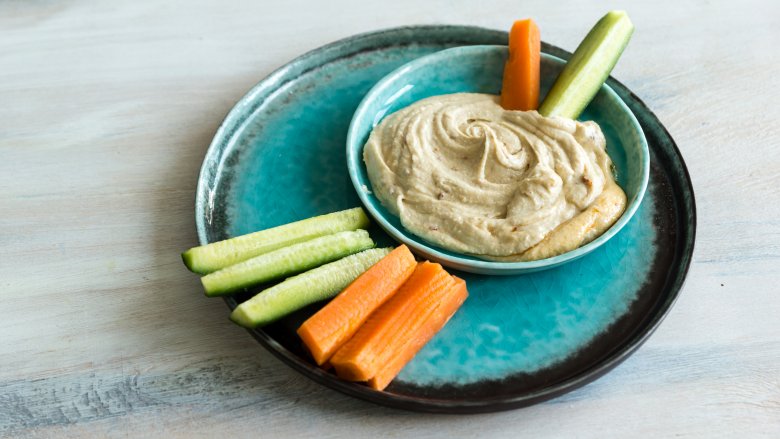 Shutterstock
As you've probably deduced from Giuliana Rancic's fit figure, her diet doesn't consist entirely of red meat, bread, and pasta. The media maven also keeps her energy up by having healthy snacks on hand for quick and easy noshing.
In an interview with Shape, Rancic revealed a few of her daily go-to foods. One example? "Pretzels with hummus are another great source of protein with low fat. I'm snacking on that right now," she shared, also rattling off raw almonds, Greek yogurt with blueberries, and Kind bars as essentials. When she needs a light and healthy lunch, she turns to tuna and brown rice sushi rolls. 
But she also admits that her favorite snacks might not satisfy her nearly as much if she didn't start her day with steel cut oats, explaining, "This is my go-to breakfast. It really is the most important meal of the day, and it fills me up and gives me tons of energy." 
Her son's favorites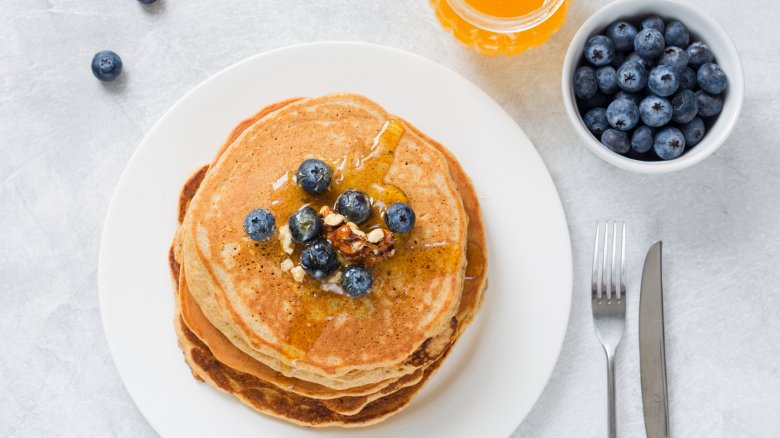 Shutterstock
When you have kids, it's difficult not to adopt their favorite foods as your own. After all, as any parent can attest to, many of your meals consist of their leftovers. Like so many other mamas, Giuliana Rancic lets her child's taste steer some of their meals. And her son Duke really likes pancakes. 
"It's so much fun to take him there and watch his face light up when his big stack of pancakes arrives at the table," Rancic told Michigan Avenue magazine of the family frequenting Chicago's The Original Pancake House. "Parenthood is all about learning as you go, and if anything, I was surprised at how naturally it came to me." 
Her Instagram seems to agree. There, Rancic has shared many of her kid-friendly food moments, including scarfing down a peanut butter and jelly sandwich before a long day, making pizza with Duke and, of course, all the pancakes. 
A steady supply of fresh seafood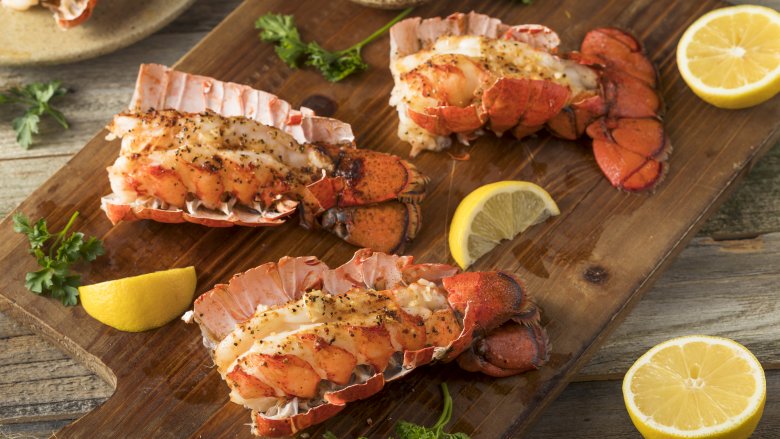 Shutterstock
Splitting her time between Chicago and the West Coast for work, Giuliana Rancic has access to some of the country's best fresh seafood — and she takes full advantage of this delicious proximity. While in the Windy City, she naturally prefers to dine at RPM Italian. One of her favorite dishes there (second only to Mama DePandi's aforementioned bucatini Pomodoro) is "the Grilled Octopus and Brussels Sprout Salad," she told E!.
Rancic's adventurous palate also includes Lobster Caprese, an appetizer that shows up on her Instagram feed liberally, as well as Spicy King Crab with Squid Ink Spaghetti and Potato Gnocchi. Um, yum! 
If you have impressive culinary skills, you can whip up the latter at home. In 2017, Rancic shared RPM Italian's recipe for the Spicy King Crab dish on Instagram. Be forewarned, though: the skill level required to prepare this masterful seafood meal is professional. Unfortunately, being a pro at chowing down on such fare does not count. 
Burgers, beer, and fries, FTW!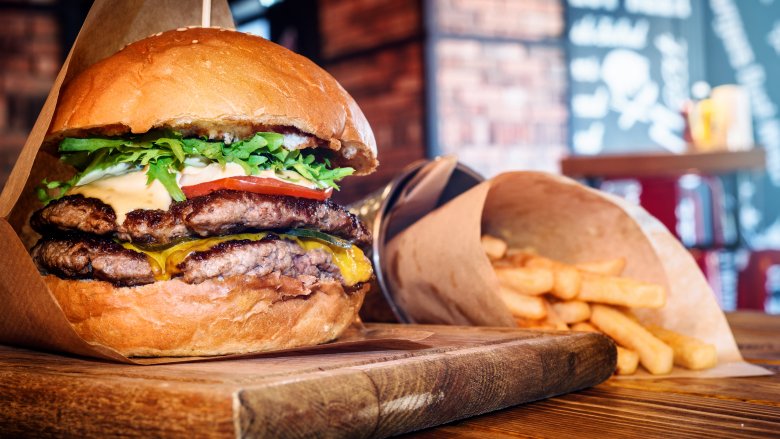 Shutterstock
Giuliana Rancic's slender figure has often drawn extreme criticism from keyboard warriors. "Some people were saying, 'The cancer is probably back,'" Rancic told People after the 2015 Golden Globes, alluding to her 2011 breast cancer diagnosis and subsequent double mastectomy. "And they were accusing me of every eating disorder. I thought to myself, 'God, if someone really thought I had an eating disorder, what a horrible way to approach it.'"
A common barb lobbed at Rancic is something to the effect of "go eat a burger." So, in November 2015, the media maven used a snapshot of the juicy entree to throw shade at her haters. "Yes, I really did eat it... and finish it," she captioned a photo of a burger and fries. 
That certainly wasn't the only time Rancic felt carnivorous, though. She often orders burgers, sometimes with waffle fries and almost always with beer — like a boss. 
Tacos make the occasional cameo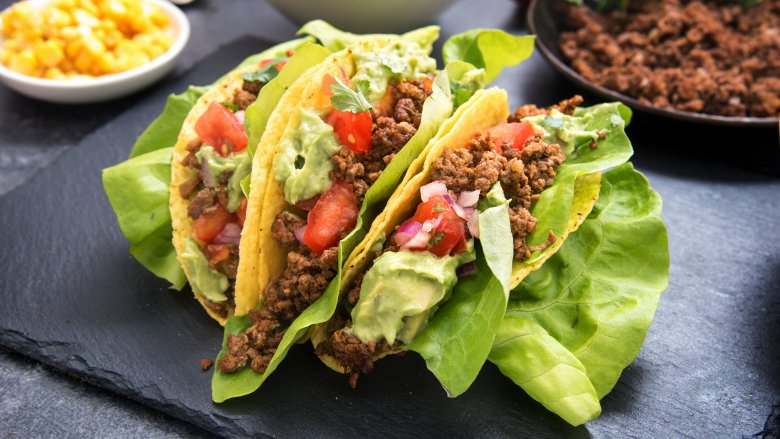 Shutterstock
If Giuliana Rancic's diet of pasta, sushi, pastries, and burgers has you feeling like she's a kindred spirit, prepare to take that spiritual bond to the next level. The E! anchor also considers tacos to be a crucial food group.
In 2015, Rancic partnered with popular food chain P.F. Chang's to raise awareness for breast cancer and funding for research. As part of the collaboration, all diners had to do was order a certain meal and $1 of its price would automatically go to the American Cancer Society. The meal Rancic and the restaurant settled on? You guessed it — tacos! In particular, Jicama Street Tacos, which Rancic gushed were "delicious!" during an interview with SheKnows.
Rancic showed this Mexican food masterpiece more love when her family took a vacation to Orlando, Florida. "First meal of an already great vacay," she wrote on Instagram, describing a plate filled with tacos, guacamole, and pico de gallo. 
Fruits and veggies make the cut, too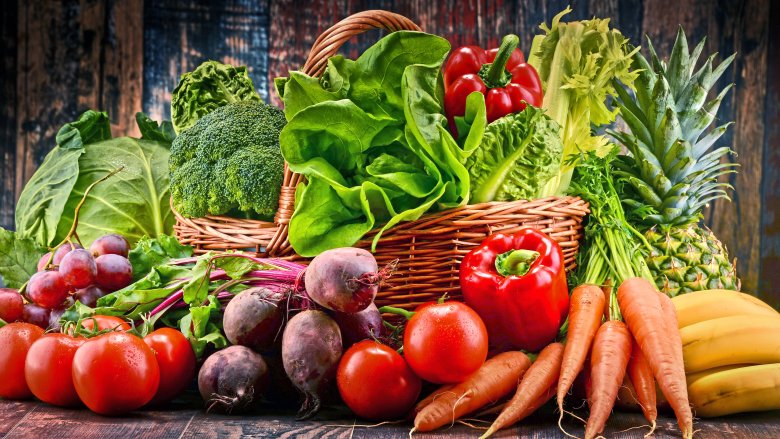 Shutterstock
Just because Giuliana Rancic can't resist carbs and sweets occasionally doesn't mean she shuns the food pyramid's more wholesome components. The most important thing to keep in mind, Rancic told blogger Michelle Dudash, is to "just eat well and put good things into your body." 
Accordingly, Rancic tries to incorporate fruits and veggies into her diet every day. Sometimes, that means putting a healthy spin on her favorite not-so-healthy foods. Largely, though, it means eating the Italian diet she adores. 
"You hear a lot about the Mediterranean diet and how it's one of the healthiest diets out there," she told Fox News. "But it's really more of a lifestyle in terms of incorporating fresh vegetables, herbs, and fish into your diet. It's super healthy and people often talk about how Europeans are in shape, healthy and active. I think Italian food is very healthy because it's made with simple ingredients." 
Chocolate — because, chocolate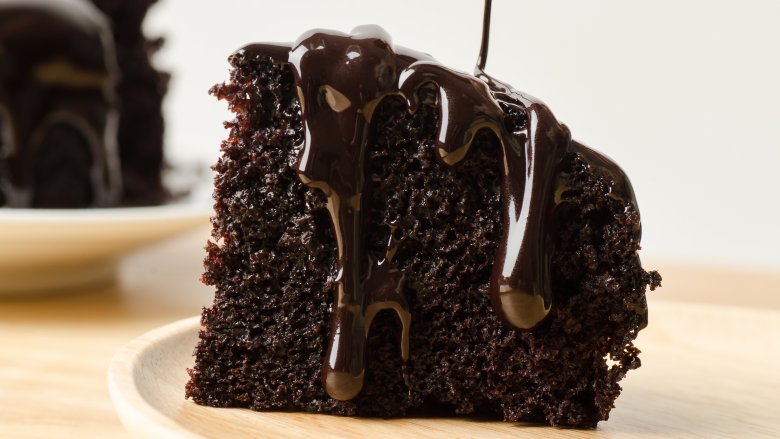 Shutterstock
You wouldn't deny a woman chocolate, would you? Giuliana Rancic isn't shy about her penchant for sweet treats, telling Shape, "My husband Bill and I both have a sweet tooth so we love to indulge in dessert." She wasn't joking, either — just take a look at her social media and you'll find a veritable digital dessert bar.
No big surprise here, but many of Rancic's most referenced indulgences are chocolate and come from her family's restaurants. At RPM Steak, she devours Nutella-stuffed bread pudding and 14k chocolate cake. At RPM Italian, she favors "cooked-to-order Italian donuts with Nutella and Vanilla Sugar and mini homemade gelato cones."
Rancic believes in the power of chocolate so much that she gives it away — sort of. You have to order two bottles of the media maven's eponymous Giuliana Prosecco, but when you do you get a box of chocolate biscotti to go with. Good call, G!