Could Hair Remover Pens Put An End To Painful Waxing And Tweezing?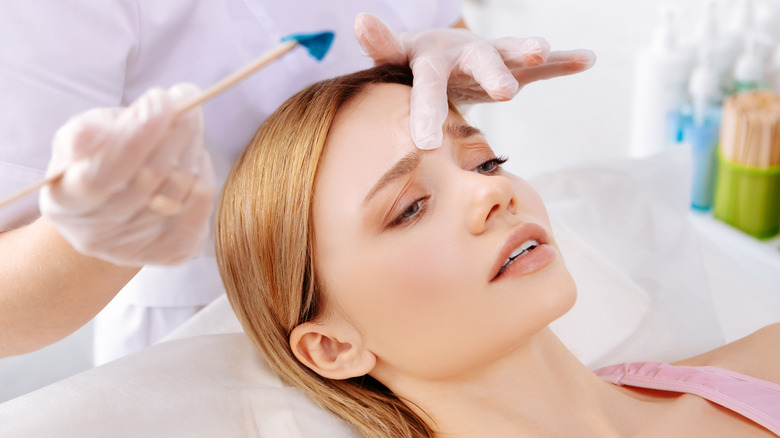 YAKOBCHUK VIACHESLAV/ Shutterstock
We may receive a commission on purchases made from links.
Few things feel better than walking out of a salon with freshly waxed eyebrows. However, there are arguably fewer things that feel worse than the actual process of having them done. Tweezing them yourself at home can save you money, however, it will not save you the torture of having hair plucked from your face.
Regardless of these woes, many continue to commit to the weekly or biweekly pricking. And the excuse we use to keep ourselves disciplined is something along the lines of "pain is beauty." But what if we told you this absurd statement might no longer have to be true? Well, at least with hair removal. Our suggestion doesn't even involve a razor — after all, nobody likes getting bad razor burn. 
We've instead been looking into hair remover pens. According to a review by Southern Living, "it almost feels like a gentle massage." A soothing shiatsu is something we probably wouldn't associate with hair removal. We were skeptical. So, is this tool worth a shot?
How the hair removal pen works
In 2021, the hair remover pen by the brand Flawless won Allure's Best of Beauty Award in hair removal. With reviews of the product racking up more than 9 million views on TikTok, the Flawless pen has stirred quite the buzz.
The product description on Amazon explains that the pen uses "Butterfly Technology that removes hair by microscopically paring it down by a spinning head covered by a plate." This sounds like a mouthful, but according to the reviews, it's just a timmer that does an extremely close cut of your facial hair. One review noted that "it's the same as when you shave only this one works lightly, is smaller, and touches your skin very smoothly."
Halle Berry is an ambassador for the Finishing Touch Flawless pen. She shared with Allure that she began using the pen long before beginning her partnership with the brand. Apparently, her enviably smooth skin has this device to thank. After describing horror stories of how other hair removal services irritated her skin, she observed that the pen allows us to[ "[remove the hair] now, effortlessly and cleanly. We're not going to hurt or scar ourselves — we just get rid of the hair."
How to know if the hair removal pen is right for you
The Flawless pen received 4.5 stars on Amazon and 4.1 stars on Ulta. The reaction is generally positive. However, the pen doesn't seem to be a good fit for everybody. In her review of the hair remover, Youtuber Audrey Victoria shows herself gliding the pen across the peach fuzz on her upper lip. After a few minutes, the pen leaves the target area clean and smooth. But, for good measure, Victoria tries the device on her boyfriend's coarser beard hair.
With his thicker hair texture, the pen is less effective. According to 18 reviewers on Amazon, the tool is not necessarily meant for thicker hair and is more effective with finer, softer hairs. Reviews on Ulta also warn that this product might not be for people who have acne prone skin and sensitive skincare routines. One person writes, "I have sensitive and acne prone skin and this resulted in acne on my jawline/cheeks that I've never gotten before."
Our best guess is that this tool is an excellent way to avoid painful waxing and works best with softer hairs. If you have more stubborn, coarser hair or very reactive skin, it might not be your perfect hair removal solution.