Hallmark Movies That Are Totally Worth Your Time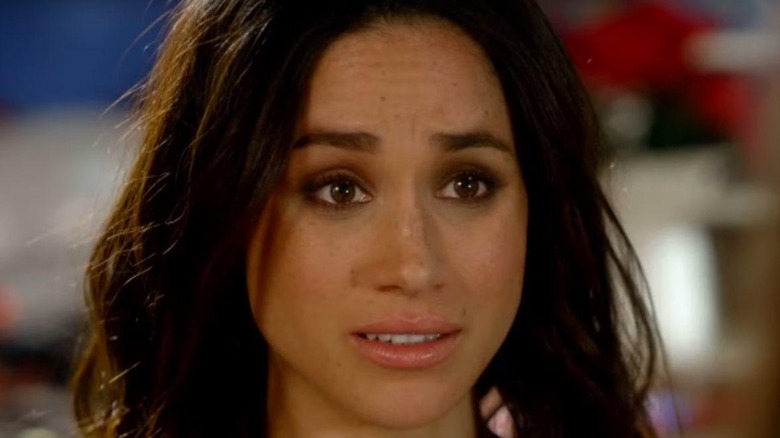 Nothing heralds the holiday season quite like Hallmark Channel original movies. Unfortunately, the holiday season eventually comes to an end. Fortunately, however, the Hallmark Channel can't stop, won't stop churning out all the Hallmark hits. That's right — your momma's favorite tearjerking romantic comedy factory is constantly crafting whimsical tales that you'll pretend not to totally love in front of your friends, but secretly watch in the privacy of your bedroom with a box of tissues and a pint of chocolate ice cream nearby. 
Hey, you're not alone. Everyone needs a good cry from time to time. With everything going on in the world, who wouldn't want to escape for a while to a world where soulmates exist and the love of your life could very well be a prince? While they certainly aren't indicative of real life, Hallmark movies will definitely stir up some pretty real emotions in that deep, dark soul of yours. So sit back, relax, and let the happy tears flow to these Hallmark flicks that are sure to be your newest, guiltiest pleasures.
Meghan Markle is pretty much the worst best friend in When Sparks Fly
Meghan Markle just has that thing. The former Suits star turned Prince Harry's bride-to-be is drop dead gorgeous, whip smart, and loves the Spice Girls just as much as you do. 
It's pretty much impossible not to love her, so her character in the Hallmark Channel Original Movie, When Sparks Fly, might be a bit jarring to some. Markle plays Amy Peterson, a journalist working at the fictional Chicago Post in the big city. Amy loves her job — but, unfortunately, people don't read newspapers like they once did. 
To save the paper (and her job), Amy returns to her tiny hometown to write a human interest story about her parents' fireworks business. When she arrives home, an old friend asks Amy to serve as a wedding planner for the friend's wedding to — drumroll, please — Amy's ex-boyfriend, Hank, who Amy isn't quite over. In a bit of a questionable move, Amy agrees to be her friend's wedding planner in hopes she'll be able to win back her old beau. Does she succeed? You'll have to watch When Sparks Fly to see for yourself!
A story of lawyer meets Elevator Girl
Lacey Chabert stars in this adorable Hallmark movie about star-crossed lovers from different sides of the track (kind of). If that name sounds familiar, you might be a fan of the Tina Fey/Lindsay Lohan classic, Mean Girls. Honestly, who isn't?
Yep — Lacey Chabert is the girl you can thank for being the inspiration behind one of the most quotable lines in cinematic history. "And none for Gretchen Wieners. Bye." She's also the girl you can thank for some of the best Hallmark movies of recent years. Chabert is the star of such Hallmark originals as A Family for Christmas, The Tree That Saved Christmas, A Christmas Melody, and more titles with word "Christmas." Sure, Chabert might be a Hallmark Christmas star, but she also shines pretty brightly in elevators. 
In Elevator Girl, Chabert plays Liberty — a beautiful, free-spirited gal who may not have much, but works hard for every penny earned. When a chance meeting in an elevator leads to love for Liberty and wealthy corporate lawyer Jonathan, a bit of hilarity (and a lot of adorableness) ensues.
A Crush on You is basically a modern day You've Got Mail
You've got mail! If you didn't read that in the friendly robot voice popularized by AOL in the '90s, you might be too young to remember the heyday of email and instant messaging. Lucky for you, Nora Ephron immortalized a beautiful little piece of '90s nostalgia in her classic romantic comedy, You've Got Mail, starring Meg Ryan and Tom Hanks. 
While the rom-com's integral plot device, AOL Instant Messenger, closed down shop in December 2017 — You've Got Mail perfectly portrays the universal feelings of falling in love, accepting the changes life throws your way, and moving on the best way you know how. 
If you're a You've Got Mail superfan, you'll be happy to hear that Hallmark has its very own version of the '90s classic. A Crush on You comes complete with a lovelorn guy, a charming gal, completely made-up email servers (sorry, 97mail.com is not a thing) — oh, and a fateful case of mistaken identity. Could your fairytale be waiting for you in your spam folder? This Hallmark original will definitely leave you just a tad more excited to answer those emails on Monday morning. 
Betty White will steal your heart (and make you cry) in The Lost Valentine
Best known for her portrayal of the crazy lovable (and adorably ditzy) Rose Nylund on the classic '80s sitcom The Golden Girls, Betty White has made a name for herself as one of America's — nay, the word's — most beloved treasures. She's super talented, deliciously snarky, and has a mouth that could make a pirate blush. To put it simply, this golden gal ain't your grandma's grandma. 
But in Hallmark's The Lost Valentine, White leaves her bad grandma image behind to embrace her softer, more romantic side. Who would have thought that the woman who serves up wisecrack, foul-mouthed grandma vibes on a daily basis could also have you reaching for a box of tissues and a pint of mint chocolate chip? 
White plays Caroline, a woman who returns to the same train station every year to wait for her husband — the love of her life who went missing in WWII, never to be heard from again. Watch this one when you need a good cry — and then have a good laugh later by reliving some of White's most infamous moments. 
You can take the boy out of the country, but you can't take A Country Wedding out of the boy
Is your family laying down some serious pressure for you to just get hitched already?  Are you always the bridesmaid but never the bride? Do you find yourself spending all your hard earned money on gifts for your soon-to-be-bride friends (instead of on pizza, like the Lord intended)? If you answered yes to any of these questions, this next Hallmark original is just for you. Because who needs an actual wedding when you can just watch one play out on television while lounging around in your favorite leggings like the beautiful couch panini you are?
Starring Jesse Metcalfe, the hottie with the body from classics like Desperate Housewives and John Tucker Must Die, Hallmark's A Country Wedding tells the story of Bradley (Metcalfe), a rising country music star who visits his tiny hometown only to fall right back in love with his former sweetheart, Sarah (Autumn Reeser). There's just one problem — Bradley's engaged. Cue gasps!
A Country Wedding has an undeniably predictable plot, but you should absolutely give it a watch for Metcalfe's country accent — and his surprisingly great voice. 
Divorce drama makes Autumn Dreams come true
Despite what Sarah Jessica Parker and Jenna Fischer's silver screen efforts would have everyone believe, divorce is never easy — nor is it particularly heartwarming. Luckily, Hallmark's romantic comedies are magical places where everyone finds their soulmate and divorce isn't even an option on the marriage menu — right?
Well, not exactly. In Hallmark's original movie Autumn Dreams, divorce is very much on the table — as the centerpiece, if you will! Young and crazy-in-love, teenagers Annie (Jill Wagner) and Ben (Colin Egglesfield) romantically elope, only to be caught red-handed by Annie's dad who drags the couple home to have the new marriage annulled. Cut to 15 years later — Annie is engaged to Joe, Ben is engaged to Jovanna. Oh, and as you probably could have guessed, Annie and Ben's marriage was never actually annulled. 
Will they get divorced? Will they realize they've always been in love? Will Joe and Jovanna start a family and get super creative with the letter "J?" The answer to one of these questions is yes — or, alternatively, "I do."
Candace Cameron Bure leaves behind Full House for a house of lies in A Bone to Pick: An Aurora Teagarden Mystery
By now, you've probably already binge watched every episode of Jessica Jones that Netflix has to offer. Krysten Ritter's portrayal of Marvel's troubled detective-turned-superhero is absolutely an answer to a call for more badass lady leads, but Jessica Jones isn't the only mystery-solving maven on the silver screen. The Hallmark Channel has three names for you — Candace Cameron Bure. 
Sound familiar? Famous for playing D.J. Tanner on Full House (and Fuller House), as well as ruffling a few feathers as a former co-host on The View, Bure put on her crime-solving cap in 2015 and stepped into the role of Aurora Teagarden for a series of Hallmark Channel movies. 
Based on the mystery novels by author Charlaine Harris, the Aurora Teagarden Mystery movies follow Hallmark's resident hero, Aurora Teagarden, as she braves haunted houses and shady neighbors to uncover the truth. In the case of A Bone to Pick, the first movie in the Hallmark series, Teagarden also happens to uncover, well, some bones. Oh, Mylanta!
Jennifer Esposito is making a list, checking it twice, and getting it all wrong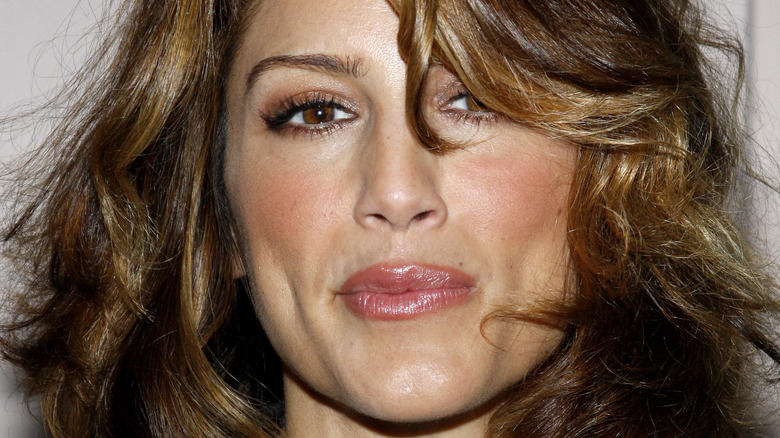 Tinseltown/Shutterstock
It's no secret that people love lists — and in this day and age, they're kind of inescapable. Everywhere you click, there's a new listicle waiting for your limited attention span. It's likely you have your own ever-growing, never-ending mental list of to-do items taking up precious space in your mind as you read this list. And don't forget about the best list of all — the infamous Amazon wish list (aka the mother of all hint drops). 
In Hallmark's The Wish List, Jennifer Esposito plays Sarah, a list-loving lady who decides to take control of her dead-end dating life by listing all of her must-haves in a future romantic partner. Much to her surprise, she falls for the guy who checks the boxes she never knew she had — after she's already met the man who, on (literal) paper, looks like Mr. Right. Will Sarah stick to her list — or is she about to find out that she just wasted a whole lot of paper?
Annie teaches Harold How to Fall in Love with himself in this clever play on the movie makeover trope
If you're a romantic comedy fan, you're likely well-acquainted with the movie makeover trope.  Think Mia's makeover in The Princess Diaries, Laney's makeover in She's All That, and Allison Reynold's Breakfast Club makeover — the last of which the "Basket Case" herself, Ally Sheedy, was not a fan. 
The makeover recipient is almost always a woman — which is kind of problematic, if you think about it. And honestly, what woman even has time for one of those ridiculous shopping montages? 
How to Fall in Love is Hallmark's ultra unique and refreshing take on the overplayed makeover trope. The adorable rom-com centers around Harold, a man plagued by insecurities from his days as an "ugly" kid, and Annie, a woman who's always been the prettiest girl in every room. Harold is objectively hot, but he wears glasses to indicate his past as a nerdy, awkward teen. Still, Annie takes it upon herself to make him over and coax him out of his shy, safe shell — not realizing she's about to fall face first into a big puddle of love. 
Emma ditches fairytales for blog posts in Love by the Book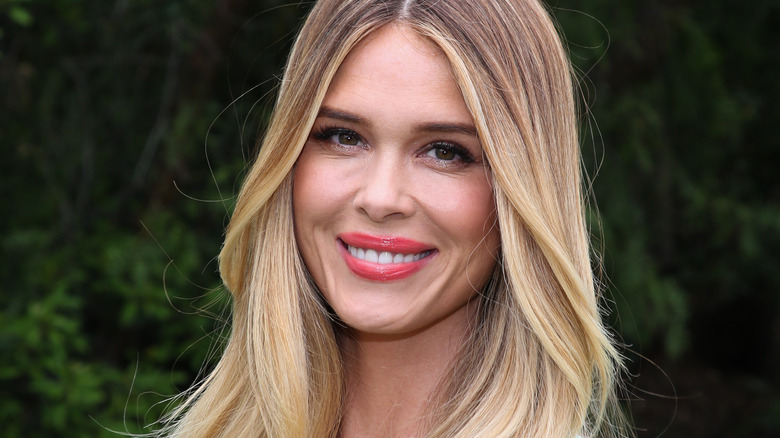 Paul Archuleta/Getty Images
You've got to admit that fairytales are kind of hard to beat. Magic, unicorns, witches, houses made of candy, frogs-turned-princes — a good fairytale really does have something for everyone, even the dark and twisty types. 
If you've wondered how the centuries-old fairytales fed to you as a kid would play out in present day, you're not alone. Lucky for inquiring minds, Hallmark has an idea of what a modern fairytale might look like — complete with a beauty, a boy, and a blog. 
In Love by the Book, Leah Renee plays Emma, a fairytale-obsessed romantic and proud employee of a quaint (and failing) local bookstore. When handsome business guru Eric suggests she start a blog to spark a boom in the bookstore's business, Emma is less than thrilled. How could Emma know that the blog will be the very thing to — spoiler alert — inspire her own fairytale romance? 
Move over, Ariel. There's a new girl vying for Prince Eric's heart — even if she doesn't have gadgets and gizmos aplenty.