The Untold Truth Of Abby Lee Miller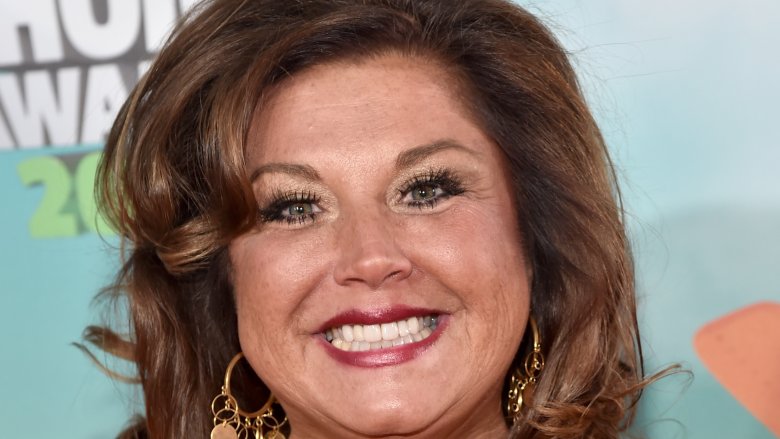 Getty Images
Dance Moms, Lifetime's hit reality show following the Junior Elite Competition Team from Abby Lee's Dance Company in Pittsburgh, Pennsylvania, debuted on July 13, 2011. Not only were audiences introduced to the cut-throat, highly-competitive, often dramatic world of competition dance, they were also introduced to possibly the most cut-throat, highly-competitive, dramatic dance instructor of them all: Abby Lee Miller. 
Known for her boisterous, no-nonsense attitude seen on the show, Miller quickly rose to fame for being, well, kind of mean. Access Hollywood described Miller as being "both one of the most beloved and one of the most despised women." Miller's response? "Thank you!" 
The Dance Moms matriarch doesn't seem to pay an awful lot of attention to her haters. "A teacher's success is based solely on the success of her students," Miller told Access Hollywood in 2014. "And with that said, I think I'm pretty darn successful." Successful as she may be, Miller has certainly experienced her fair share of drama — and not just while the camera were rolling. Here's what Dance Moms will never tell you about Abby Lee Miller. 
She gets it from her mama
Looks like the apple doesn't fall very far from the tree!
According to Abby Lee Miller's own website, her mother, Maryen Lorrain Miller, was "the one who started it all." Born Maryen McKay, she moved to Florida from Pennsylvania at the tender age of 18 to open her very first dance studio, with possibly the catchiest name: Swing and Sway with Maryen McKay. After owning and operating multiple successful studios in the Miami area, McKay moved back home to Pennsylvania, married George L. Miller, and eventually gave birth to her only child, Abigale Lee. 
Despite her tough exterior, Abby Lee Miller has never been shy about the admiration and love she holds for her mother. So when Maryen passed away from lung cancer on February 8, 2014, her only daughter was understandably devastated. "Maryen Lorrain Miller is performing her Last Dance," Miller tweeted on the day of her mother's death, along with a vintage photograph of a young, dance costume-clad Maryen. "Please keep her in your prayers." 
At 14, she opened her very first dance company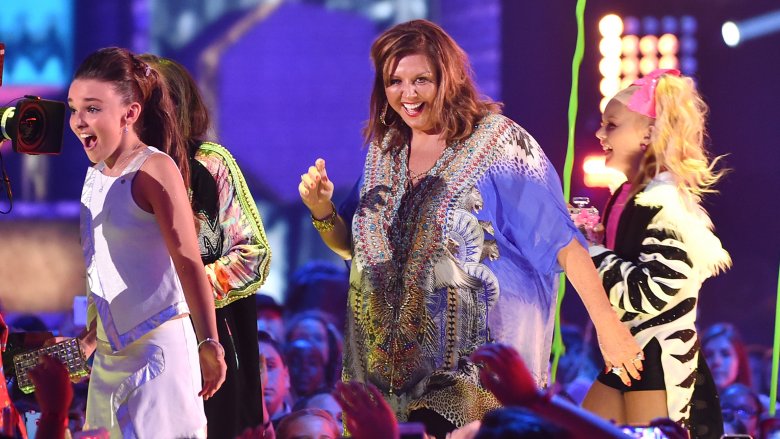 Getty Images
Lover her or hate her, you've got to give Miller's unwavering dedication to dance some serious props. 
Obviously taking a page out of her beloved mother's book, Abby Lee Miller was only a teenager when she opened her first dance company — though she was even younger than the 18-year old Maryen McKay. According to the Dance Moms page on Lifetime's website, Miller was just 14 years old when she started The Abby Lee Dance Company. 
Interestingly enough, Miller says that her mother never pushed her to pursue dance — she actually pushed her in the opposite direction. Though she was allowed to take dance classes at her mother's studio, the Dance Moms star says she also actively participated in the Girl Scouts, took clarinet, sewing, roller skating, and ice skating lessons, and even attended charm school!
However well-rounded Miller's mother wanted her daughter to be, you just can't stop fate. After accompanying her mother to multiple dance conventions, Miller says she quickly became interested in a "new thing forming" called dance competitions. The rest, as they say, is television history. 
I don't envy my students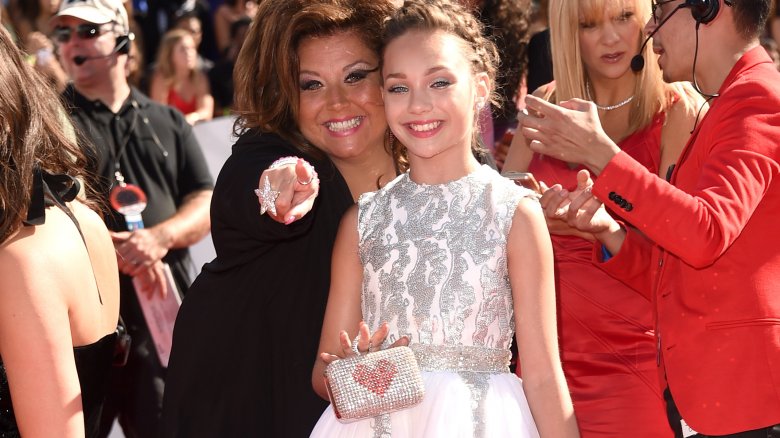 Getty Images
Some people say that "those who can't do, teach." But if you were to ask Abby Lee Miller, she'd tell you those people have it all wrong. According to Miller, she didn't resort to being a dance instructor because she couldn't make it as a performer. Instead, she decided to pursue a career teaching dance because she didn't want to be a performer — and still doesn't. 
"I hate to be onstage [and] never enjoyed performing," Abby writes in her Dance Mom's cast profile. "That's one reason why I am a great teacher ... I don't envy or compete with my students."
And it's a good thing Miller doesn't feel the need to compete with her students. According to her cast profile, the infamous instructor estimates that she's taught somewhere between 3,000 and 4,000 students since opening her first dance studio in 1980. A small army of professionally trained dancers? Talk about having some tough competition! 
She blamed Dance Moms producers for her weight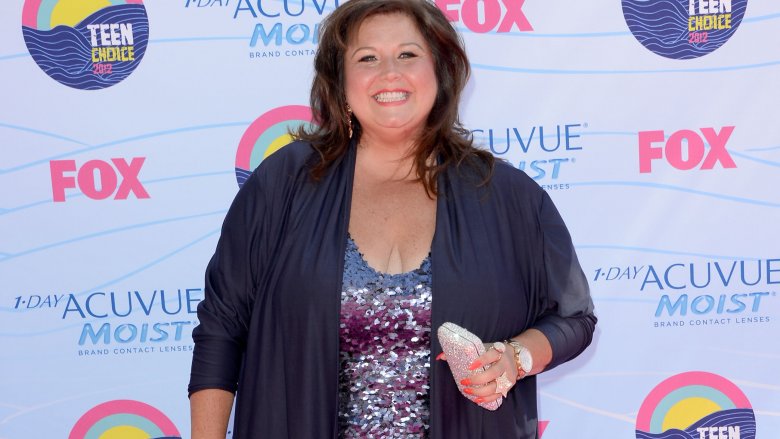 Getty Images
The year 2015 saw a seriously slimmed down Abby Lee Miller — an accomplishment that wasn't even on the Dance Moms star's busy agenda. According to Miller, caring for her ailing mother during the last six months of her life took a toll on her health — both physically and emotionally. She detailed to Extra how, towards the end of her mother's life, she couldn't handle even the smell of food without becoming ill. And since her mother couldn't eat, Miller said, "I wasn't eating, either." 
Though many speculated Miller had undergone lap band surgery to lose the pounds, the star was quick to dismiss those claims. "That would have been easy," she said of the idea in a 2015 interview with People. 
However, Miller was singing a different tune in 2017 when, after leaving Dance Moms, she revealed her plans to go through with gastric sleeve surgery that would remove 80 percent of her stomach. Before the procedure, Miller dished to ET that her former Dance Moms producers were partially to blame for "keeping" her overweight — claiming that they would offer her a "hoagie sandwich or Italian sub," even though she was trying to be vegan. 
One of her students hit her with an assault lawsuit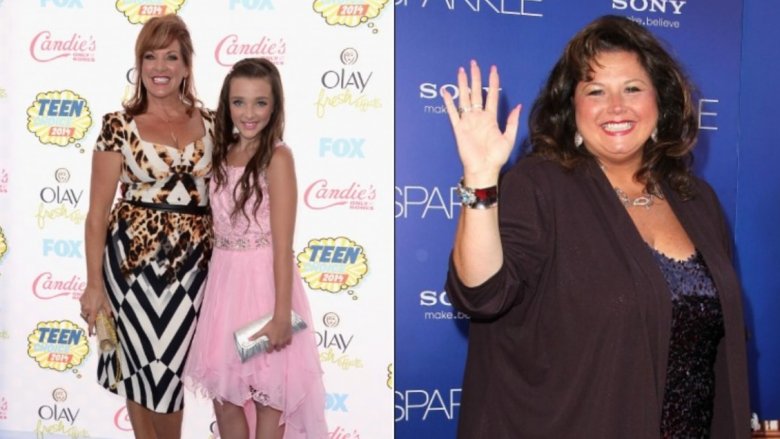 Getty Images
In late 2014, the Dance Moms star found herself in the center of a not-so-flattering spotlight when it was reported that a former student was suing Miller for assault. That student, Paige Hyland, alleged that Miller had "engaged in conduct that caused [Hyland] to reasonably believe that she was about to be touched or harmed in an offensive manner." Yikes. 
The 2015 lawsuit was actually the second to come from Hyland and her family. The first, filed in 2013, came in the form of a $5 million dollar lawsuit (including claims of emotional distress and assault) after a violent (and televised) altercation between Miller and Hyland's mother, Kelly Hyland.  According to the Hylands' complaint (via Deadline), "Miller is paid to be abusive and bullying to her students and provoke arguments with the mothers in front of the children." Worst Yelp! review ever. 
Thankfully, Miller and Hyland were able to bury the hatchet — in some shiny new floors. TMZ reports that Kelly Hyland dropped the charges against Miller on one condition — the show had to pay to have Hyland's floors replaced due to damage suffered during production. You could say these two have swept things under the rug. 
That's not the kid I raised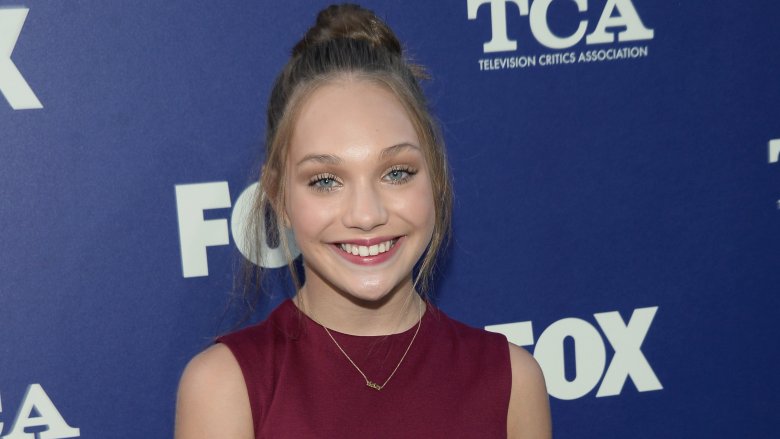 Getty Images
While she doesn't have any children of her own, the Dance Moms instructor has admitted to feeling like a mother to her students. Perhaps most notable of these students is Maddie Ziegler, the pint-sized prodigy who became a household name after showcasing her skills in Sia's "Chandelier" music video when she was only 11 years old. Since then, Ziegler has gone on to dance in multiple music videos, judge up-and-coming dancers on So You Think You Can Dance: The Next Generation, and perform in movies including Ballerina and The Book of Henry. 
The girl is undoubtedly a star in her own right — and while Miller claims to be happy for the teen, she admits she's disappointed that Ziegler hasn't shared her successes with her former teacher — noting that Ziegler's post-Dance Moms career has been largely dance-centric. "Absolutely, [I'm disappointed]," Miller said in the Lifetime special Dance Moms: Abby Lee Tells All (via Us Weekly). "Cause that's not the kid I raised."
She left Dance Moms because she felt manipulated, disrespected, and used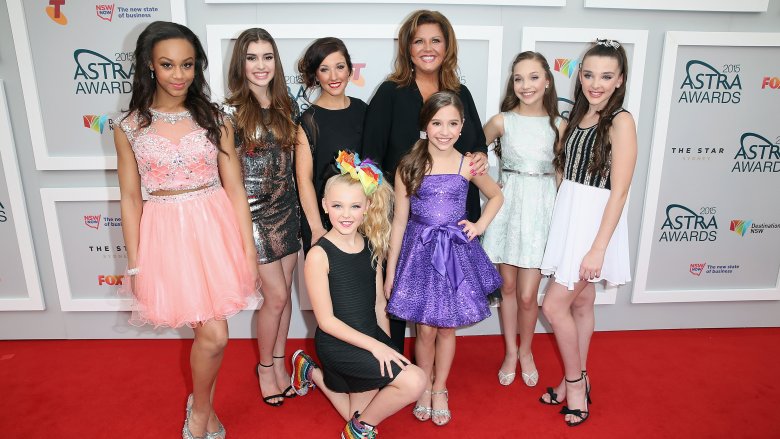 Getty Images
If you've ever felt that your job doesn't give you the respect you deserve, you're not alone. Celebrities have been known to fall victim to horrible bosses, too — just ask Abby Lee Miller. 
On March 27, 2017, Miller made some major headlines when she took to Instagram to announce her departure from Dance Moms. "I will no longer take part in Dance Moms," Miller wrote (with a lot of help from her caps lock key). "I don't have a problem working with any kid," she continued. "I just have a problem with being manipulated, disrespected, and used ... by men who never took a dance lesson in their lives." 
The announcement seemed sudden, but Miller says her departure was "a long time coming." Dishing all the dirty details to People, Miller claimed the producers gave other people creative credit for her ideas, staged drama in front of paying clients who weren't a part of the Dance Moms franchise, and expected her to participate in meetings and pre-production without compensating her for her time. Sheesh.
However, Miller is open to possibly returning to the show one day, telling People, "A lot of things would have to change."
Orange is the new black
Unfortunately for Abby Lee Miller, her lawsuit woes proved to be inescapable. The former Dance Moms star's courtroom drama with Kelly Hyland was child's play compared to what was coming next.
In October 2015, Miller was indicted by a Pittsburgh grand jury on bankruptcy fraud charges. If that sounds super serious, that's because it is. Miller stood accused of hiding upwards of $750,000 in secret bank accounts after lying about her income so that she could file for bankruptcy, according to People. The disgraced dance instructor received her sentencing over a year later in May 2017 — one year and one day in federal prison, followed by two years of supervised release. 
While a year may seem like a blip on the radar in the scheme of things, any amount of time spent in federal prison can be, well, traumatizing. Miller expressed her prison fears to People, saying, "I'm afraid of being physically abused or raped. I have to stay busy. If I thought about it every day, I'd just sit around and cry."
I am a better person for this experience
Maybe prison wasn't as bad as she'd expected it to be. 
Reports started swirling in early 2018 that Miller was on track to be released from behind bars in February — several months earlier than her originally scheduled release date. While Miller herself neither confirmed nor denied the validity of the rumors, she did take to Instagram to post a glowing update on her life for inquiring minds. The (now-deleted) post (via People) featured a smiling Miller surrounded by loved ones, wearing a prison uniform, and looking drastically slimmer. Though Entertainment Tonight had reported Miller's weight loss only a few days earlier, the proof was in the pudding — err, photo. 
The sweet, surprising photo was accompanied by a long caption from Miller, who wrote positively of her prison experience: "I have made friends with both inmates and staff, I've tried to better myself, participated in anything offered to me, and I am a better person for this experience." In late March 2018, Miller was released from prison and transferred to a halfway house. 
Her doctor feared she was going to die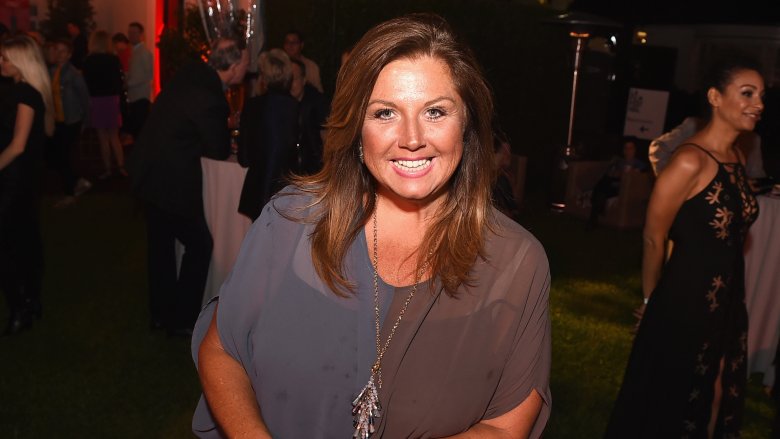 Getty Images
Just when things started looking up for Abby Lee Miller, the unthinkable happened. 
According to Extra, Miller was rushed to into emergency spinal cord surgery during the early morning hours of April 17, 2018, for a mystery spinal infection. It was a lengthy, four hour surgery — a life or death situation. The orthopedic spine surgeon who treated Miller, Dr. Hooman M. Melamed, detailed the severity of the situation to People. "She was completely paralyzed from the neck down," said Dr. Melamed."If we didn't do something, she was going to die."
However, just one day after Miller's life-saving surgery, the star was hit with a devastating diagnosis: cancer. According to Dr. Melamed, Miller's mystery spinal infection was actually a type of non-Hodgkin's lymphoma, noting that the diagnosis was preliminary and "pending pathology and oncology results." 
Miller's former student and Dance Moms star, JoJo Siwa, visited her former dance mentor in the hospital soon after the diagnosis was announced. "She's not good, but she luckily is in good spirits," Siwa told Entertainment Tonight. "It's so heartbreaking to see what's going on. It's so, so heartbreaking." 
Here's hoping Miller will keep those good spirits and bounce back stronger, healthier, and ready to tackle life by the horns. You've got this, girl.