Lip Oil Vs. Lip Balm: Which Is The Best Remedy For Hydrating Chapped Lips?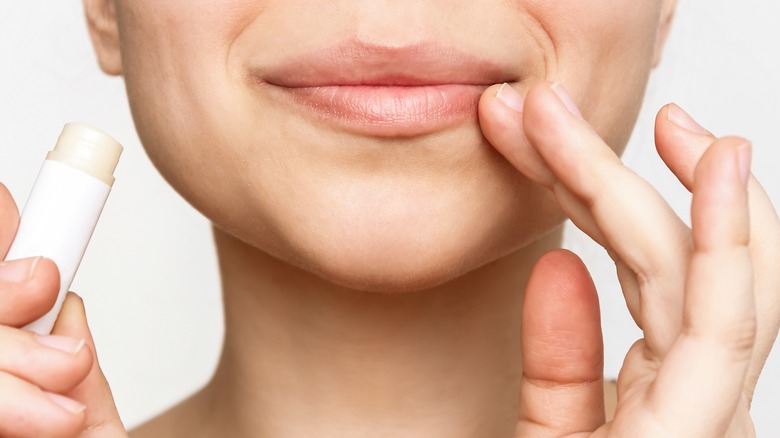 Marina Demeshko/Shutterstock
Wintertime is marked by cozy sweaters, warm drinks, happy times, and, sadly, chapped lips. It's a seemingly small problem that can quickly dampen the fun times with painful, tight smiles and even occasional bleeds. This common condition has a simple cause. Dermatologist Dr. Daniel Glass explained to The Guardian that indoor heating and cold weather lead to chapped lips because they loosen the flexibility of keratin, a vital protein that's present in the top layer of your skin.
Another common reason for dry lips may be a bit surprising: lip-licking. It's only natural to lick your lips to give them some much-needed moisture, but it may add fuel to the fire. When you lick your lips, you coat them with saliva, which will eventually evaporate and leave things to only feel drier and more uncomfortable. It could even cause extra irritation due to the enzymes present in your saliva, per The Dermatology Institute of Boston. 
If the cold weather has left you with dry and chapped lips, don't panic. Your lip problems are likely to be short-lived, as the Cleveland Clinic promises, thanks to two hydrating heroes: lip oil and lip balm. While they're both great at their specific jobs, one has the upper hand in alleviating the discomfort caused by winter's wrath.
A lip oil is key to achieving nourished lips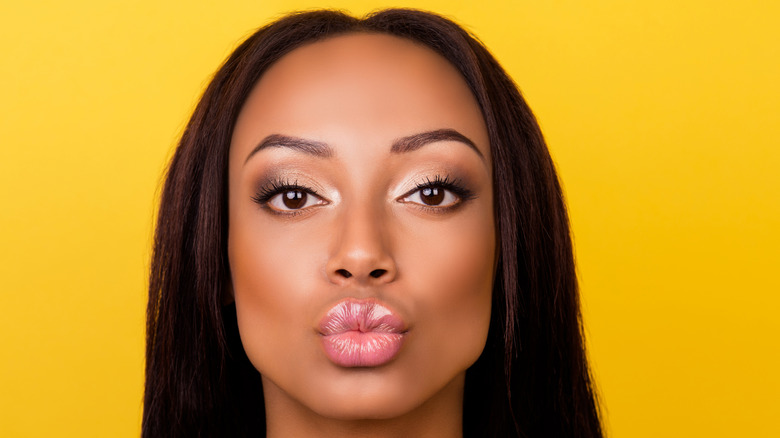 Deagreez/Getty Images
While lip balms have been the go-to cure for dry lips for years, lip oils often prove to be far more effective. Crucially, your lip balm only hydrates on the surface level to provide immediate relief. Speaking to Well + Good, Dr. Lily Talakoub, a board-certified dermatologist, explained: "A lip balm contains waxes that prevent moisture from evaporating from the top layer of the lip." 
You can get more out of your lip balm by picking the correct formulation. Fellow board-certified dermatologist Dr. Mary L. Stevenson strongly recommends choosing one packed with moisture-locking ingredients like shea butter, beeswax, white petrolatum, and ceramides (via NBC). On the other hand, lip oil is rich in emollients that penetrate through the top layer of your skin and target hydration to a deeper level. Further, this avoids the constant urge for reapplication that comes with a lip balm, per Shape. 
With oil, you get the best of both worlds: The nourishment of a lip balm and the shine of a gloss, and all without the agitating sticky feeling that comes with both, as Harper's Bazaar notes. Lip oil has a more versatile application, too. You can apply it directly onto your lips, on top of your lipstick, or keep it on overnight to wake up to healthy and hydrated lips (via Charlotte Tilbury). 
Show your lips some extra love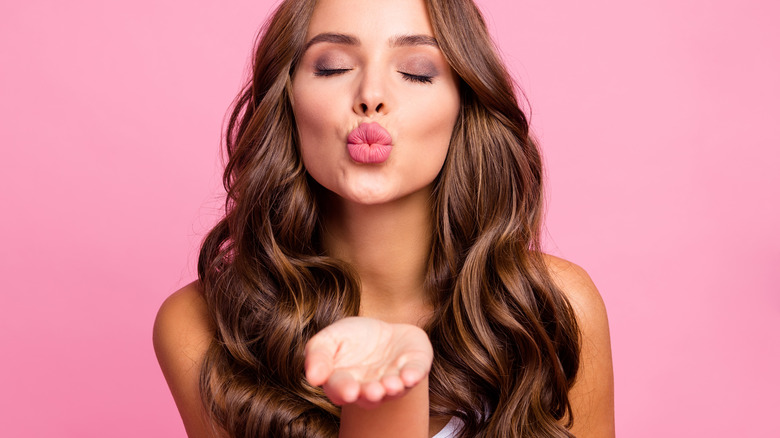 Roman Samborskyi/Shutterstock
In addition to using lip oil, there are a couple of other things you should do to help your chapped lips recover. To start, always ensure you're choosing the right lip care products. If you find your lips getting chapped in the summer, sun exposure might be the culprit. The skin on your lips is more susceptible to sun damage because of how delicate it is, as noted by the Cleveland Clinic. To combat this, you'll need a super moisturizing lip product enriched with SPF. 
Further, avoid using lip products with irritant ingredients like camphor, menthol, eucalyptus, and any artificial fragrances and flavorings. According to Self, you can also incorporate a gentle exfoliating lip scrub into your weekly routine to prevent you from picking at your flaky lips and to give them a smoother feel overall. Byrdie recommends applying a coat of lip balm after the exfoliation to seal in moisture and protect your lips against further damage.
Lifestyle changes may also be beneficial in your soft lip journey. If the air in your home feels too dry, you should get a humidifier to bring some freshness and moisturization back into your space, per Vogue. Since dry lips are caused by dehydration, drink plenty of water throughout the day. To prevent irritation and further dryness, you should also avoid consuming spicy and salty food.