The Best Mouth-Watering Gourmand Fragrances To Try Right Now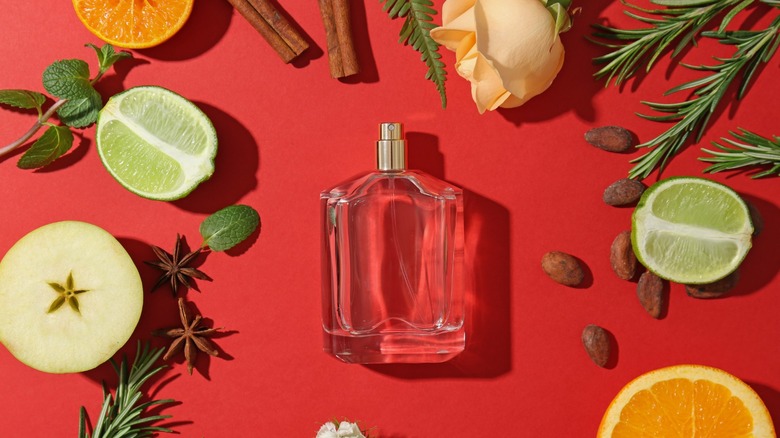 New Africa/Shutterstock
Food, smell, and memory are each uniquely intertwined with one another. As John S. Allen wrote in "The Omnivorous Mind," which discusses the role food plays in our lives, "The taste, smell, and texture of food can be extraordinarily evocative, bringing back memories not just of eating food itself but also of place and setting." Perhaps this is why gourmand perfumes, which are perfumes made with edible ingredients or ingredients that smell like foods, can be so powerful both to wear and to smell. 
Gourmand perfumes are made for those who love food, and for those who love to revel in their senses. According to Eater, new technologies mean that chemists and perfumers are able to capture the scents of various food items for use in fragrances, unlocking what are, in essence, entirely new recipes for perfumes with never-before-used ingredients. While traditional gourmand scents include ingredients such as vanilla, coffee, almonds, caramel, and chocolate — and many gourmand perfumes still include such ingredients as their base notes — fragrances with unique scents and accords now abound. And the simple fact is, food makes most of us pretty happy. In fact, there is a reason why we find the gourmand scent of vanilla so attractive: it has been shown to relieve stress. 
Here are some of the most intriguing, mouth-watering gourmand scents out there. 
Pistachio by DS & DURGA
One of the most sensational gourmand fragrances available is the cult favorite "Pistachio," by DS & DURGA. According to one part of the two-part team of married creators, David Seth, aka DS, "We made this on a whim; a fragrance with no story that just evokes the fun of pistachio (especially as a dessert flavor)." 
But there is something of a story behind the smell: after creating a small batch of just 100 bottles, samplers were hooked on it. With top notes, heart notes, and base notes that all include pistachio, as well as notes of cardamon, vanilla, patchouli, and roasted almond, this scent is sweet, warm, and all around delicious. 
But the price tag is steep for such a gourmet scent: $190 for 50 milliliters. Should that be cost prohibitive, DS & DURGA offers a build-your-own sample kit for $40, which can include Pistachio.
Bistro Waters by DS & DURGA
Another colorful cult classic from DS & DURGA is "Bistro Waters," an evocative scent that embodies both gourmet and gourmand to the utmost. The fragrance was, in fact, created as an homage to a bygone era of fine dining. According to co-creator David Seth, "This is a snapshot of a 90s-00s NY Bistro when tourists ordered peartinis, veggies got fancy, & people wore fresh aquatic fumes." 
DS sets the scene: "It's electric: yelling orders, laughter, oft sh*tty music your lame boss makes you listen to on repeat, crazy line cooks, drinking, first dates, possibilities, old friends. The world outside is cut off by the bistro's walls. Inside, we escape or go inwards to experience the scene, the aroma, the food."
"Bistro Waters" features highly unique notes. Its top notes include lime flower water, coriander seed, and pear. Its heart notes include mandarin, bell peppers, and pea flowers. And its base notes include basil, nutmeg, and moss water. "Bistro Waters" is an exclusive scent, retailing at $190 for 50 milliliters. 
Floral Marshmallow by Dossier
Perhaps you're looking for a gourmand scent that airs slightly on the juicy side. Dossier's "Floral Marshmallow" is a perfect balance of fresh and sweet. Known for its dupes of designer perfumes, this scent is inspired by Kilian's "Love, Don't Be Shy" fragrance, which retails at $265 for 50 milliliters. Dossier's version is a delicious reprieve from the pricey original, listed at just $39 for 50 milliliters. 
Its base notes of amber, vanilla, and musk set the sugary tone of the fragrance, while heart notes that include orange blossom and jasmine give the scent its floral zing. Its top notes of marshmallow, neroli, and bergamot then round out the fragrance in a perfect blend of sweet and floral citrus. Dossier's fragrances also feature vegan and cruelty-free ingredients. 
Gourmand White Flowers by Dossier
A dupe of Viktor & Rolf's "Flowerbomb," which retails at $129 for 50 milliliters, this $29 scent from Dossier, "Gourmand White Flowers," pairs delicate white flowers with gourmand caramel and vanilla notes. This fragrance includes base notes of musk, caramel, vanilla, and patchouli. 
Its heart notes include white flowers, orchid, and rose invoke a sophisticated floral arrangement. And its top notes of green tea, berries, freesia, and bergamot add a light, but not less sumptuous, complement to the sweet scent. 
Sweet Ash by Snif
Perhaps you're looking for a gourmand scent that veers slightly on the woodier side, one that invokes the sweetness of morning light in the forest, and the depth of the soil beneath your feet. Look no further than "Sweet Ash" by Snif. With notes of vanilla bean, tonka, patchouli, bergamot, fit balsam, juniper, and white moss, this fragrance is like a beautiful forest in a bottle. 
Snif's products are vegan and cruelty-free, formulated without synthetics, parabens, pthalates, or synthetic dyes. And — even though we wish we could smell our purchases through the computer screen, first — Snif offers a free trial with your fragrance at home. Should it not be everything you hoped for, you can send it back within a week at no cost. "Sweet Ash" retails for $65 for 30 milliliters. 
Lost Cherry by Tom Ford
Another tempting gourmand scent is "Lost Cherry" by Tom Ford. Invoking fresh black cherries in the summer and the gentle sweetness of almonds, this scent embodies a complex gourmand without the sugary notes of vanilla or caramel. Complemented by notes of Turkish rose and jasmine sambac, "Lost Cherry" is an unforgettable addition to your scent repertoire. Tom Ford writes of the fragrance, "Like the plump fruit waiting to be eaten, Lost Cherry is powerful and insatiable. Notes of cherry liqueur and a touch of bitter almond drip into its heart, glossing it with a candy-like gleam."
The scent is expensive, to say the least: it retails on Sephora at $395 for 50 milliliters. But not to worry! Tom Ford also sells a travel-sized bottle of 10 milliliters for $80. 
And, if you're looking for a dupe, "Tart Deco" by Snif hits many of the same notes, including cherries, rose, and jasmine, at $65 for 30 milliliters. 
Kasbah by 19-69
The brand 19-69 features a line of perfumes and candles inspired by the counterculture movement of the midcentury. And its gourmand scent, "Kasbah," is sure to rock your world. According to the founder of 19-69, Johan Bergelin, "Stories of how Talitha and Paul Getty, Paul Bowles, Mick Jagger, Veruschka, and Yves Saint Laurent all resided in Marrakesh during the 1960s and 1970s have always inspired me. I'm intrigued by how they were enticed by the kingdom's energy and dynamic and used it for influences and escapes: clothes, colors, music, interior, and drugs. The fragrance of Kasbah is a capture of this era."
With notes of patchouli, sandalwood, and white honey for a special, sweet scent, "Kasbah" is a gourmand star. It is available on Sephora at $75 for 30 milliliters, or $30 for a 7.5 milliliter travel-sized spritzer. 
Dirty Vanilla by Heretic
For the gourmand purist, "Dirty Vanilla" by Heretic will certainly win your favor. With notes of vanilla, sandalwood, and a hint of coriander, this scent is perfect to wear on its own, or to be layered with others. While some may complain of vanilla scents that come across "too sweet," this scent does not have that effect. One reviewer wrote, "I really LOVE this scent! As others have mentioned, it's definitely a 'dirty,' earthy vanilla. Not at all sweet. I find it extremely sexy and mysterious. It's a great unisex fragrance." O
ther reviewers mentioned that the lastingness of the perfume seems to be short — perhaps due to the fact that the perfume is not made with any synthetic ingredients. But for this reason, you won't need to worry about spritzing yourself, again! The perfume retails for $165 for 50 milliliters or $65 for 15 milliliters at Sephora. 
Centuries Almond by Caswell-Massey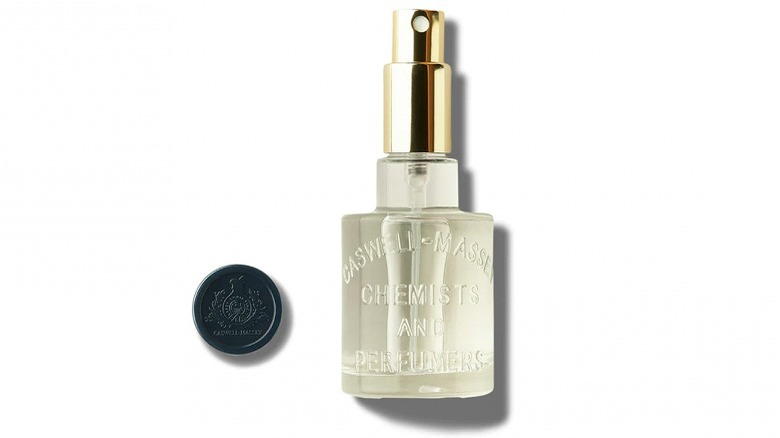 Caswell-Massey
Another perfume for the true gourmand aficionado, "Centuries Almond" is, as the name suggests, on and on almonds. An intriguing combination of savory and sweet, this scent features top notes of salty accord; this means, in non-perfume terms, the combination of ingredients produces the overall effect of a slight saltiness. Heart notes of cherry and almond flower add a succulent sweetness, while base notes of sandalwood and decadent tonka bean. 
Caswell-Massey offers a 50 milliliter bottle for $60. 
Apple Brandy On The Rocks by Kilian
Consider the red apple. Bright, simple, seductive, and juicy as can be. Kilian pairs apple with the sweet depth of brandy to produce this beautiful gourmand perfume. With notes of apple brandy, bergamot, and cardamom, you may want to lavish in this sweet and spicy perfume. 
But should you be looking for a dupe of "Apple Brandy On The Rocks" by Kilian, which retails at $230 for 50 milliliters, this version from Amore Parfums retails at $25.99 for 30 milliliters and is inspired by the original scent. 
Fresh Cream Warm Cashmere by Philosophy
The taste and smell of fresh cream, and a soft, cashmere blanket might two of life's greatest delights. Now, imagine you could revel in them both, at the same time, all day long! This is the magic of "Fresh Cream Warm Cashmere" by Philosophy. This woody gourmand perfume features base notes of vanilla bean, sandalwood, and musk, heart notes of orchid and cashmere wood, and a twist — a top note of tangerine. Playful, delightful, and easy to layer with other perfumes, this subtle scent has captured the hearts of many buyers. 
"This is now my favorite gourmand perfume," one reviewer wrote. "I love this smell. I have sprayed it on every thing and thank goodness it is made for sensitive skin." 
The perfume retails at $46 for about 60 milliliters at Ulta. 
Idôle Nectar by Lancôme
For a one-of-a-kind gourmand experience, Idôle Nectar is a fascinating scent that will have you entranced. With its base of bourbon vanilla, and top notes of rose soufflé, this perfume sounds like it could be delicious dessert at your favorite restaurant. But its unexpected heart note — of popcorn accord — really piques our olfactory interest. 
Per reviewers on Ulta, this scent is quite strong and vanilla-forward, and one review describes it as more of a mature scent. Overall, more than 2,000 reviewers give this perfume 5 stars. It retails at $118 for about 50 milliliters. 
Le Passant by Ormaie
For a gourmand scent that leans more toward the herbacious side, this fragrance has you covered. "Le Passant" by Ormaie features gourmand base notes of tonka beans and vanilla, as well as the floral amyris. Its heart notes include lavandin, which is a hybrid species of lavender, and its top notes include bergamot, lavender, and marigold. The result is what we would imagine running through a field of wildflowers on a warm summer's day would smell like. 
Designed by Ormaie to reflect "a gentle masculinity," the result is "a charismatic and gourmand lavender," per Ormaie. The scent retails for $270 on ssense for a 100 milliliter bottle.