Body Language Expert Dissects Jill Biden And Doug Emhoff's Kiss That Rocked The SOTU - Exclusive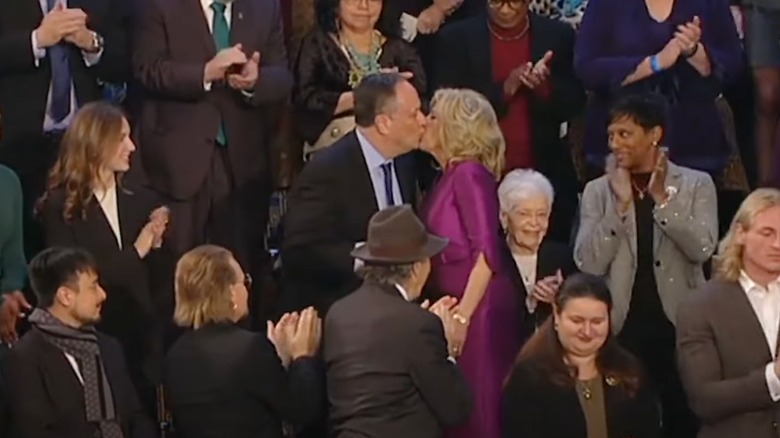 CSPAN
President Joe Biden's second State of the Union address since taking office saw the commander-in-chief rallying ordinary Americans and his fellow politicians alike to work together to get the country back on its feet (via The Guardian). Following years of turmoil, thanks to the COVID-19 pandemic and widespread economic disparity, which led to a more divided citizenry than ever before, Biden took an optimistic approach to moving forward. 
The president explained that he needed everybody's support to continue building back better, joking, "To my Republican friends, if we could work together in the last Congress, there is no reason we can't work together in this new Congress." However, despite the rousing address, social media was abuzz with an incident that took place before Biden even took the stage. 
As a video shared on Twitter demonstrated, First Lady Dr. Jill Biden appeared to kiss Doug Emhoff, the husband of Vice President Kamala Harris, on the lips as they greeted each other in the crowd. Jess Ponce III, body language expert, communication coach, and author of "A.W.E.S.O.M.E.," spoke exclusively to The List about what was really going on in this headline-grabbing moment. 
Jill Biden and Doug Emhoff's embrace was purely a show of friendship
Twitter is aghast that Jill Biden, who's been happily married to Joe Biden for years, seemingly openly kissed another man right before his State of the Union address. "This is weird! Why is Jill Biden kissing Doug Emhoff on the lips?" wrote one user, while another quipped: "After many failed practice runs, Jill & Doug get it right!" However, according to Jess Ponce III, body language expert, communication coach, and author of "A.W.E.S.O.M.E.," there was nothing unseemly about it. 
As Ponce clarified, "From a certain angle it may appear the first lady and second gentleman are kissing one another directly the lips. However, if you look at it from a different angle you can clearly see that Jill and Doug are approaching one another for a kiss on the cheek, a common greeting for people who have a close, familiar relationship and who mutually consent to this type of interaction." There is nothing but friendly vibes on display. 
Everything about their body language confirms as much, with Ponce pointing out, "Romantic kisses typically are typically complimented with an upper-body connection." Obviously, this isn't the case here. Likewise, both parties are clearly comfortable greeting each other in this manner. The only awkwardness, in fact, comes when negotiating which cheek to kiss, which may be where the misunderstanding came from.