How To Help Someone Close To You As They Face Divorce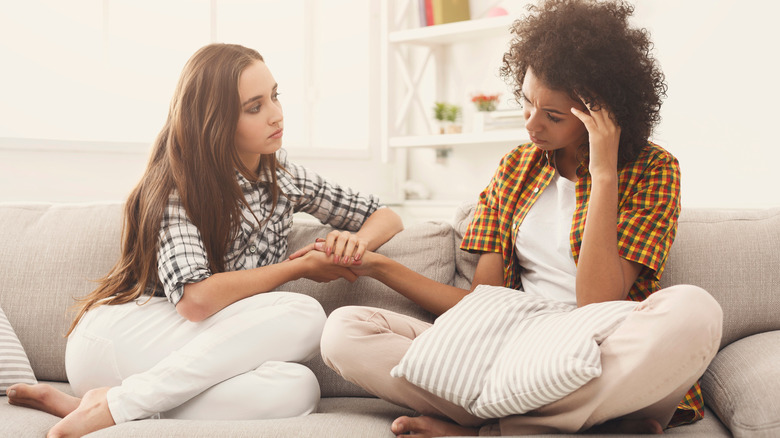 Prostock-studio/Shutterstock
We may receive a commission on purchases made from links.
Divorces can be messy, painful, and even traumatic for some. If you've been through one, you may have found yourself in situations where someone's unwitting comments or questions brought up sore memories from your recently ended relationship. Or, maybe it was just the sense of shame you felt when someone close to you implied that the marriage ended because of something you did. 
If your friend is going through a divorce, you might feel like you want to do everything in your power to make them feel better, but your intentions might not always reap the desired outcome. From offering unsolicited advice to making your friend feel like they've just lost everything that's of worth in their life, you can end up saying (and doing) the wrong thing if you're not careful, The Cut points out. 
While there are definitely some things you should not say to someone going through a divorce, Alicia Robertson, divorce coach and author of "Make Lemonade: Thrive through Divorce by Transforming Your Life," spoke exclusively with The List and shared a few other things to keep in mind if you're trying to help someone close to you as they navigate this tricky and often upsetting process.
Be aware of your own judgment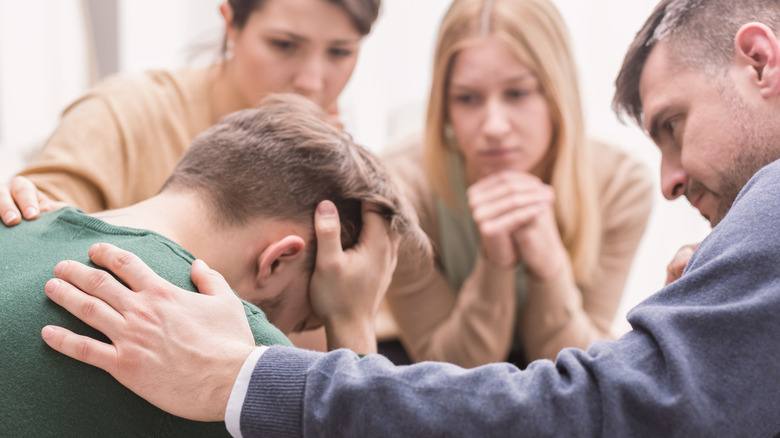 Ground Picture/Shutterstock
Your judgment surrounding the topic of divorce is something that should stay with you; it should not reach the person going through the painful experience, according to divorce coach Alicia Robertson, whose coaching business Lemonade Life helps people going through major life changes like divorce, midlife crisis, and career changes. "[The judgment] is yours to work through, and not to project on others," she added. The stigma surrounding divorce is a very real problem even in the 21st century (via Daily Mail), with women feeling more shame than men after a separation, according to a U.K. study. 
Your job as a friend or loved one is to know that you don't hold all the answers, noted Robertson. It is possible that the person going through the divorce isn't looking for you to make them feel better. Offering a listening ear, even if your loved one is being repetitive, and resisting the urge to give advice, are a few effective ways in which you can help them face this challenging time, suggests Oprah Daily.
"What people going through divorce need to have is compassion, validation, and support," explained Robertson. You can provide these three things by showing up, listening, and giving them positive reinforcement and encouragement.
Leave the professional work to the professionals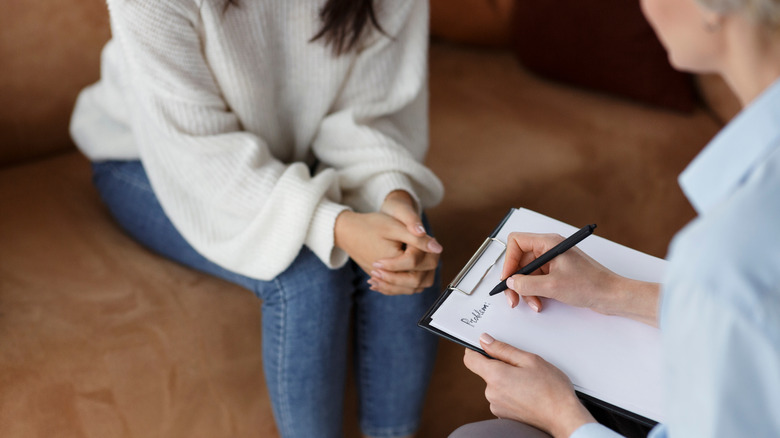 Prostock-studio/Shutterstock
While you should spend time helping your loved one find healthy ways to get used to a brand new life after a divorce, what you shouldn't be doing is undertaking the responsibility of a professional therapist, according to Robertson. 
"Recognize that you are not a professional who is equipped to deal with all the ins and outs of this experience, but you can help people find the professional support they need," she said. Divorce therapists tackle a complex set of emotions that arise with decisions related to the actual divorce, the living situation of the two parties involved, financial concerns, and even co-parenting (if that is relevant to the couple), per Good Therapy. 
Robertson also cautioned against assuming what your friend or loved one would need by way of support. "If all else fails, ask: 'How can I support you right now?' Never assume and always check in," she offered. Even if it comes as a meal you can provide daily or another need you couldn't have thought of, asking them directly for what they require can be a meaningful way to help them, reports Oprah Daily.