Is TikTok's Beloved Kosas Concealer Prone To Mold? Here's What To Know About The New Allegations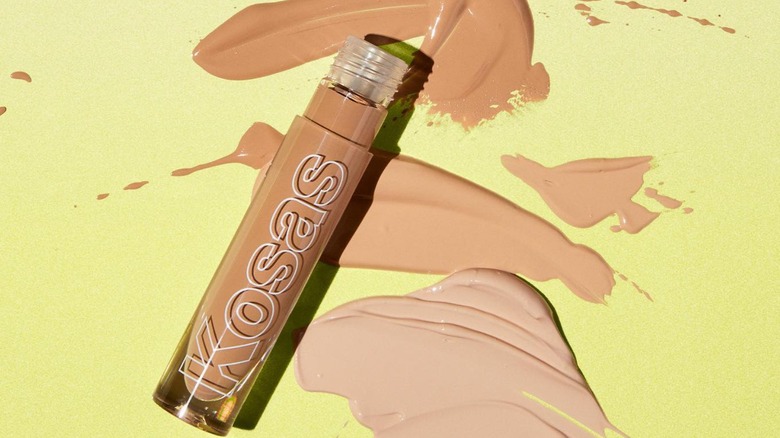 Kosas
Beauty using clean, non-toxic products is not new. "Clean beauty" has indeed become a movement. As makeup lovers seek out further information about what actually goes in the products they put on their faces, some are avoiding certain ingredients when buying makeup.
But the untold truth of clean beauty is that there's no set standard as to what it is, meaning brands are free to conceptualize their own ideas, within, of course, the regulations of the FDA. So when beauty brand Kosas hit the market, they carved out that definition for themselves. Kosas follows European standards for ingredients, which are famously more stringent than those in the U.S. Kosas claims that it "bans 2,700 ingredients" that it has deemed unsuitable for use in its cosmetics, including parabens, phthalates, petrolatum, formaldehyde, sulfates, aluminum, cyclic silicones, and more. Instead, Kosas uses natural extracts in its makeup products and emphasizes an environmentally-friendly ethos. 
Despite its ambitious intentions, Kosas has come under scrutiny after allegations made in a Reddit post that the Kosas Revealer Concealer developed mold and a rancid smell after less than a year. TikTokers then flooded the platform with anecdotes about their Kosas concealers, too, speculating that because the product uses natural ingredients they could expire. What's really going on with the beloved beauty product?
Can the Kosas concealer go bad?
TikTokers have been tossing the Kosas Revealer Concealer as quickly as the makeup product first went viral on the platform. According to the Reddit post, one consumer noticed a "blue cheese smell" after using the concealer for about nine months. Several weeks later, after purchasing a new Kosas concealer, the poster revisited the old one and claimed it had "black spots." 
A representative for Kosas pointed NBC News to its website for more information on the preservatives the brand uses, which they say are "effective preservatives and antimicrobial stabilizers which prevent against, mold, yeast, and pathogens." That is, until a certain point. It's important to always check the "point after opening" date, or PAO, that every makeup product is marked with, and the PAO for the Revealer Concealer is six months, meaning that the concealer could expire around that time. 
Per NBC News, one cosmetic chemist, Javon Ford, shared in a TikTok that the two preservatives in the concealer, potassium sorbate and sodium benzoate, are not usually considered "broad spectrum" preservatives. Ford explains that while they can be good at fighting mold, they could be less effective at combating bacteria growth, and do not work in an environment with a pH level over five. The formula is also absent of another ingredient, a chelator, that can assist preservatives in their performances. Ford says it's best to follow a simple rule of thumb: "If it smells off, or it looks off, it is off. Toss it."