The Important Foundation Swatch Step You're Probably Skipping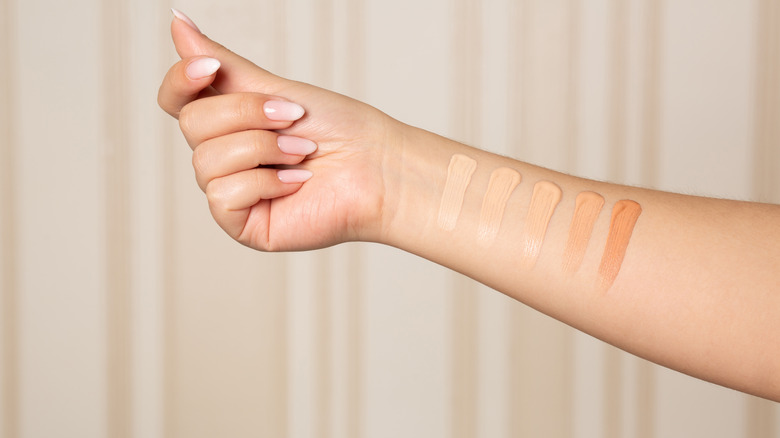 Viktoriya Pavliuk/Shutterstock
In some beauty circles, foundation is considered nearly obsolete.
We're currently living in an era where people value "real beauty," so concealing your actual skin texture and covering imperfections can be a big no-no to some. "Full coverage foundations tend to settle into fine lines and can look cakey or heavy on the skin," Monika Blunder, a makeup artist, told The New York Times. "It's so nice seeing some imperfections or texture come through the makeup." For many, foundation is still incredibly crucial, as it sets a nice and smooth canvas for the rest of your makeup. Aside from evening the skin tone and hiding blemishes, foundation makes it much easier for other cosmetics to glide across your skin.
But applying foundation is one thing. The real challenge is choosing which one would look like your second skin. Many make the mistake of selecting a foundation that looks either too light or too dark or has an entirely different undertone from your skin. The good news is, according to beauty educator Rose Siard, there's a hack you can follow when shopping for a foundation so you don't waste money on the wrong one.
Make sure to let your foundation dry completely when swatching
When swatching a new foundation, the rule of thumb is always to match the skin tone of your neck or jawline. Unless you have a completely even skin tone all over your body, you should ensure that the shade you choose matches your neck so you won't look like you're wearing a mask. "Foundation shouldn't always exactly match the skin," professional artist Marin McArthy shared with Stylecraze. "It should be a better version of your skin, especially if you are more tanned on your chest. Very often, people are very pale on their face because of sunscreen application but darker on the rest of the body."
The tricky part is when the foundation dries up a completely different shade than when it's wet. Sometimes, no matter how good of a formula the foundation has, it oxidizes differently when applied to the skin, making it darker than what it's formulated to look. And so beauty influencer Rose Siard recommends letting it dry before you head to the checkout counter and buy the whole bottle. "Don't pick a foundation until it completely dries down," she explained in an Instagram video. "With matte and long-wear foundations, you definitely need to wait to see the color." She also noted that oxidation "isn't always a bad thing." It is simply the result of the formula and your skin interacting.
More foundation swatching tips to try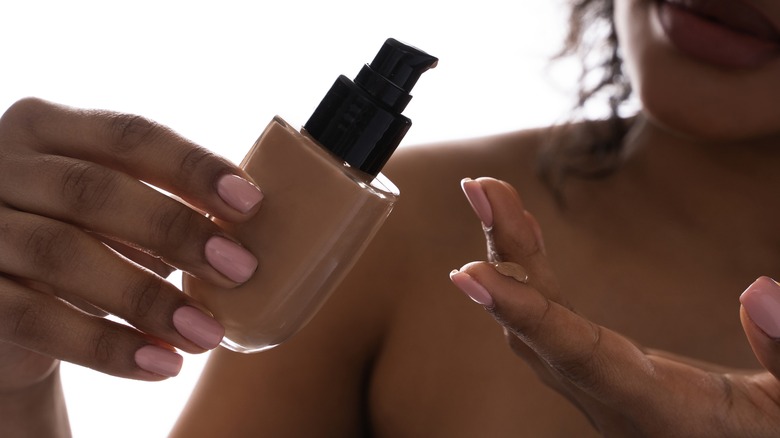 BLACKDAY/Shutterstock
Foundation doesn't come in cheap, so you must be careful about what you buy. Aside from the shade, celebrity makeup artists Daniel Martin and Allen Avendaño shared with InStyle that the finish is also a critical factor to consider. Martin recommends dewy foundation on folks with a normal or dry complexion as "too much radiance on this skin type looks even oilier, and it's not a good feeling on the face." On the other hand, those with combination or oily skin may want to stick with matte finishes, while those with mature skin should reach out for satin finishes. "More mature skin can get away with matte, but again, just like dewy skin can emphasize flaws and wrinkles, so can matte foundations because the skin has no dimension," says Avendaño.
If you want to get your money's worth and look good in your chosen foundation at all times, Mai Qunyh, a makeup artist, suggests trying it out in a natural light setting. "Indoor lighting can be dark," she told Self. "Natural sunlight is always the best to help gauge what color you are."