Contrary To Common Advice, It Might Not Be A Good Idea To Wash Your Hair Before Dyeing It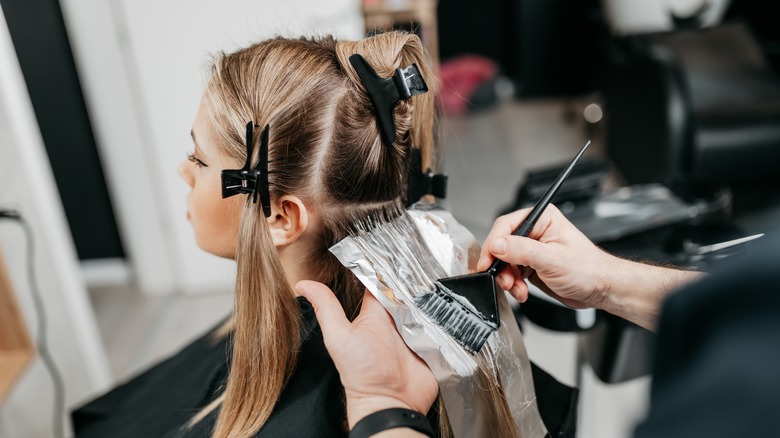 hedgehog94/Shutterstock
There are few feelings better than freshly washed hair. One of those might be the moments after getting your hair professionally dyed and styled by your favorite stylist. The Boulevard Hair Co. says spicing up your hair with a fresh dye job can help instill confidence. Whether you are enhancing your current color or going for a bold look, sitting in that salon chair can be the pick-me-up we're all searching for.
While a day spent pampering yourself at the salon can be a feel-good moment, there are ways we are all ruining our hair. Damaged hair is no fun, and more often than not, chemicals from hair dyes can cause unhealthy breaks to your mane (via PureWow). Thankfully, with some tender loving care and advice from your expert stylist, this can be avoided when getting your hair professionally colored.
However, you may be prepping for the chair all wrong. If you're washing your hair before seeing your stylist, switch up your pre-dye routine.
Skip the wash before your next hair appointment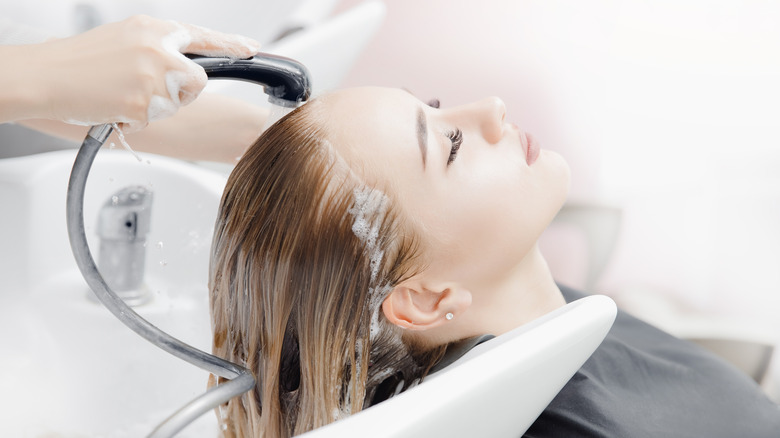 Parilov/Shutterstock
You may be under the impression that your hair should be freshly washed before hitting the salon. Some beauty blogs, like We Heart This, have advised their readers to wash their hair before dyeing it. The reason? Reassurance that there is no dirt preventing the color from sinking in correctly. However, many experts are speaking out against this practice.
"Your hair should be dirty because the natural oils help to protect against the harsh chemicals," Washington D.C. stylist Terri Fe' told Makeup. "The grease serves as an extra coating so that when we go to break down the cuticle, there's less damage and breakage to the hair and irritation to your scalp."
L'Oréal Paris echoes this sentiment. While too much grease can build up when you stop washing your hair, some oil on your scalp is an added layer of protection. Not only can it make it safer, but many dyes are also formulated to work better on dirty hair. Before you hit the salon, it's best to skip your wash day.
What happens if you wash your hair before going to the salon?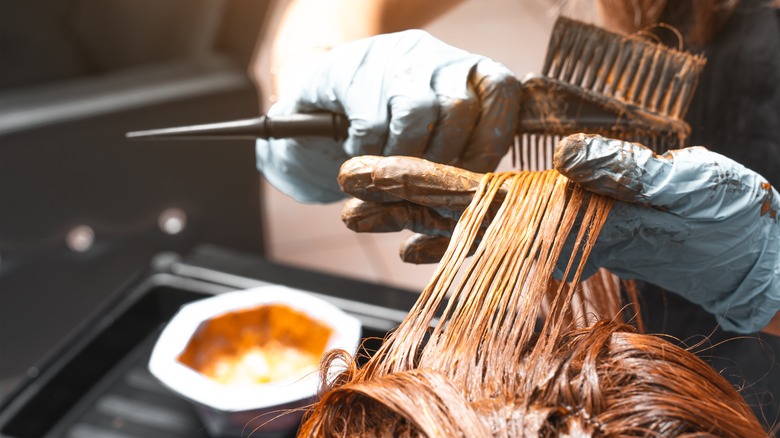 Velishchuk Yevhen/Shutterstock
Did you wash your hair before going to the salon? No worries. L'Oréal Paris recommends letting your stylist know. Hairdressers may use a dye without ammonia to protect your scalp from damage. Without your natural hair oils to protect your scalp, there is less of a barrier to prevent irritation. Your stylist may still use a dye with ammonia, you'll just have to beware of possible irritation after.
While many stylists recommend washing your hair a day or two before your appointment rather than the day of, there may be instances where washed locks are the best option. According to hairstylist Katie Collette, there are certain color changes that work best when applied to clean hair.
"Anytime you are wanting to deepen your color or add lowlights, clean hair offers the most accurate read of your natural color," She told Hair.com by L'Oréal. "This will allow your colorist the best match when determining the level of depth for your service."