Erin Andrews' Unexpected Super Bowl 2023 Outfit Change Is A Total Touchdown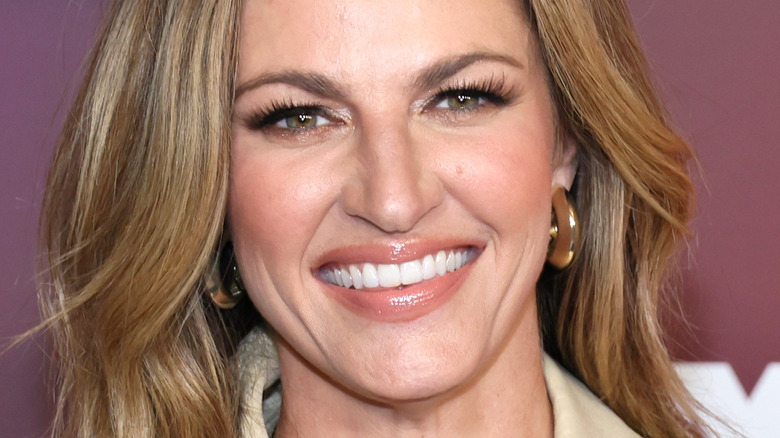 Dia Dipasupil/Getty Images
As Super Bowl 2023 kicks off, fans are eager to see Rihanna's halftime performance, the ads that will go down in history, and which team will come out on top in the end. But fans know that, sometimes, it's the unexpected details and happenings outside the big game that cause a stir. Case in point: sideline reporter Erin Andrews.
By now, Andrews is a bona fide Super Bowl pro, having reported at the event three times before (per USA Today). A celebrity in her own right, the FOX sportscaster is no stranger to making headlines for her sports commentary — as well as for her outfits.
According to The Spun, Andrews showed up to the State Farm Stadium in a white suit, alongside reporter Charissa Thompson dressed in a white suit. However, viewers and online commenters did a double take when Andrews soon ditched her all-white ensemble for something totally different.
Erin Andrews swapped her white suit for a darker evening look
Erin Andrews' stunning white suit may have worked for the pregame, but the sideline reporter was clearly ready to turn things up a notch in time for kickoff. Andrews switched into a dark suit just before the Super Bowl game started, reports The Spun. In contrast to the simple outfit she chose earlier in the day, the evening look gives a festive feeling with a printed design that catches the light.
Fans were quick to notice the outfit change, with many applauding the look on social media.
Erin Andrews' outfit is fire! Agree?

— Jason Whitlock (@WhitlockJason) February 12, 2023
However, others were more confused about the sudden clothing swap.
Can anyone tell me why Erin Andrews changed out of a white suit into an identical black one?

— Allana Tachauer (@AllanaTachauer) February 12, 2023
This isn't the first time Andrews has had a game-day outfit go viral. Last September, she generated major buzz after channeling her inner cowgirl by donning a wide-brimmed hat during a game between the Packers and the Bucs (per The Big Lead).