Mongongo Oil May Be A Key Ingredient To Silky Soft Skin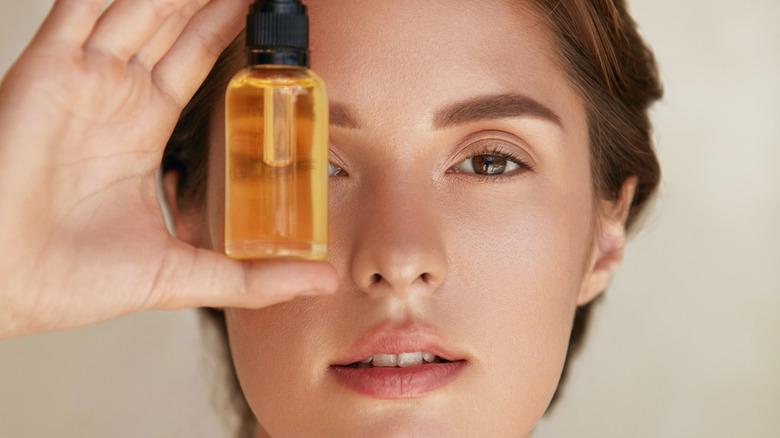 puhhha/Shutterstock
The beauty industry is becoming more health conscious, and natural products are all the rage when it comes to anything from makeup to skincare. Coconut and olive oil have outgrown the kitchen, and they now sit on the vanity next to mascara and shampoo. The popularity of all-natural products is driven by the belief that they are not a chemical threat to your skin or Mother Nature (aka they are environmentally friendly). And while well-known options like coconut and olive are A-list oils, a newcomer is stealing the spotlight.
One product that is taking over the beauty scene is mongongo oil. Mongongo oil comes from the nuts of the manketti tree, a plant native to different countries in Africa. The kernels are harvested from its fruit and then pressed to produce the oil. Per Afri Natural, it is a direct replacement for shea butter and palm oil. It is a natural substance with an array of beauty benefits. Namely, if you want silky soft skin, this previously little-known oil might be the key.
Benefits of mongongo oil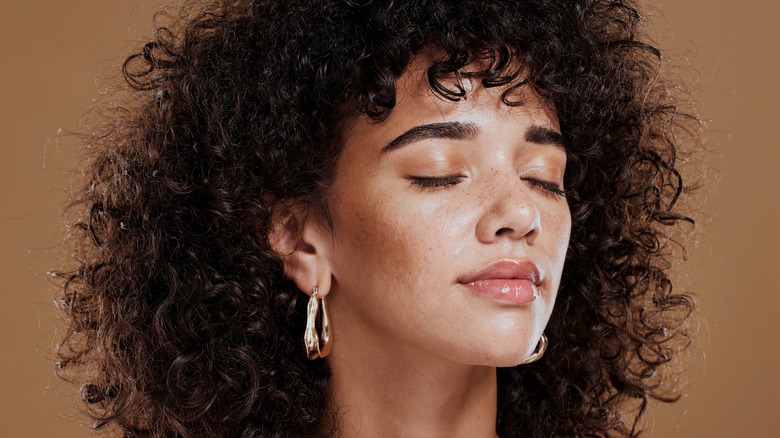 PeopleImages.com - Yuri A/Shutterstock
All natural ingredients are beloved for a reason, and mongongo oil is a gift from Mother Nature that could step up your beauty regime. Organic lip care company Eco Lips explains that the nuts that produce the mongongo oil are rich in vitamin E, calcium, zinc, and iron, all of which are vital nutrients for healthy skin and nails. Mongongo oil has a high concentration of polyunsaturated fatty acids that helps it stay on your skin longer in comparison to other natural oils like coconut or jojoba oil. This way, it can keep working to soften, moisturize, and restore your skin.
This multi-functioning oil is safe for all skin types too. According to chemical-free hair and skin care brand Shinkafa, people with sensitive skin, eczema, and who are prone to redness can benefit from mongongo oil, as its soothing properties won't cause irritation. Instead, its linoleic acid fights against skin inflammation, while its alpha-Eleostearic acid protects against the sun. So how can you take advantage of mongongo oil?
How to add mongongo oil to your beauty routine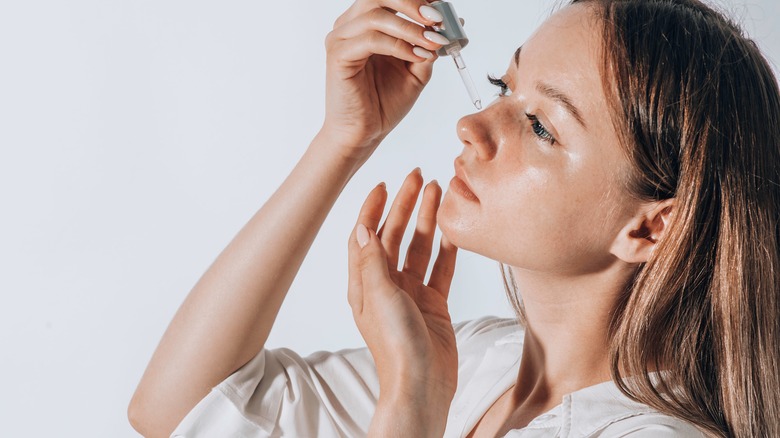 Aiman Dairabaeva/Shutterstock
Integrating mongongo oil into your beauty regime is simple. You can use the oil as a moisturizer like any other natural skincare oil. Just massage a few drops into your skin and voilà. Skincare Lab suggests using mongongo oil with argan, carrot seed, or rosehip oil to maximize the soothing and restoration benefits. Although mongongo shields against UV rays that cause wrinkly, leathery skin, it can't replace sunscreen altogether. However, it does boost sun protection when used with your SPF.
Its moisturizing properties aren't just for your skin either. Naturally Curly recommends using mongongo oil to condition your hair. Add the oil to your leave-in conditioner, spray it directly onto your strands, or massage it into your scalp. Coating your hair and scalp in the oil boosts hydration and protects against harsh UV rays that can weaken hair fibers. Mongongo acts as a natural heat protectant too. It is perfect for prepping strands before blow drying, flat ironing, or hot rolling. You can buy the pure oil and mix it with your favorite products or purchase skincare and haircare products with mongongo oil for ready-made restoration.