Xander's Complicated Love Life On Days Of Our Lives
Some "Days of Our Lives" characters are lucky enough to find the love of their lives at an early age. Many of the soap opera's most beloved pairings, like Bo and Hope Brady, Steve and Kayla Johnson, Ben Weston and Ciara Brady, Will Horton and Sonny Kiriakis, and others, found love when they were very young. Although their relationships haven't always been easy, they have managed to continue delighting fans with their love stories for many years. Sadly, other characters seem to be chronically unlucky in the romance department. They have burned through so many relationships and still can't seem to find the happiness that they deserve.
One of Salem's most eligible bachelors is Brady Black. Brady has been married to the likes of Chloe Lane and Theresa Donovan in the past. However, he's also had serious romances with Kristen DiMera, Nicole Walker, Arianna Hernandez, Melanie Jonas, and others along the way. Sami Brady has been married to a number of men in Salem, including Lucas Horton, EJ DiMera, Austin Reed, Brandon Walker, and Rafe Hernandez. Meanwhile, characters like Nicole Walker have also been married multiple times to characters like Eric Brady, EJ DiMera, Rafe Hernandez, and even notorious Salem criminal Xander Cook.
For his part, Xander's love life isn't much better, as he's also had his share of failed relationships.
Xander's early days in Salem were filled with crime and romance
Xander Cook (Paul Telfer) was first introduced to "Days of Our Lives" viewers in 2015. Fans took a quick liking to the character, who was revealed to be a bad boy with ties to one of Salem's most prominent families — the Kiriakis clan. Xander is the son of Victor Kiriakis' brother, Titus, making him a big part of the family dynamic. However, Xander came with his own set of issues. Fans found out that he was a troubled youth who had been charged with manslaughter. He also admitted to running a diamond smuggling heist with his former girlfriend, Serena Mason.
Upon coming to Salem, Xander caught the attention of Nicole Walker (Arianne Zucker), who used him to make her actual love interest, Daniel Jonas, jealous. Meanwhile, Xander later got his revenge when he blackmailed Nicole into marrying him and living with him away from Salem. Eric Brady (Greg Vaughan) eventually saved Nicole from a life of despair with Xander, and their marriage ended.
During his early days in Salem, Xander also had a quick fling with Theresa Donovan (Jen Lilley), who turned against him and claimed that he had assaulted her. Xander was sent to jail but escaped in hopes of getting revenge on Theresa before faking his death and leaving Salem.
Xander couldn't make it work with Sarah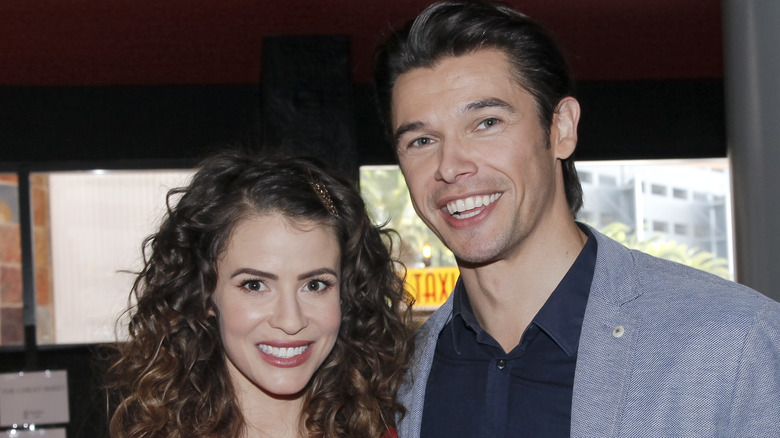 Tibrina Hobson/Getty Images
After returning to Salem in 2019 as a bit of a changed man, "Days of Our Lives" fans watched Xander Cook fall madly in love with Sarah Horton (Linsey Godfrey). Xander was ready to commit to Sarah; however, she was still getting over her failed marriage attempt with Rex Brady. The two eventually began a romance, but when Sarah learned that Xander had plotted to swap her daughter with Brady Black and Kristen DiMera's baby, she left town and dumped him at the altar. While looking to forget how he'd wronged Sarah, Xander met Chanel DuPree (then Precious Way), and the two drunkenly married. After ending their quick stint as man and wife, Xander set his sights on Gwen Rizczech (Emily O'Brien).
Gwen and Xander had a lot in common. They both felt misunderstood by those close to them, and they both liked to plot and scheme to get what they wanted. The two quickly became engaged, but on their wedding day, Xander discovered that Gwen had conspired to kidnap Sarah and drug her. Xander was furious and left Gwen at the ceremony before they could say their vows. Eventually, Sarah and Xander found their way back to each other. However, Xander's affinity for breaking the law led Sarah to file for divorce. Soon after, Xander went running straight back into Gwen's arms.
It remains to be seen if Xander will get his happy ending. However, fans are rooting for him and Sarah to reconcile at some point.