Marysol Patton Says The Drama Gets 'Pretty Ugly' In Real Housewives Of Miami - Exclusive Interview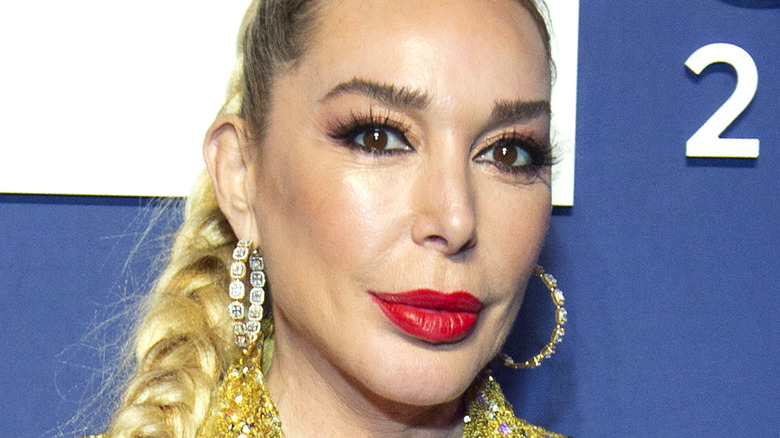 Santiago Felipe/Getty Images
Marysol Patton says that returning to being a Real Housewife is like riding a bike, and since the series' Peacock renewal for Season 4 after an eight-year hiatus, her presence on "The Real Housewives of Miami" reboot feels just that effortless. Patton provides comic relief, insight, and loyalty to the current Miami cast, and her close friendships on the show — such as with Alexia Nepola — are a definite highlight in the show's complex web of relationships.
In the first half of "The Real Housewives of Miami" Season 5, the cast has already seen its fair share of drama, but Patton hints that the seas in Miami will only get rockier. With only 5 episodes remaining in the season, there's no telling how things will escalate. Have Nicole Martin and Alexia Nepola really buried the hatchet — and what other friendships will be tested? What was it really like at that high-tension dinner with the cast's husbands? In her exclusive interview with The List, Marysol Patton gave us an inside look into the Housewives experience.
She and Alexia Nepola have a special bond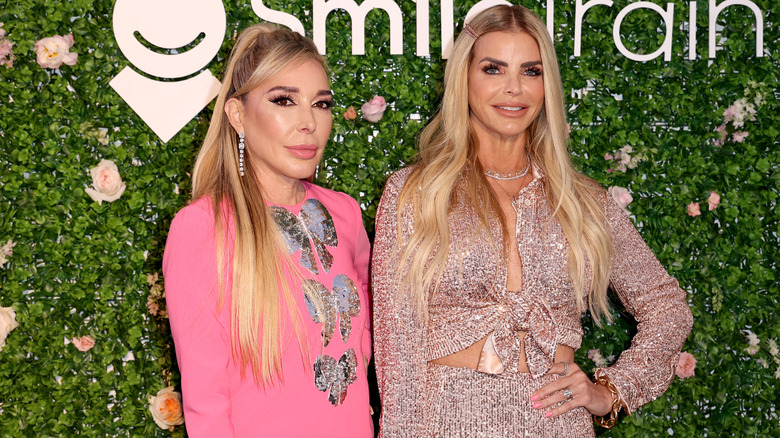 John Parra/Getty Images
How have you adapted to the show's coming back on air after more than eight years? Did you feel like you had a little bit of a leg up on new cast members as an OG Miami housewife?
It's like riding a bicycle — they say you just get back on and go. I don't feel like we missed a beat. It felt very natural and normal, because remember, I stayed in touch and spent time with the girls. It's like we're hanging out, but there's a camera there — and we don't even notice the cameras.
Are there times when you notice the cameras more or less, in different situations?
I noticed the camera the most in the confessional because it's right in my face.
That makes sense. Have you kept up on other Housewife franchises, or do you have any other favorite cast members in other cities?
I don't watch much of the other shows, but I like all the girls I met on the "[The Real Housewives] Ultimate Girls Trip." They were terrific. I'm dear old friends with Luann [de Lesseps] and Sonja [Morgan], Margaret [Josephs], Jill Darren, Adrienne Malouf — starting to make good friends with Sutton [Stracke] ... NeNe [Leakes] was dear old friend, Cynthia Bailey. We've all known each other for so long because we all started in the beginning.
Through Bravo and through Bravo Con, or — ?
There were so few of us back in the day. There were less franchises; there were less women on each show. They were all new shows.
You are one of the people standing off the side making a lot of jokes about what's going on, which I appreciate. You joked about Alexia after she was fighting with Adriana [de Moura]'s boyfriend — you said you wanted a new best friend. Do you feel like that is something you feel every now and then with your close friends, or is it more common with Alexia because she's got such a big personality?
Well, when I said that, it was about something else, but they inserted it there. That was me f***ing around about something else — it wasn't about that. But I'm not supposed to say that, I guess.
I feel like you could say that.
Listen, she's like my sister. Do you have a sister or brother?
I do.
You argue with your siblings, but you love them to death. That's your blood, and she's my blood. We bicker sometimes, but we love even harder and laugh even harder. It wouldn't be normal if we never had a little bit of a disagreement, for goodness' sake. We definitely disagree, but for the most part, we agree.
That's interesting to know that they edited that in there.
Yeah — I was referring to something else in the moment.
Can you tell us what you were referring to, or was it just something else going on?
No, I'd rather not.
That's okay. Even when you don't agree with Alexia, it seems like you're supportive of her.
We support each other. I'm not always right. She's not always right. She's not always wrong. Nobody is.
This season is as dramatic as a telanovela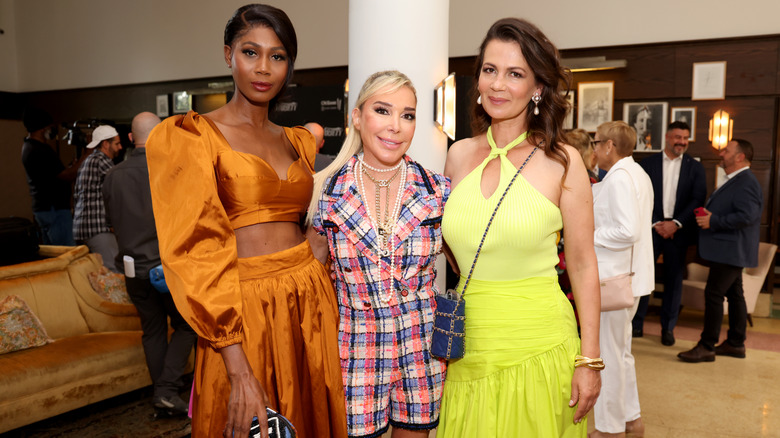 Rodrigo Varela/Getty Images
You described one of these moments as a telenovela moment — Nicole giving Alexia's lawyer her black Amex card. I'd love to hear about any other telenovela moments you felt like happened on this season.
I remember thinking, "Why is she walking over there? What is she getting?" That card ... it felt like it was moving in slow motion because I was thinking in my heart, "No, stop, put it back in your wallet. Oh God, no." The whole thing rolled out for me in slow motion. "This is horrible."
I feel like a lot of things are novela moments. Kiki [Barth] with the hamburger — that was pretty funny. When she pulled out that hamburger, I'm like, "How long has that been sitting on the boat? We've been here for hours. That must be ice-cold." She's like, "I don't care. My stomach's going to get big now because I'm not going to be in this shoot."
You know how overdramatic the novelas are? I don't know; if you've never watched a novela, you wouldn't know. But that was that kind of drama. "I'm going to eat this barrel of monkeys, and I don't care if I walk out here with a tag in my stomach because I'm not going to be in this shoot, and I'm calling my attorneys." It was that whole [thing], and she was yelling and stomping around the boat. That was a novela moment.
That whole shoot day was super dramatic. That could have been turned into some extra footage maybe for Adriana's music.
It was a lot of fighting, but I was feeling pretty good on the side with my cocktail. "I'm good over here. You all keep that s*** going over there. I'll be over here. Anybody else needs a drink, you know where I am."
It seemed like a fun day overall.
Not really.
Have you seen the finished music video? Is there a music video?
No, I haven't seen it. No. That's a good question. Where is it? Where is the music video? Maybe it's out there and I don't know it, but I figure it would've flooded Instagram by now.
That would make sense. Unless the whole thing was kaput because Kiki's lawyers got in there and said it's unusable footage.
I don't think [that] happened.
The gringo dinner didn't go as planned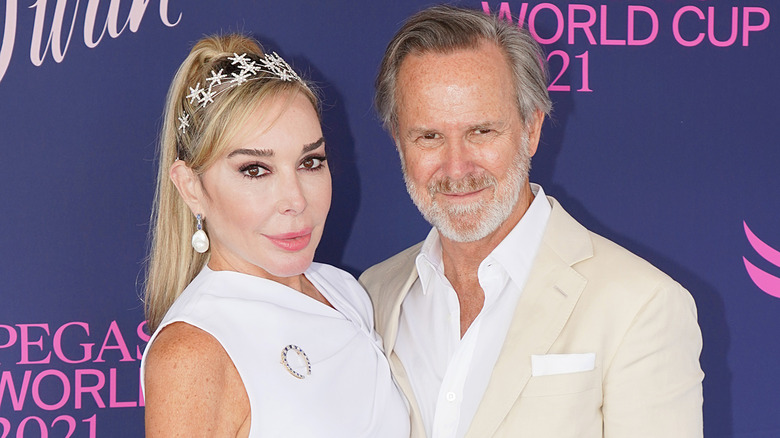 Alexander Tamargo/Getty Images
How did you feel about Nicole saying that you were an unreliable source and that you loved to gossip? Did you see that confessional moment?
Yes, and she called me an alcoholic, which I found so rich because she drinks as much as I do. Look at the footage.
I believe you. What did you think of what Nicole was saying in general?
It was quite rich coming from her, who drinks plenty as well and goes home to take care of a toddler and has people's lives in her hands. I come home and sit on my sofa; I'm not hurting anybody. I don't love gossip, no. I more want to have a nice, honest conversation with someone — have a good time, keep it moving, don't get stuck in the mud, keep it moving, keep it rolling.
My thing isn't really gossip, but it's a big group, and we all have a history and a background, and stuff comes out. It is what it is. It's not like we were born the day we started this show. We've all lived, and there's a story. We all have a story we've left behind, and sometimes it makes sense to bring it up and sometimes it doesn't. But no, I'm not a gossiper.
There are so many relationships happening as well. It makes sense that there's a lot to talk about and a lot of dynamics at play.
100%.
What can you tell us about the rest of Season 5? There's some drama between the couples and the marriages as well as between the women, and there were some interesting dynamics at the gringo dinner, if you had any thoughts on how that progresses?
Oh gosh. My poor husband was frozen. He was like, "That was horrible." It was a very uncomfortable dinner. Anthony [Lopez] was being really rude, and you see half of how many things he said, and that made Todd [Nepola] upset. He was pushing Todd's buttons. Everyone at the table was like, "Holy s***, you're being very condescending." It got uncomfortable, to say the least.
My husband's an angel — that stuff makes him uncomfortable. I felt uncomfortable for him. I'm used to it because this is what we do, but I don't even think he could eat his food, and my husband has a tapeworm that's like a garbage can. He can eat anything 24/7. He loves to eat. He never gains an ounce, and I don't even think he ate.
That's a lot of tension at that dinner for sure. Do you agree that Russell [Abraira] and Steve [McNamara] are the gringo husbands of the group? Or do the husbands normally get along better than we got to see?
Patton: Todd is very gringo, by the way. He's so gringo. Steve went to a Jesuit private high school that's all Cuban here back in the seventies. He's older than me, and he can speak some Spanish. He can. I don't think Todd can speak any Spanish. Todd might be more of a gringo than Steve.
Okay. New ranking in order.
Patton: Actually, Todd's Italian also, so I guess that makes him more Latin. I don't even know. Russell's the most gringo.
There's major conflict in episodes ahead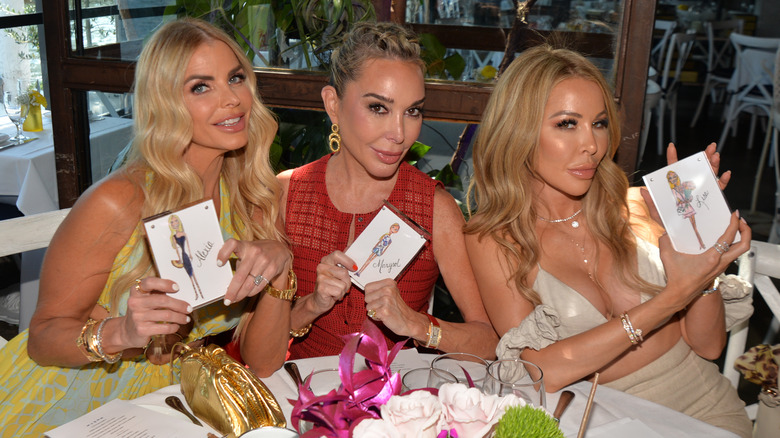 Manny Hernandez/Getty Images
Was it fun giving Alexia her fat-burning shot? That was a really funny sequence.
She made me chase her around that room, like, "Hold still!" She's like, "No — ah!" She did it a lot — I felt like it was so much more when I was chasing her around. I don't know why she wouldn't trust me; I gave it to myself ... I had a diabetic cat and I had to give her insulin twice a day for 18 years. It was the same [sized] needle, and she wouldn't feel it, and I don't feel it. I knew Alexia wasn't going to feel it, so I think the idea of it freaked her out.
It made it fun. We always have fun, even if we're poking someone with a needle or beating each other.
I would love to hear how you feel after having filmed Season 5. Do you feel like the relationships are in a good place? Is there anything you can tell us about how things develop?
There's some strained relationships. I have one — you're watching the ones that already exist on camera. It's all going to come out in the next few episodes. It gets pretty ugly. It's disheartening. What can I say?
I'm sorry to hear that. Do you think in a potential next season things will be resolved the more time you guys get to talk?
I'm really not open to that ... It was a line crossed that I can't come back from, personally.
New episodes of "The Real Housewives of Miami" air Thursdays at 9:00 p.m. ET (8:00 p.m. CT) on Bravo. 
This interview has been edited for clarity.