Chrishell Stause On Tracking A Killer In A Rose For Her Grave - Exclusive Interview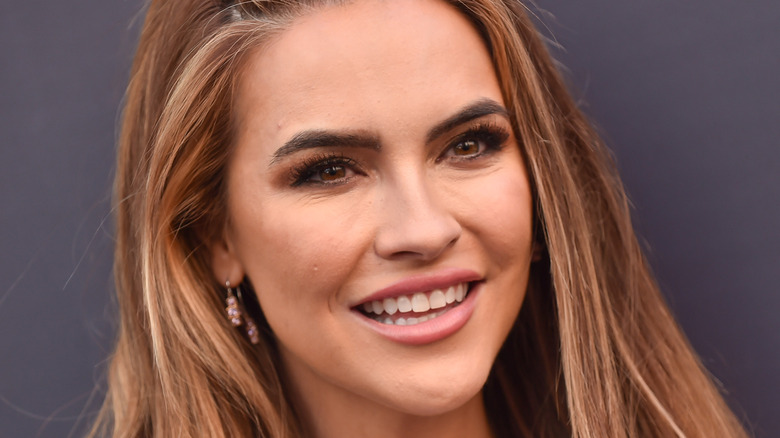 DFree/Shutterstock
No one can accuse Chrishell Stause of being lazy. The veteran soap opera actor, who first made a name for herself with her roles in "All My Children," "Days of Our Lives," and "The Young and the Restless," decided to take a big leap sideways and become a working realtor on top of being a working actor. As if taking on two of the world's most unpredictable and high-pressure careers at the same time weren't enough, she managed to combine showbiz and real estate as a co-star of the hit Netflix series "Selling Sunset," which follows a group of high-end Los Angeles realtors as they hustle to close deals on luxury homes.
Recently, however, Stause has taken another detour, taking on the role of the justice-seeking best friend of a murder victim in the Lifetime movie "A Rose for Her Grave: The Randy Roth Story." Based on a book by true-crime author Anne Rule, "A Rose for Her Grave" focuses on the real-life marriage of Cynthia and Randy Roth and the aftermath of Cynthia's suspicious death. For Stause, taking on a role that had nothing to do with typical soap opera plots or real estate was a welcome opportunity to stretch her skills. In an exclusive interview, she shared what the role meant to her.
The idea of playing a real-life crime stopper appealed to Chrishell Stause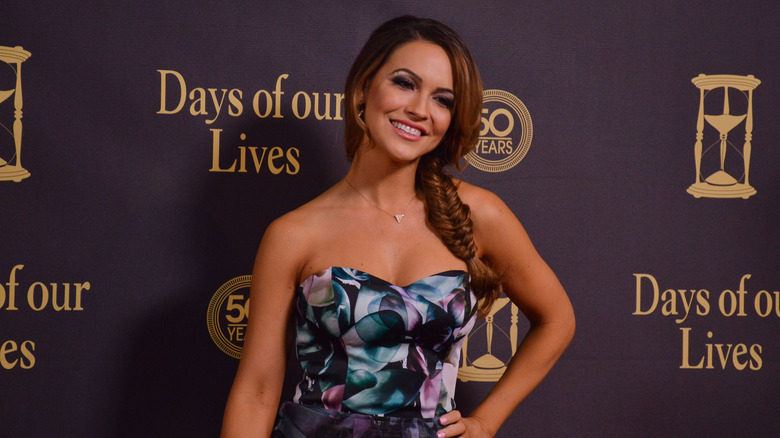 Michael Mattes/Shutterstock
How did you become involved in "A Rose for Her Grave"?
I was excited to work with Lifetime on this. I've worked with them on movies in the past, but this one is based off of a bestselling book by Ann Rule. It's also based off of a real-life crime — multiple crimes. That's shocking that this happened ... I don't want to spoil anything for anyone who hasn't read the book. But I got to play a real-life badass woman that I was excited to help bring to the screen, and I started with a conversation about it. My schedule's a little crazy, but [I was] trying to see if I could figure it out. I really wanted to do it, but sometimes, logistically, I can't.
I was excited to be able to make this work logistically and partner with Lifetime on this and bring this story to the screen, because I was very inspired by all of the women involved in this story. Of course, I want to see some justice, and it's crazy that this happened. I love watching things like this — anything based on a true story. It's something that I would've wanted to watch, and I definitely wanted to be involved in it. I'm excited that we were able to make that happen.
Can you tell me a bit about Lori Baker, your character? What attracted you to her?
Lori is very different than me, so I liked that I'm going to be acting. People know me as Chrishell in "Selling Sunset," and it's a very glamorous thing that we do on that show. Lori is the opposite. I was attracted to that, that it would be able to show a different side to myself with acting.
There's no glam in this movie. It's all very understated. She's great with cars and sports and all the things that I'm not. There was that. Then, the other part [is I was] so inspired by somebody that was able to hear what the authorities were telling her and not take that as the answer and keep going, wanting to get to the bottom of things. A lot of times, if someone in authority — like a police officer or something — tells us [something], we drop it. Lori did not do that, and I was inspired by that.
The real-life Randy Roth case fascinated her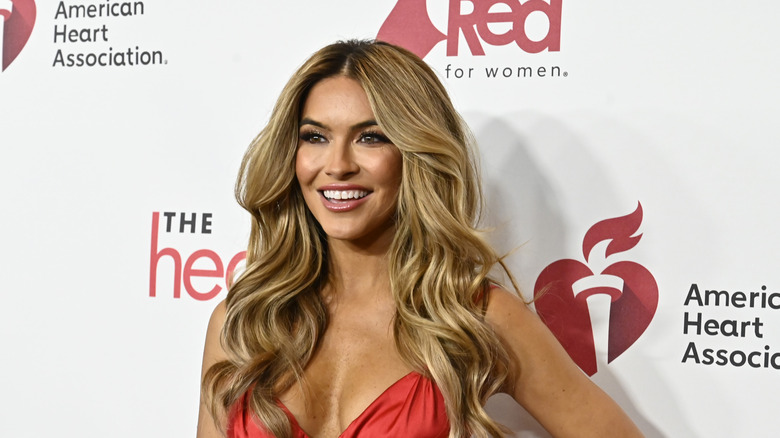 Astrid Stawiarz/Getty Images
Did you research the real-life Randy Roth case before you started shooting?
Definitely. When this had happened, it's not a case that I was familiar with, so that's one of the first things I did. I looked into this. I was like, "Oh my gosh, I can't believe this happened, and this wasn't that long ago. How did I not hear about this?" I read the book on the case as well.
All of that happened before, [while] I'm trying to see if I can logistically be able to go away and shoot this for a long time. It was one of those things where I was doing all of this ahead of time and getting excited about this project and realizing, "Oh, this is something I would love to do." That was actually the very first stage in the whole process.
Could you share how closely the production actually mirrors the real-life events?
The script is actually quite different than the real-life case. Some of that is the writer being able to bring things to the screen a little differently, because sometimes, they want to change it to what will be better. But some of that is also having to work around [the fact that] these are real people. It's finding that balance of wanting to do justice to the story, but also wanting to have the utmost respect for the people involved who are still here and who lived through this.
It's a mix. It is a little different than the book, different than the case, that happened the way that it happened. It's definitely based on a true story, but we are going to vary [from] the exact details.
Here's why Chrishell Stause finds true crime so fascinating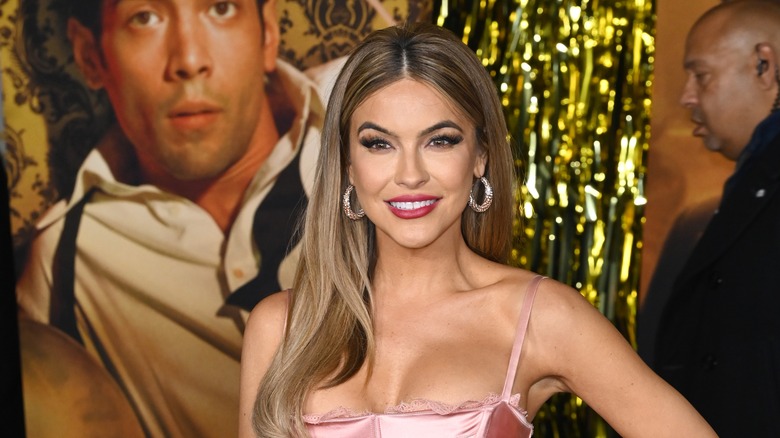 Featureflash Photo Agency/Shutterstock
True crime seems to be having a big moment right now. Do you have any thoughts about why that might be?
Well, I think we're all very interested in these things. You can write crazy fiction, but the craziest thing is that a lot of times, truth is crazier than fiction. This is one of those. There were so many times in this script and in researching the case where it seems that if it wasn't real, you actually wouldn't believe it. The fact that he got away with so many things off of his charm alone ... You're like, "Are you kidding me? How is that possible?" If it was written as fiction, you might roll your eyes at something like that and be like, "Come on, that's too fake. That's a plot hole ..."
But that's why it works, because no — this actually happened. It's very interesting, and we're interested in those types of situations that seem so bizarre. Hopefully, nobody's living this in their real life. Unfortunately, some people have, but for most of us, we just see these things on the news, and we're so fascinated by them. Hopefully, it's very far from what your real life is.
Balancing her acting and real estate careers has been a thrilling challenge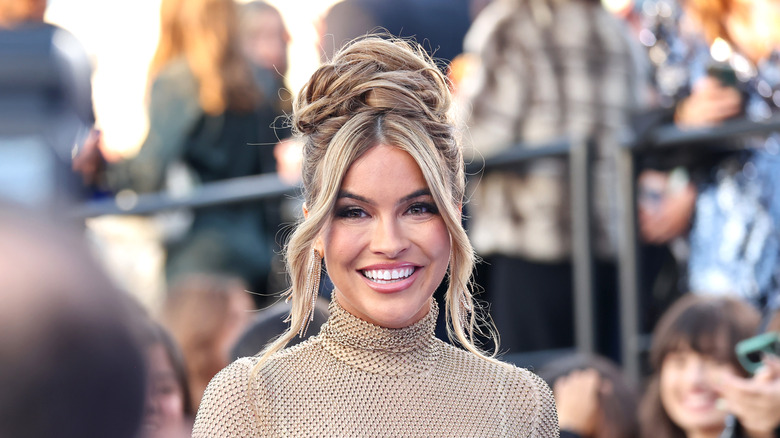 Amy Sussman/Getty Images
You've had an unusual career trajectory. You're both an actor and a working realtor, and those are both stressful jobs. How do you manage to balance both of them?
It is a balancing act. Sometimes I do better than others, but it's one of those things ... Today, for instance, I'm here with you. Then, I'm on a flight back, and I have a meeting with a client first thing in the morning. The cameras are going to roll in and try and grab that in real-time, and we're right back off to the races.
When I was off to film the movie "A Rose for Her Grave," it was the same thing. I had to, at one point, fly back to LA. I couldn't miss something that we were working on with the show "Selling Sunset." Then it was a really quick turnaround and right back on set — it was both tight schedules.
But I love doing this, so that makes it fun. I'm grateful to still be able to do both, because acting is the first thing that I pursued. It's my first love. Now, I've gone on to do real estate. To be able to come back ... Everyone on the set was amazing, and it was fun to reconnect with some actors I'd worked with before. It's a balancing act, but this has definitely reminded me why I loved it in the first place so much.
Have you found that your acting has boosted your real estate career or vice versa?
It is helpful in memorizing stats on a house. You have to memorize lines so much with sets and scripts and things like that. I do memorize the little things like that pretty easily. But as far as acting helping my real estate career, I'm not sure. Maybe it has ... I have no idea. They wanted realtors that ... Maybe it did, because I came from soaps. "Selling Sunset," a lot of times, feels like a soap. There are many times where it would be more comfortable if it was scripted, but maybe that is one of the reasons why I feel like I've done this before.
"A Rose for Her Grave: The Randy Roth Story" premieres Saturday, February 18, at 8:00 p.m. ET (7:00 p.m. CT) on Lifetime.
This interview has been edited for clarity.