Everything We Know About Rachel Hollis' Relationship With Ex-Husband Dave Before His Death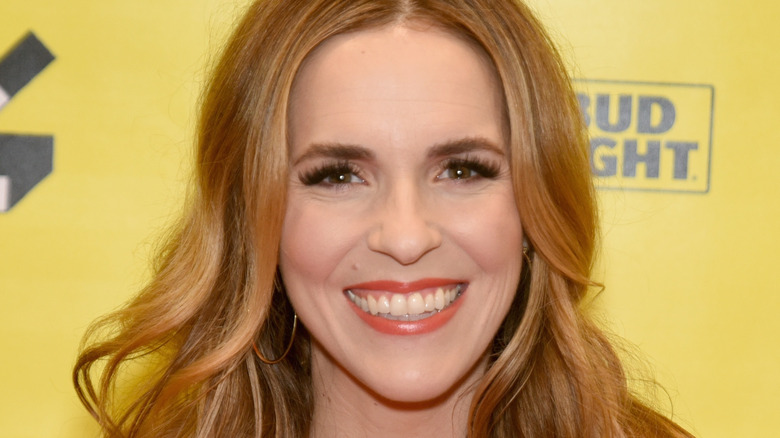 Dave Pedley/Getty Images
Dave Hollis, a former Disney executive and ex-husband of author and motivational speaker Rachel Hollis, died on February 11. A family rep told Today that Hollis died at home stating, "Though [the] exact cause of death has yet to be determined, his family confirms he had been hospitalized recently for some heart issues."
Rachel and Dave Hollis were married for 16 years and had four children. During that time, Rachel became a bestselling author, starting with her debut success, "Girl, Wash Your Face." She also convinced Dave to leave his role at Disney and work at her multimedia company, which they renamed Hollis Co. Dave also became the author of two self-help books and a children's book.
Amid all the successes, Rachel has been embroiled in multiple scandals. She and Dave also had their share of relationship struggles. In June 2020, Rachel shared the news that she and Dave were divorcing. "We have worked endlessly over the last three years to make this work and have come to the conclusion that it is healthier and more respectful for us to choose this as the end of our journey as a married couple," she wrote on Instagram. "We remain dear friends as we raise our family as co-parents and run our company as partners." Now Rachel has again taken to social media to reveal her thoughts following Dave's death, showcasing that their relationship, though platonic, remained strong. 
Rachel and Dave Hollis continued to co-parent their four children after divorcing
In her first post following Dave Hollis' death, Rachel Hollis wrote, "We are devastated. I have no words and my heart is too broken to find them." She added, "Please wrap the kids up in prayers as we try and navigate through the unthinkable." After the couple's 2020 divorce, she and Dave remained committed to their children and fostered a strong co-parenting relationship. Rachel appeared on "The Tamron Hall Show" (via Access Hollywood), calling it a "healthy choice." She noted that the family spent Thanksgiving and Christmas together that same year. "I don't know another family that does that so soon," she said.
In Thanksgiving 2021, Dave posted a family picture on Instagram, detailing the family's plans. "The holidays after divorce are wild. Navigating how to best create memorable and love-filled experiences for your kids," he shared. "[Rachel] was able to have a Tuesday night Thanksgiving in Austin before a Thursday lunch in Phoenix, giving this motley crew the blessing of two feasts."
Then, for Christmas 2022, Dave's post detailed the family's arrangements, saying that they traded off every other week during the year. However, instead of a shared holiday, the children spent two weeks with each parent to travel and visit relatives. "It's our third holiday in this new world, and I have to say, especially to anyone who's early in the process ... it gets better and easier over time. It really does," Hollis shared at the time.