The Trending Date Night Ideas That Pinterest Predicts We'll See More This Year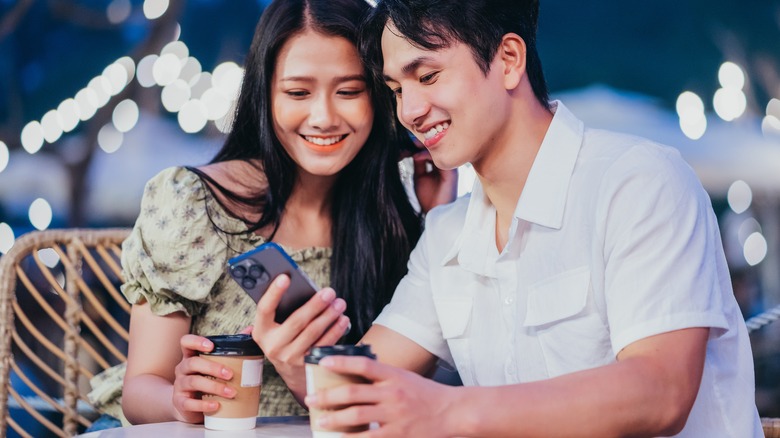 TimeImage Production/Shutterstock
It's a new year and love is in the air! New beginnings with a special someone are at the heart of a budding romance. Whether you're in the honeymoon phase or in a committed relationship, couples are always in need of a passionate date night. So leave it up to Pinterest, to craft a list of the most ideal date night options for 2023. In the decade-plus since Pinterest's 2010 inception, it has become a go-to hub for lifestyle inspiration and information. Whether you're searching for a recipe, figuring out how to put together an outfit, or looking for things to do on your next vacation, a quick search on Pinterest will send you down a rabbit hole of options. 
People use their Pinterest searches to craft mood boards related to all aspects of life. The high usage of the social platform has positioned Pinterest as somewhat of a reliable source when it comes to their predictions. Pinterest even dares users to bank on its predictions. With many people using the platform to "plan for the future," they claim they "know what's next." In fact, over 75% of the social brand's forecasts have come to fruition in the last few years. Considering the data, Pinterest has some trendy date night ideas we'll see throughout 2023.
Millennials and Gen Z desire more educational dates
The good thing for singles is that Pinterest has released its predictions for the five perfect date night options for 2023. Millennials and Generation Z have been showing new interest in unique date night ideas. Say goodbye to the traditional dinner and movie dates that filled the 20th century. Now young couples and singles are looking to add a little education and intimacy to their dates. Pinterest's forecast showed that Millennials and Gen Z were most interested in bookstore dates, picnic dates, creative date nights, aquarium dates, and museum dates. 
If you've never been on a bookstore date, it's worth a try. A bookstore can help spark a variety of conversations, which is exactly what you want when on a date. You can also learn more about your date based on what books they select and their body language while inside the bookstore. Most bookstores have a cafe option that makes for the perfect opportunity to share a sweet treat. As a new generation of daters hit the scene, they're seemingly looking to connect with a potential spouse on a deeper level.
Picnic dates are perfect for the spring and summer months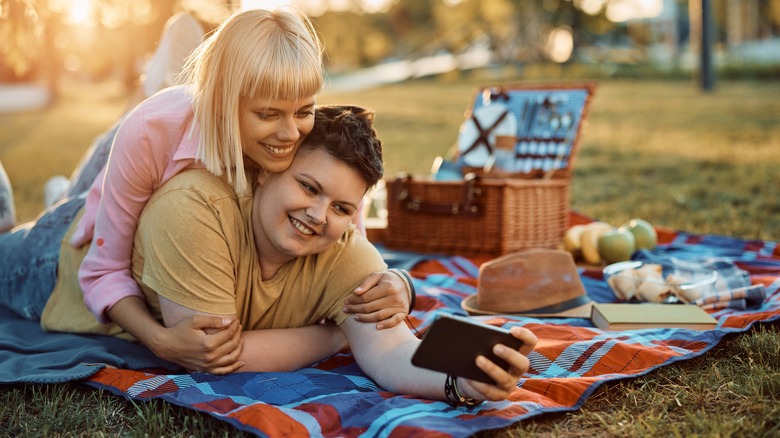 Drazen Zigic/Shutterstock
New couples and hopeless romantics going into the summer months can take advantage of all the magic and romance that lies in our local parks. Plan a romantic picnic, enjoy a wine tasting, take part in an adventurous scavenger hunt, or kick it up a notch by hiring a private chef to add luxury to your picnic date. When it comes to creative date nights, the options are endless. Creative date nights include everything from a sip and paint class to a cooking class to attending a festival.
An aquarium is another great option: who doesn't love the beauty of an aquarium? It makes for a perfect date setting for you married couples looking for a night out with your boo. Between gawking at all the magical sea creatures inside the tanks, learning new information about aquatic life, and finding relaxation from just getting a glimpse at what goes on under the sea, an aquarium provides a great opportunity to share quality conversation with your date. A study done by Plymouth University and the National Marine Aquarium also found that spending time in an aquarium can improve physical and mental health. 
The same could be said for museum dates that add a unique component to date nights. The sex appeal of a museum is often overlooked by the historical statues and artwork. But museum dates come with a number of benefits including affordability, riveting deep dives, and a chance to show off your intelligence.