How To Nail The Stylish 'Hair Tuck' Look (Just Like Jennifer Lopez)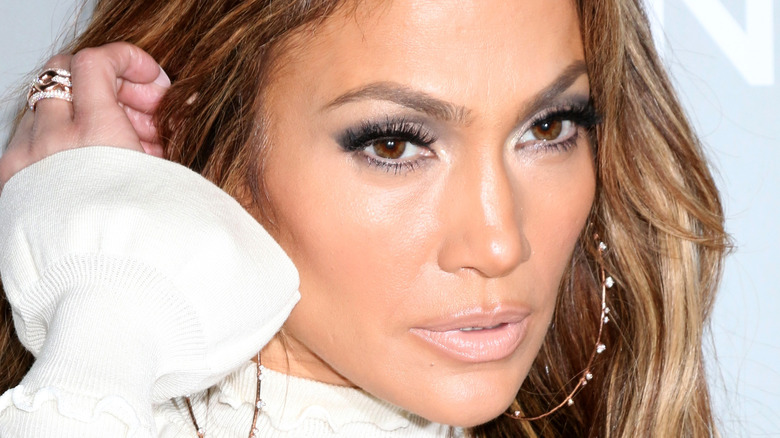 Kathy Hutchins/Shutterstock
In addition to actor, singer, and dancer, beauty and style icon is also on Jennifer Lopez's resume. Over the course of her career, Lopez has rocked all kinds of iconic looks from the plunging Versace gown she wore to the Grammys in 2000 — a look that's at least partially responsible for Google's image search function — to her shimmery Met Gala moment in 2019. 
Lopez's outfits are always show-stopping, but the accompanying hairstyles are nothing to sneeze at either. While the star often opts for bouncy waves with lots of volume in the roots, she changed things up for the 2023 Grammys. She stunned at the show in a navy Gucci gown paired with silver jewelry and a flawless hair tuck. Lopez's celebrity hairstylist Chris Appleton — who has worked with the likes of Ariana Grande, Kim Kardashian, and Katy Perry — helped her achieve the look. Needless to say, he knows a thing or two about achieving perfect, red carpet-worthy hair. 
Luckily, he's not afraid to style and tell, so we've got all the details on how to nail a red carpet-ready hair tuck.
Get the hair tuck look yourself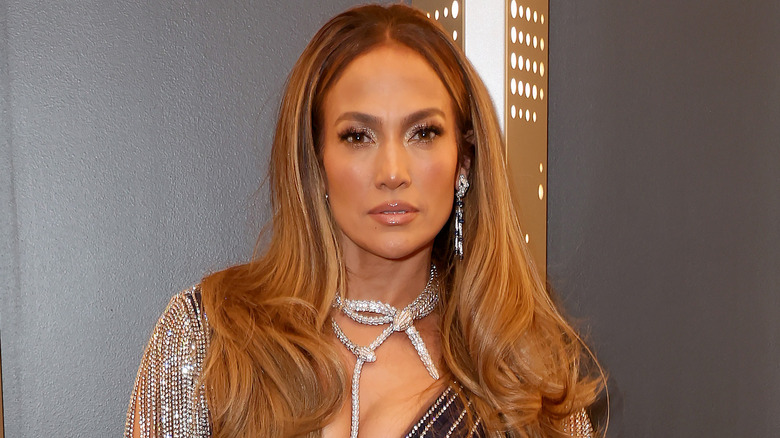 Phillip Faraone/Getty Images
It turns out anyone with heated rollers, a tail comb, and some texturizing spray can get that red carpet-level hair tuck easily. In a video for Access Hollywood, celebrity hairstylist Chris Appleton went through the process in detail. 
It all starts with some large, heated rollers. According to the celebrity hairstylist, you should wrap them in and leave them there for ten to fifteen minutes. Then, take them out, add a bit of texturizing spray, and brush out the curls. The result should be "sexy, effortless, bombshell hair" which, as Appleton emphasized, "never goes out of fashion." 
One of the most important steps is using a tail comb for a precise middle part. "Middle parts are very beautiful and soft and flattering," Appleton explained. He added that it gives off a more "youthful appearance." The final touch to imitate Lopez's Grammys hair is simply tucking the front sections of your hair behind your ears. 
Jennifer Lopez almost didn't rock the hair tuck at the Grammys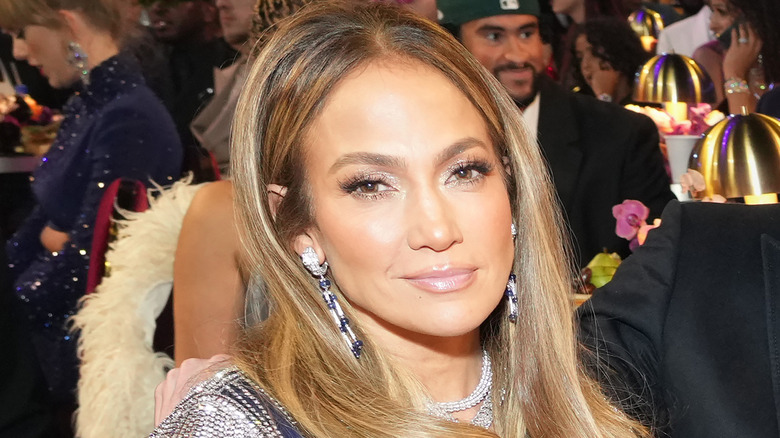 Kevin Mazur/Getty Images
Just one day after the 2023 Grammys, celebrity hairstylist Chris Appleton chatted with Access Hollywood about Jennifer Lopez's stunning hairstyle, telling the outlet, "It was all about creating a luxury, high-end finish which Jen is kind of known for." 
While Lopez hit the red carpet with a stylish hair tuck, eagle-eyed fans noticed that she was sporting a different hairstyle in a selfie the singer posted on the way to the Grammys. Apparently, there was a last minute switcheroo."We ended up actually taking out the hair that we'd already done and literally changed it into a middle part," Appleton told Access Hollywood.
The singer's breathtaking 'do complemented her chic makeup look complete with pink lipgloss, sparkly eyeshadow, and long lashes. All that being said, while Lopez's glam was totally on point and the hair tuck was absolute perfection, it really shouldn't come as all that much of a surprise. As one Instagram user wrote under Appleton's post of Lopez's Grammys look, "Perfect as always, the makeup, the hairstyle, the accessories, the dress but she is the one who makes everything shine."